A Keylogger for Android is a software installed on a Computer or a hardware device which is attached to a computer. It records all the keystrokes made on that computer. Whatever is typed on that keyboard is recorded and stored so you can check it later. However, there are many situations when one needs a Keylogger. The main and common problem is concerned about leaving your phone to your children. Or if you leave your phone in the office and feels like someone checked it. And the most possible reason is finding whether your partner is cheating on you.
So, if you want to avoid these issues or want to keep an eye on anyone like your Kids, spouse or anyone then use an Android Keylogger.
Why do I need a keylogger for Android?
Each and everyone has their own reason for using Keylogger for Android. One need a keylogger for Android to monitor the activities of their kids, and spouse. The Keylogger for Android is normally used to Keep an eye on the kid's activities so that you can know what are they doing and what not.
One can also check out on his/her partner and get to know is he/she honest with you or not. Moreover, the Keylogger is also used by employers to make sure their employees are doing their job and not wasting the time doing something else.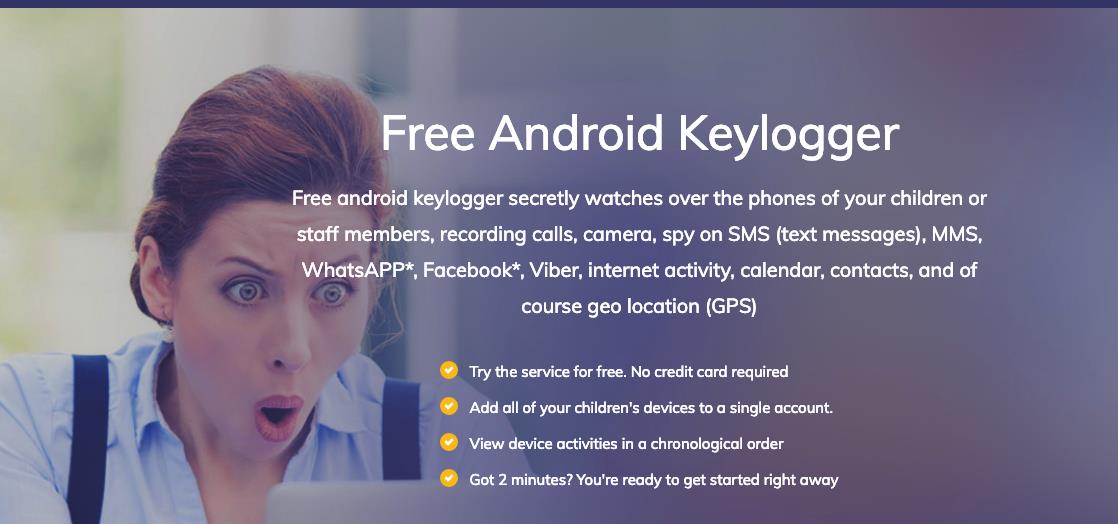 How does Hoverwatch Keylogger for Android?
Hoverwatch Keylogger or Android Keylogger secretly watches the phone of your child, staff members, Spy on SMS, camera, record calls, MMS, Whatsapp, Facebook, Viber, etc.
You can install Hoverwatch Free Keylogger for Android easily. First, you can Sign Up for free by going to the Hoverwatch website. Then Download and install free android keylogger from the online account. And then Monitor all recorded data in your online account.
Do you need any special knowledge to install and use the free keylogger for Android?
No, you don't need any special knowledge to install Android Keylogger. It is simple like other software, just download it and follow the instructions given on the screen. So, it is not difficult to install the software.
Will the children be able to find out about its availability after installing Hoverwatch?
Hoverwatch will silently monitor and will give you all the details of each and every chat log. With the help of this app, you can keep an eye on your loved ones and you will be able to know exactly who are they chatting with and what are they talking. Your kids won't get to know about you keeping an eye on their device. As the account will be logged in to your device so all the screenshots and call records, messages and everything will come to you.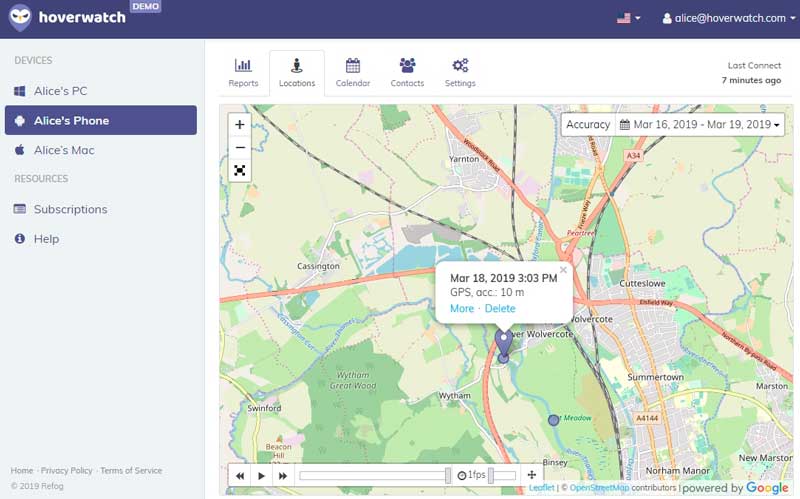 Do you need physical access to a children's phone for observation?
With the help of Hoverwatch, you can connect up to twenty-five devices and can monitor them remotely. This means you don't need physical access to your kid's phone for observation.
If you want to monitor more than one device then you need to be connected to the internet and the target device must also be connected to the internet. With the help of good internet, you can view all their activities remotely by logging in your account and clicking on the target device.
 How to install Hoverwatch?
To Install Hoverwatch you need to visit the website.  The process is very simple and you will see all the steps given on the homepage.
Sign Up for your free online account: enter email and any password
Download and install the Mobile Tracker from your online account
And Monitor all recorded data with Call, GPS, and SMS Phone Trackers in your online account
 How long can you use the free keylogger for Android?
It has a paid version but there is a free trial which you can use it first and then can pay and buy it. It has a free trial for about 3 to 4 days.
How can i use keylogger for android for free?
If you want to use keylogger for more than 4 days for free, use the Snoopza application. Snoopza App was developed for all the special agencies, businessmen, parents, and partners. The app Snoopza is used primarily to protect teens, and save relationships and learn about bad employees.
The software is helpful for Parents, and Business. It is helpful for almost everyone who wants to keep an eye on someone. Snoopza app helps you to take care of or save someone whom you love. You can use the app if you want to protect your kids.
Sing Up by entering email and password.
Now download the app and install it from your account.
You can start monitoring data of whoever you want.
 Pricing
Hoverwatch has a competitive price. At present, the company has 3 plans, Personal, Family, and Business.
Personal Plan allows you to monitor only one device and the price is $8.33 per month.
Family Plan allows you to monitor up to five devices and the price starts from $3.33/month per device.
Business Plan allows you to monitor up to Twenty five devices and the price starts from $1.67/month per device.
Snoopza App has a free trial and then you need to pay some amount. For one month the price is $9.95 and for 12 months you need to pay $99.95. In Snoopza App also you can track any device.
 Conclusions 
Nowadays, all the parents want to keep an eye on their kids as all of them uses a cell phone these days. They want to know what are their kids up to? For this thing, there are many spying apps available in the market which monitor and track devices remotely. All those apps do everything or not we don't know. But one thing we can say Hoverwatch is the app which won't disappoint you when you want to monitor and track any device.
This software is tested on various Android versions so we would like to recommend you to use this software if you want to monitor and track anyone.
Comments
comments