Introduction:
As an avid audiobook lover, your Audible membership has undoubtedly enriched your reading experience. However, there might be times when you need to take a break and pause your subscription temporarily. Fortunately, Audible offers a convenient feature that allows you to pause your membership while retaining access to your audiobook library. In this blog post, we will guide you through the process of getting as well as pausing your Audible membership, ensuring that you can enjoy the flexibility you need without sacrificing your beloved collection of audiobooks.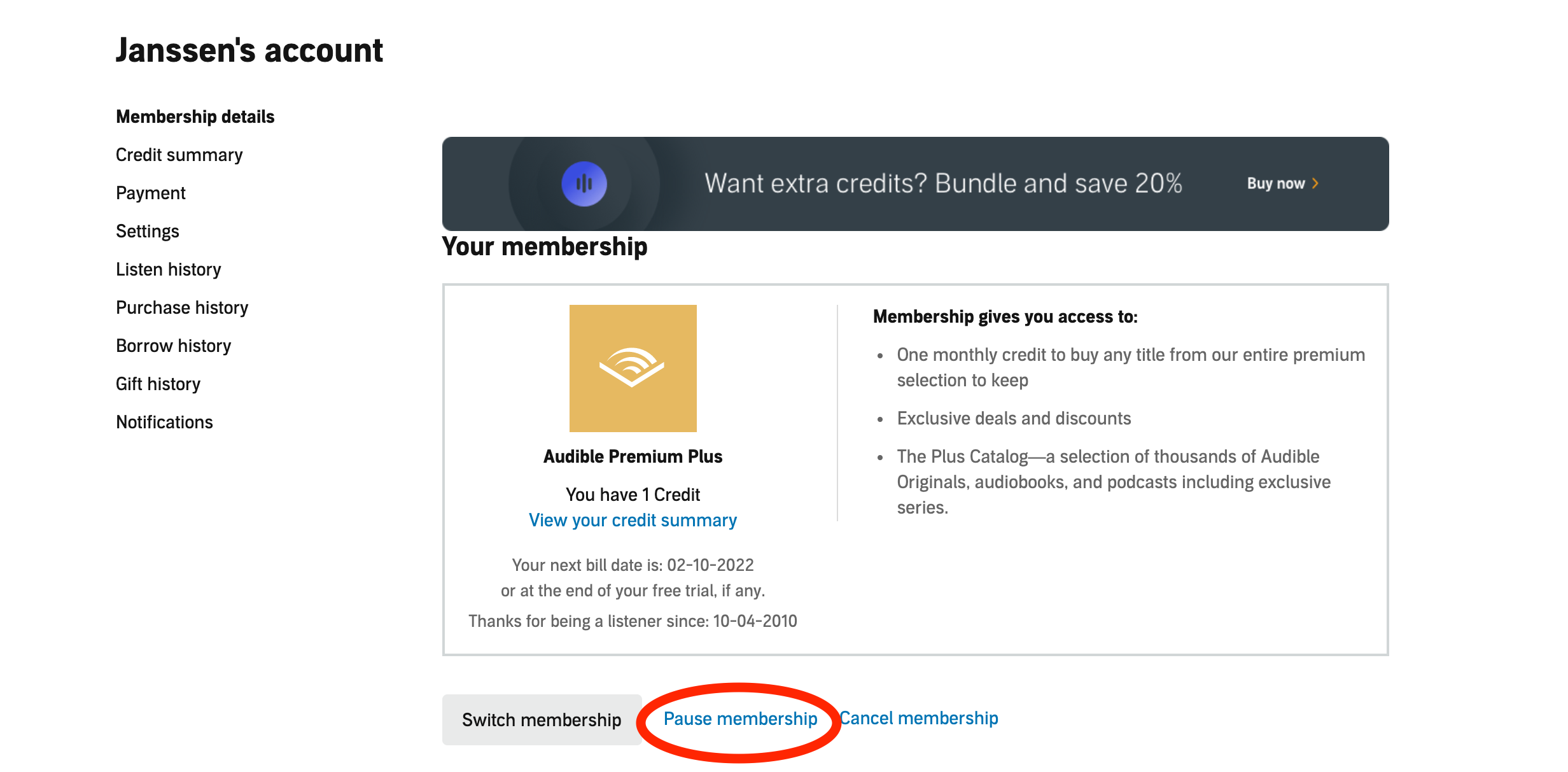 Thankfully, audiobooks offer a convenient solution that allows you to immerse yourself in captivating stories while on the go. And when it comes to audiobooks, Audible stands as the premier platform with an extensive library and exceptional features. In this blog post, we will walk you through the simple steps to obtain an Audible membership, unlocking a world of literary wonders and auditory delights.
Visit the Audible Website:
To begin your journey into the world of audiobooks, visit the official Audible website at www.audible.com. Once there, take a moment to explore the impressive selection of titles and familiarize yourself with the membership options available.
Choose Your Membership Plan:
Audible offers different membership plans to cater to various needs. Select the plan that suits you best. The most popular option is the Audible Premium Plus membership, which grants you one credit per month that can be exchanged for any audiobook in the library. Additionally, this plan provides access to exclusive discounts, unlimited listening to a vast collection of Audible Originals, and the ability to keep your audiobooks even if you cancel your membership.
Create Your Audible Account:
Click on the "Start Your Membership" or similar button on the Audible website to initiate the signup process. You will be prompted to provide your email address and create a password for your account. Alternatively, you can sign up using your Amazon account, as Audible is an Amazon-owned service.
Payment and Billing Information:
Once your account is created, you will need to provide your payment and billing information. Audible accepts major credit cards, and some countries also offer alternative payment options. Rest assured, Audible takes privacy and security seriously, ensuring that your sensitive information remains protected.
Why Pause Your Audible Membership?
Life is full of changes and unexpected events that may require you to pause your Audible membership. Whether you're going on an extended vacation, facing financial constraints, or simply want to take a break from audiobooks for a while, pausing your membership offers a practical solution. Instead of canceling your subscription and losing access to your carefully curated library, pausing allows you to maintain your collection while saving your progress and bookmarks for when you're ready to dive back in.
How to Pause Your Audible Membership
Pausing your Audible membership is a straightforward process. Follow these steps:
a) Visit the Audible website or open the Audible app on your mobile device.
b) Log in to your account using your credentials.
c) Go to the Account Details or Membership Details section.
d) Look for the "Pause Membership" option and click on it.
e) Select the duration for which you wish to pause your membership (up to three months).
f) Confirm your selection and review any relevant terms or conditions.
g) Voila! Your membership is now temporarily paused.
Benefits of Pausing Your Membership
Pausing your Audible membership offers several advantages. Firstly, it allows you to take a breather without losing access to your favorite audiobooks. When you're ready to resume your subscription, all your saved progress, bookmarks, and purchased titles will be right where you left them. Additionally, pausing can be a cost-effective choice, especially during times when you anticipate reduced listening. By putting your membership on hold, you avoid paying the monthly fee until you're ready to dive back into the world of audiobooks.
Managing Your Paused Membership
While your Audible membership is paused, you can still enjoy various benefits. You can continue to listen to your previously downloaded audiobooks, access your library, and make use of any accumulated credits. However, keep in mind that you won't receive new credits or discounts during the pause period. If you have any questions or need assistance during this time, Audible's customer support team is always available to help you.
Conclusion
Pausing your Audible membership is a convenient way to take a break from your subscription without losing your cherished audiobook collection. By following the simple steps outlined above, you can enjoy flexibility, save money, and seamlessly resume your audiobook journey whenever you're ready. Embrace the pause and return to your favorite stories whenever the time is right!