Embarking on heroic adventures in Baldur's Gate 3 is both thrilling and challenging. One early opportunity to be a savior unfolds through Mayrina's predicament, an engaging questline located within the Fetid Bog. This guide will walk you through the process of saving Mayrina from the clutches of Auntie Ethel, offering simple steps to ensure her safe rescue.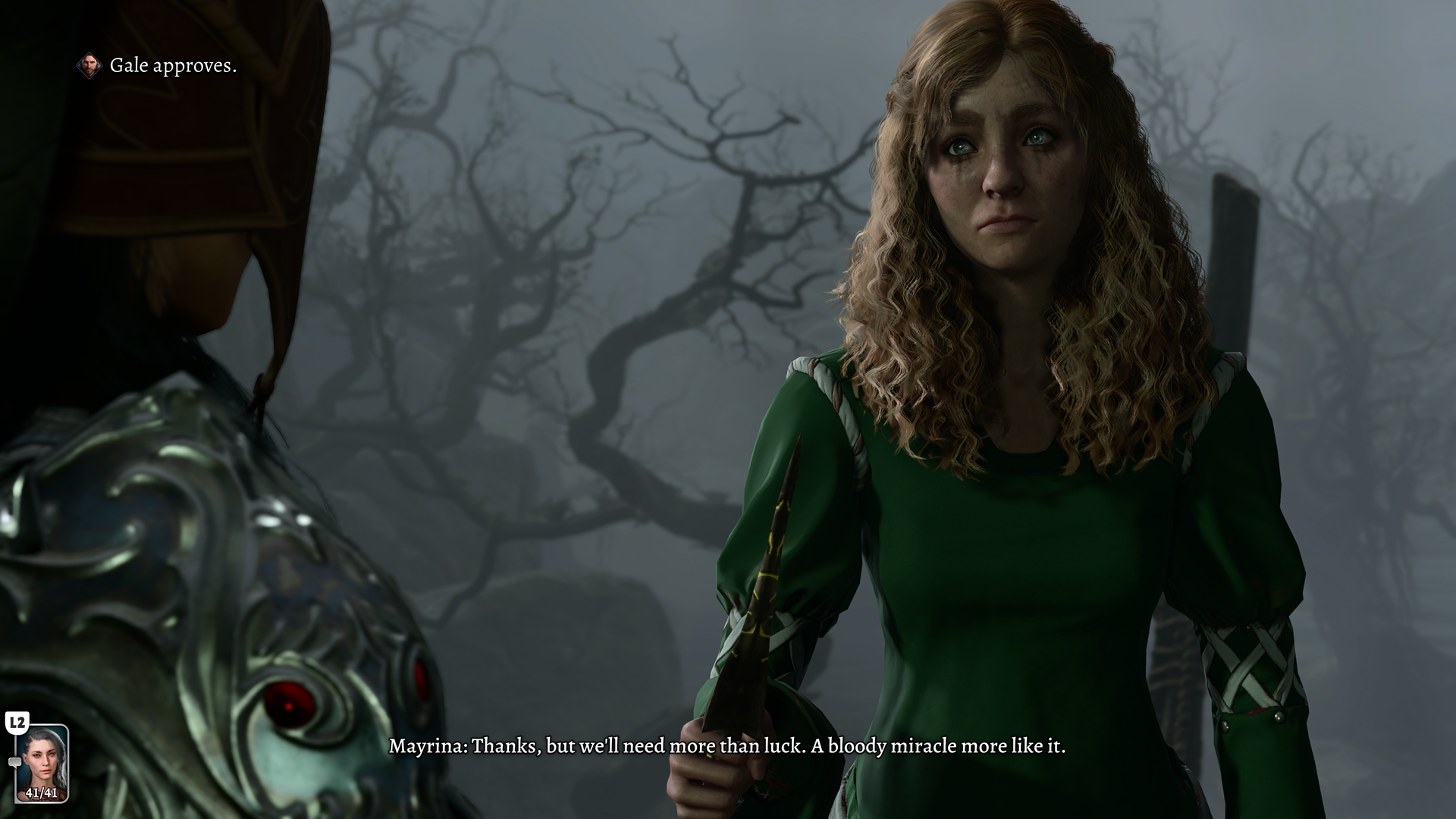 Discovering the Fetid Bog
As you start your journey in Baldur's Gate 3, a multitude of secrets and quests await in the game's first area. The primary focus of this guide lies within the Fetid Bog and the quest involving Mayrina. To initiate this quest, venture to the Fetid Bog and engage with Mayrina's family, who are desperate to unveil her whereabouts by extracting information from Auntie Ethel.
Meeting Mayrina at the Riverside Teahouse
Your path to rescuing Mayrina begins at the Riverside Teahouse. There, you'll find Mayrina trapped under Auntie Ethel's influence, who compels her to eat excessively. Informing Mayrina about the unfortunate demise of her family members within the Bog will lead her to break free from Ethel's control. As a result, Auntie Ethel will teleport Mayrina away. Beware of delving too deeply into questioning Auntie Ethel about Mayrina, as this will also prompt her teleportation. Opting for Ethel's proposal to manage the Illithid Tadpole will yield the same result of Mayrina's teleportation.
Confrontation with Auntie Ethel and Rescuing Mayrina
If you provoke Auntie Ethel, she will summon her Redcap allies, sparking a confrontation. During the ensuing fight, Ethel will escape through a concealed passage behind the fireplace. After subduing the Redcaps, deactivate the fireplace and access Ethel's hidden lair through the back passage. Alternatively, discovering the hidden passage triggers the battle automatically.
Inside Ethel's Lair
Navigating Ethel's lair requires overcoming obstacles. An animated door bars your way forward, but wearing one of Ethel's eerie wooden masks reveals the door's illusion. Beware, though, as the mask might enable Ethel to control you. Successfully resisting this control via a Wisdom save (facilitated if you're a paladin with the "Oath of the Ancients") allows you to proceed. You can also convince the door to guide you through, necessitating a persuasion or intimidation check.
Progressing through Ethel's Lair
Beyond the door, an open space awaits, and brainwashed thralls under Ethel's influence will attack. It's advisable to use non-lethal tactics here due to their compromised state. Be cautious not to remove their masks, which could result in their demise. Subsequent sections of Ethel's lair are enveloped in poisonous clouds, which can be momentarily dispersed by igniting them. However, moving through the flames is hazardous, and the gas reverts unless you obstruct the vents. Successful perception checks reveal these vents, which you can block using items.
Rescuing Mayrina from Ethel's Grasp
Upon navigating the poisonous clouds, you'll reach Mayrina's location and confront Ethel to secure her release. This battle with Ethel proves challenging, especially at lower levels. Ethel's illusions possess autonomous spellcasting abilities, and she tends to immobilize your party with spells like hold person. She inflicts damage using ray of sickness and debuffs your group.
At the battle's onset, Ethel ignites Mayrina's cage, compelling you to lower it using the control orb across the room. Distinguishing the real Ethel from illusions is possible since only the real one can be debuffed. Utilizing Witchbolt helps track her amidst the duplicates. Anticipate her attempt to switch places with Mayrina, so mark her before that point to avoid endangering Mayrina inadvertently. As her health diminishes, she might bargain with your party, offering power in exchange for Mayrina's retention. Passing an Intimidation check coerces her to relinquish both power and Mayrina. Alternatively, you can eliminate her, provided her health is significantly low.
After liberating Mayrina, acquire the "Bitter Divorce" wand from the adjacent room. Locate Mayrina outside, close to her husband's tomb, and engage in conversation. The choice of using or destroying the wand is yours, yet either decision concludes the quest, and Mayrina departs for Baldur's Gate. It's crucial to note that choosing to use the wand contradicts the "Oath of the Ancients," so adherents of this oath should exercise caution.
Conclusion
Saving Mayrina in Baldur's Gate 3 demands strategic thinking, combat prowess, and a heart for heroism. By meticulously following these uncomplicated steps, even novice adventurers can successfully navigate the perilous journey, liberate Mayrina from Auntie Ethel's clutches, and bask in the satisfaction of completing this captivating quest.