Taylor Swift fans, also known as Swifties, have always enjoyed unraveling the singer's mysteries and uncovering hidden clues in her work. This time, Taylor has challenged her fans with a puzzle right on Google. The goal is to unlock the track titles from her highly anticipated album, "1989 (Taylor's Version)," hidden within a digital vault. With 33 million puzzles available, it's time to dive into the Taylor Swift Vault puzzle adventure. In this article, we'll provide a simple guide on how to find and solve these puzzles, so you can be part of the Swiftie fun!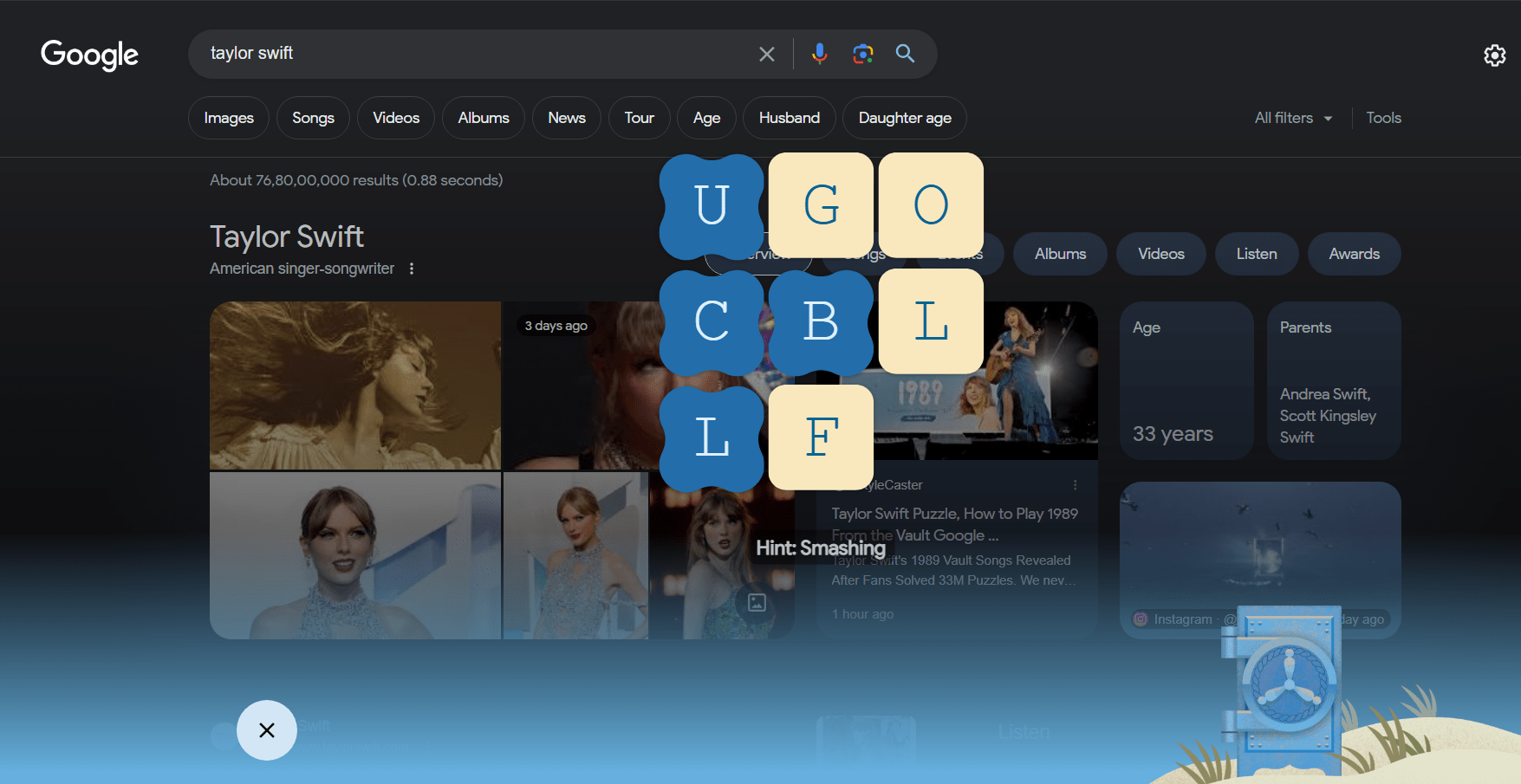 Step 1: Google "Taylor Swift"
The journey begins with a simple Google search. Open your web browser and type "Taylor Swift" into the Google search bar. No need to add "Vault" or "1989 (Taylor's Version)" at this stage. Just the artist's name will do.
Step 2: Locate the Vault Icon
Once you've initiated the search, keep an eye out for a small icon resembling a vault. This icon is nestled in the bottom left corner of the Google search results page. It's your key to unlocking the Taylor Swift Vault puzzles.
Step 3: Solving the Taylor Swift Vault Puzzles
Now, let's dive into the heart of the challenge: solving the puzzles. Click on the Vault icon to access the puzzles. You'll find yourself faced with a series of scrambled words. Your task is to unscramble these words and type in your answer in the provided space. The answer can be a single word or even a short phrase. Each correct answer will contribute to unlocking Taylor's Vault track titles.
Step 4: Verify Your Answer
After you've entered your answer, Google will process your search term as usual. If your answer was correct, you'll notice the same little vault icon reappear in the corner. This is a sign that you've successfully contributed to solving the puzzles. Feel free to keep going and tackle more challenges.
What Awaits Inside Taylor Swift's Google Vault?
Congratulations! You've taken part in the Taylor Swift Vault puzzle adventure. Once you've collectively contributed 33 million correct answers globally, a key will appear behind the vault on the Google page. Clicking this key will unlock a voice note from Taylor herself. In this special message, Taylor congratulates you for your participation and reveals some of the track titles from her upcoming album, "1989 (Taylor's Version)." As of now, we know four of the titles: "Is it over now?," "Now that we don't talk," "Say don't go," and "Suburban legends." However, Taylor has promised a fifth track, leaving Swifties eager to discover what's next.
Exploring the Taylor Swift 1989 Vault on Google
So, what exactly is this Taylor Swift 1989 vault on Google? It's a delightful Easter egg hunt for Swifties. All you need to do is search "Taylor Swift" on Google, and a small vault icon will pop up in the lower right-hand corner of your screen. Clicking on this icon will reveal a crossword-style puzzle. Your mission is to provide the correct answer to these puzzles by typing it into the search bar. Each correct answer brings the world one step closer to unlocking the secrets hidden within the vault. It's a fun and interactive way for fans to engage with Taylor's music.
As you embark on your puzzle-solving journey, you might be wondering about hints and possible answers. Here's what we know so far: each puzzle comes with hints, and there can be multiple answers for a single hint. To determine the correct answer, pay attention to the colored tiles within the puzzle. These colored tiles are your clues. If your initial answer doesn't work, don't worry; puzzles can be a bit tricky. Just go back and try again with a new puzzle. With persistence and a bit of creativity, you can contribute to unlocking Taylor Swift's hidden treasures.
Conclusion
Taylor Swift has once again delighted her fans with a creative and engaging puzzle hunt on Google. By following the simple steps outlined in this guide, you can join the millions of Swifties worldwide in solving the Taylor Swift Vault puzzles. Remember, it's not just about solving puzzles; it's about being part of the excitement and anticipation surrounding Taylor's music. So, start Googling "Taylor Swift," click on that vault icon, and let the puzzle-solving adventure begin! Who knows what secrets you'll help uncover in the Taylor Swift Vault?