In this guide, you are going to be shown how to use the Clubhouse app. You will learn how to join a room and start your own room.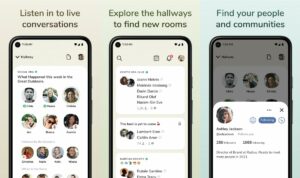 Signing up
Clubhouse is available by invitation only, so you will need someone to invite you before you can start using it.
Click on the link in your invite message and install the app.
Follow the prompts on the screen to set up your account.
Choose a username for your profile and follow some accounts that you are interested in to get started.
Join a room
In the Clubhouse Hallway, you will see all the rooms available to join based on who you are following.
To join a room, tap on the event, and you will immediately be able to start listening.
At the top, you will see the speakers, and below, you will see the listeners.
If you want to contribute to the conversation and start speaking, you will need to ask permission from the host by raising your hand. Do this by tapping on the hand icon.
You can leave a room at any time by tapping on the box that reads Leave quietly.
Start a room
You can either start a room instantly or plan an upcoming event.
To start a room, tap on the green Start a room icon at the bottom.
You will be given three options to choose from.

Tap on Open for a public room.
To start a room with only people that you follow, choose Social.
Tap on Closed if you want to start a room with only specific people.

Give your room a descriptive heading by tapping on Add a Topic.
Choose Let's Go to go live, or Choose People to invite who you want to your private room.
If people want to contribute to your conversation, they will raise their hands. View all the listeners who have raised their hands by tapping on the hand and paper icon and then you could invite them to speak.
To end the event, tap on the three dots in the top right corner and then click on End Room.
You can instantly start a room with one person to have a private conversation. To do this, tap on the dotted square icon at the bottom right of your screen.
Find the contact that you want and then tap on +Room to start.
To schedule a room in advance, tap on the calendar icon at the top of your screen.
Tap on the New Event option. A pop up will appear where you can fill in details about your event. Type in the name of your room, as well.
To add a cohost or invite guests, tap on its option and find the people that you want to add. Add them by tapping on their name.
Set the time and date of your room through the calendar.
You can add more details about your discussion in the box below.
Tap on Publish to complete.