Tonight, the boxing world will pause to watch one of the best to have ever graced the ring fight against a popular YouTuber! Floyd Mayweather vs Logan Paul is a blockbuster event that has had everybody talking, regardless of whether or not you are an avid boxing fan.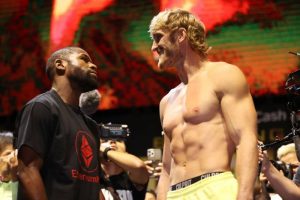 With an unblemished professional record of 50-0, Mayweather is one of the greatest to have ever stepped into the boxing ring. He is a fighter with an unrivalled accuracy when it comes to punching and could even dodge a bullet if he wanted to.
However, we have to note that he is 44 years old and is used to fighting opponents around 50lbs lighter and six inches shorter than Paul, a YouTuber who has recently turned into a brawler.
Meanwhile, Paul has only fought professionally once, where he was defeated by KSI, a fellow novice who was both shorter and lighter than him. On the other hand, Mayweather has beaten all of the fellow greats of his era, including Diego Corrales, who is famous for his hard-hitting style as a fighter.
Here is a guide on all you need to know about how to watch a Floyd Mayweather vs Logan Paul live stream.
If you live in the US, you will need to spend $49.99 where the event will be shown on a pay-per-view basis on Showtime.You can get Showtime on a wide range of devices including Android, iOS, Android TV, Amazon Fire TV, Apple TV (4th Gen+), Xbox One, Roku, as well as simply on its website.
You can also find the fight through a selection of cable services, such as Verizon, DirecTV, Dish, and Spectrum if you want to watch the fight. In the lead-up to the event, 10 pm ET / 7 pm PT should be the time to set your stopwatch throughout.
You can also use a VPN to live stream from anywhere, with the ideal choice being ExpressVPN. It is compatible with many devices including iOS, Android, PlayStation, Amazon Fire Stick, Apple TV and such, and several users have found it to be speedy, secure, and very simple to use.
Meanwhile, in the UK, your only option is to buy the Mayweather vs Paul fight for £16.95 through the Sky Sports Box Office. After making the purchase, you can watch it either on your Sky account or on your mobile phone, computer, tablet, console, or alternative streaming device.
Comments
comments