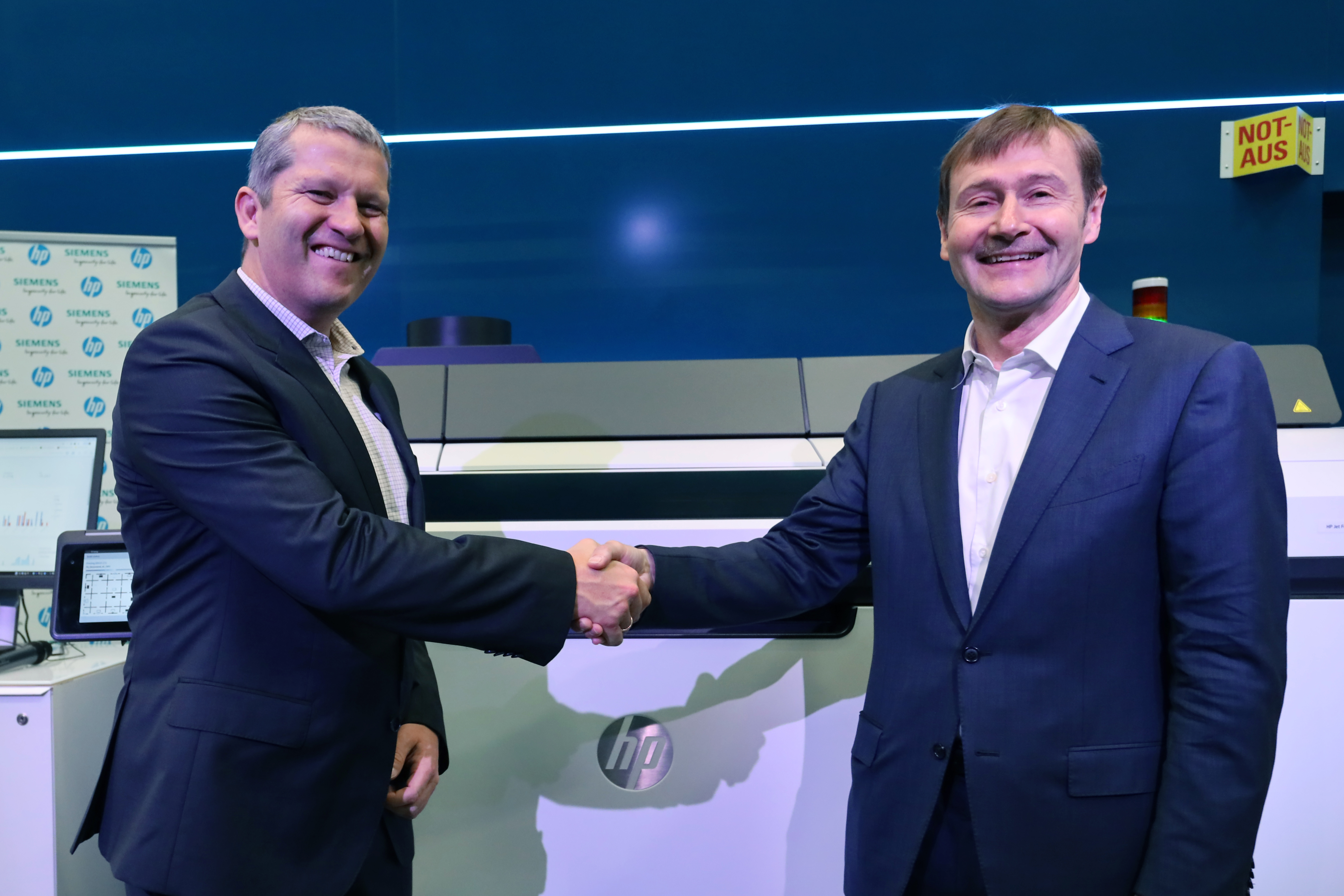 14 May 2019, India:
HP announced it's expansion of strategic alliance with Siemens to help customers transform their businesses with industrial additive manufacturing.
HP and Siemens will expand their integrated additive manufacturing solution, incorporating new systems and software innovations including overall product lifecycle management (PLM), AM factory optimization, industrial 3D printing and data intelligence, manufacturing execution, and performance analytics.
Klaus Helmrich, Member of the Managing Board of Siemens AG and CEO of Digital Industries, said, "We are excited to expand our collaboration with HP. Innovative partnerships and cutting-edge technologies such as additive manufacturing are essential for the digital transformation of companies across industries."
Klaus Helmrich, added, "Siemens and HP are thinking ahead to the future and are bringing together the best from both companies in a complete, industry-specific solution that will accelerate the adoption of industrial additive manufacturing and help our customers to increase flexibility, efficiency, and speed of digital manufacturing."
Klaus Helmrich, further explained, "As a provider of solutions and services we want to team up with strong partners that have the necessary expertise in materials and the manufacturing process to support them to produce 3D printing systems."
The integration of HP's new Jet Fusion 5200 Series 3D printing solution with Siemens' Digital Enterprise offerings enables industrial companies to bring 3D printed parts to market faster, more cost-effectively, more sustainably, and at higher volumes than ever before.
The companies announced the expanded alliance at an event to celebrate the addition of a new Polymer Competency Center to the Siemens Additive Manufacturing Experience Center (AMEC) in Erlangen, Germany, where HP also unveiled its new industrial-performance HP Jet Fusion 5200 Series 3D printing solution.
Christoph Schell, President of 3D Printing and Digital Manufacturing and member of the Executive Leadership Team at HP Inc, said, "We are proud to partner with Siemens to make high-performance parts, personalized products, and serialized 3D production a reality for our customers. HP and Siemens share the vision that digital manufacturing systems are catalysts for change – expanded software, data, services, and industrial production solutions that lead to new manufacturing capabilities, innovative applications, and breakthrough business results for our customers."
Christoph Schell, added, "HP and Siemens are building on a vision first established in 2016. Today, thanks to advances in HP's 3D printing systems and data intelligence portfolio and Siemens AM offerings, the integrated end-to-end solution has reached a level of efficiency that enables industries to viably 3D print high-quality parts at volume production."
The expanded additive manufacturing solution from Siemens and HP integrates hardware, software, data intelligence, and services to optimize the efficiency of the entire manufacturing process, from design and simulation through production planning, execution, quality, and control.
Martin Goede, Head of Technology Planning and Development at Volkswagen, said, "Volkswagen is a partner of both HP and Siemens and we are excited to see these market leaders join forces to unlock the power of industrial additive manufacturing. As one of the world's largest auto groups, we see enormous opportunities for digital manufacturing technologies to speed our innovation cycle, bring new products to market faster, and improve our manufacturing efficiency and sustainability."
Martin Goede, added, "We look forward to collaborating with HP and Siemens to explore more 3D printed applications that help us deliver even greater experiences for our customers."
(Source – HP)