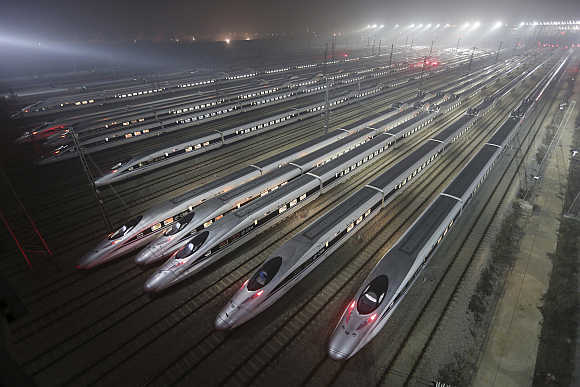 19 April, 2016, Beijing: Despite of the fact that Japan has managed to bag India's first bullet train project, China is wooing the country to build high speed railway on other routes. According to the report in PTI, China has claimed that it has the technology and expertise which will help India in building the high-speed rail network. China has also said that this move will bring enormous economic growth and social benefits to the people.
While answering the queries on the cost involved in such project, China has provided its own example by explaining how the country has been benefited by deploying such high-speed system. "The reason of introducing or promoting our high-speed railway (HSR) to other countries is that we are confident in our technologies. The second reason is that we share a lot of similarities with southeast Asian countries in terms of large population and we are all developing countries," Vice General Engineer of the China Railway Corporation Zhao Guotang told visiting journalists from India and some ASEAN nations at the China Railways headquarters here, reports PTI.
"We are also quite happy to share our experiences with these nations. The advantages brought by HSR to our economic and social development is quite remarkable and quite well known," he adds.
Answering the queries raised on the financial aspect of the project, Zhao explained, "For example Nanchang to Shanghai high-speed railway line started generating profits in the first year of its operation after opening to public. Beijing to Shanghai HSR, with a total distance of 1318 km, has been earning money in third year after being thrown open. Last year, it made a profit of over six billion RMB (USD 927 million) and this year, it is hoped it will exceed 10 billion RMB."
However, earlier, when India's high-speed railway project (from Mumbai to Ahmedabad) was given to Japan, China had raised its concerns over the move as it was competing with Japan for the project.
Image-rediff.com
Also Read-
Betaout Inc. Raises $1.5M in Pre Series A Round Of Funding
DriversKart Raises An Undisclosed Amount Of Funding From ah! Ventures & Others