As reported in a report of 2nd March by The Economic Times, worldwide Chief Executive Officer (CEO) of Decathlon Barbara Martin Coppola stated that the sports equipment retailer is in negotiations with the Indian government to get authorization to sell stuff from competing national as well as international brands in its shops.
"We are a single-brand retailer — so we are asking (the government) for the possibility of selling different brands in our shops," the 46-year-old CEO told ET.
Coppola joined Decathlon in March 2022; prior to that, she served as Ikea's chief digital officer. "Right now, we only sell Decathlon products and what we would want is to have the licence or opening up to other brands," she added.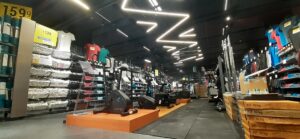 India allows 100 % foreign direct investment (FDI) in single-brand retail, allowing for the sale of a variety of goods under a single brand. Ikea, Nike, and Adidas are a few examples. The research said that FDI is not allowed in multi-brand retail, which is the direct sale of several products to customers under one roof.
"We believe in offering our customers the widest choice across sporting products and categories, including seeking a provision for sports industry in India where single-brand retailers can also offer up to 20% of their inventory from other local and global brands across their sales channels," CEO Coppola told ET.
"We are asking for a simplification and easiness for sure, so that is part of the dialogue," the CEO told ET. "We have people that are in constant dialogue with the government on very good terms. India has been a good country to do business in and that's why we want to accelerate."
The first market she will visit alongside Decathlon's full executive team after joining the firm in March 2022 is reportedly India.
With more than 100 major stores and 110 facilities in India, Decathlon offers rates that are around 30 to 40 per cent lower compared to its competitors. According to the study, it purchases approximately 8 per cent of its athletic goods needs globally from India.
"Today 60 percent of the products sold are made in India and by 2026 it will be 85 percent. So we are increasing production capabilities in India," Coppola told ET.
According to the study, Decathlon India's sales have increased 41 per cent to Rs 2,936 crore in the fiscal year that ended in March.
Comments
comments