The government of India has now started an initiative to block different apps that are linked with China. Around 138 betting apps and 94 loan lending apps have Chinese links connected with them on an "urgent" and "emergency" basis, as reported by New18 on Sunday.
Other sources said that the step taken was on the suggestion of the Ministry of Home Affairs on 'emergency blocking' of these apps.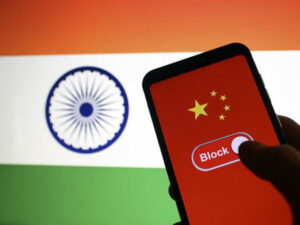 These apps were said to attract Sec 69 of the IT Act as they contain "material which is prejudicial to sovereignty and integrity of India", according to an official talk between two ministers – the Ministry of Electronics and Information Technology (Meity) and the Ministry of Home Affairs, News18 reported.
The reason behind banning these apps:
This matter was referred to as "extortion" and "harassment" of the public as these people who benefited themselves with small amounts of loans through these apps were run by those (Chinese) entities.
These apps were basically Chinese entities that hired Indian citizens as their directors and executives in the operation. "After luring desperate individuals into taking on a loan, they jacked up the interest by up to 3,000 percent annually," the report said.
The poor people who took out loans when they were unable to repay the entire loan or even the interest, the apps started harassing them. They sent lewd messages, threatened them, shamed them with messages, and many more.
This was going on for a long time until a matter came into the spotlight. A sharp rise in suicide cases started in the states of Andhra Pradesh and Telangana where people lost their money in such loan lending and betting apps.
"These apps, often displaying predatory behaviour to trap individuals in massive debt, can also be misused as tools for espionage and propaganda, besides posing a security risk to the data of the Indian citizens," sources told News 18.
Different Indian States like Telangana, Odisha, and Uttar Pradesh along with central intelligence agencies asked the Union Home Ministry to take strict action against such apps.
With regard to this, the home ministry then started analyzing 28 Chinese loan lending apps 6 months ago. The investigation resulted in around 94 apps being available on e-stores and others through intermediates and third-party links.
The report further added that many apps were not available on mobile phones. According to sources, betting apps and games were downloaded through independent links and websites.
"They are even being directly played online or on social media platforms. Some of these also accept cryptocurrencies as payment," it said.
Therefore, the Ministry of Information and Broadcasting (MIB) issued an advisory stating that betting and gambling are illegal in many countries under the provisions of the Consumer Protection Act 2019, Cable TV Network Regulation Act 1995, and the IT Rules, 2021.