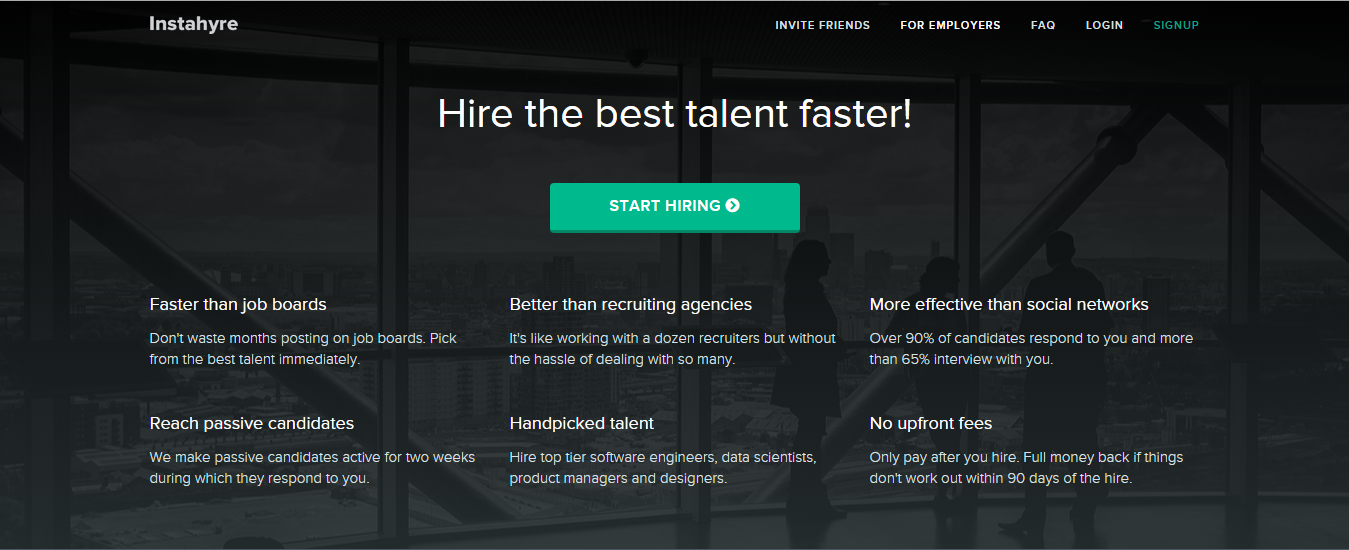 Innovative ideas have found their place in the market, and so it's time for the innovative people to reclaim from the chains of conservative job opportunities and establish themselves in the market. We all know that the startup industry is booming in India like never before and so is the startup hiring industry. Hiring quality talent is very challenging and tedious process for all companies. Most companies hire using various sources such as recruitment agencies, job boards, and internal recruiters.
None of these options offers a particularly great experience. Agencies find it hard to scale their business beyond a few customers while maintaining quality, while the most talented job-seekers are keeping away from job boards. Building internal recruiting teams is difficult and costly and still not as effective as specialist firms. Investors don't expect the companies to waste most of their time in hiring processes.
The Instahyre
Instahyre is an online "career marketplace" that aims to disrupt this industry by providing a quality, full-stack recruitment solution that customers can rely upon to close critical positions. Instahyre is a web-based platform that connects talent to tech-based companies through an innovative method. The process is offering a new leeway to companies as well as candidates to break in through the monotonic process of hiring, which was gradually turning inadequate. It caters to both ends of the market, companies can hire the best talent available in the market and at the same time, it is offering an efficient platform for job seekers to showcase themselves to top companies. The process is transparent and the platform connects candidates and companies directly. Their marketplace allows candidates to get interviews with multiple vetted companies within two weeks. Typically more than 100 companies screen each candidate's profile within this time on the platform, offering quick recruitment. Likewise, companies are able to hire the best talent without the frustration of dealing with a dozen recruitment agencies.
Their product enables a lot of time saving for both the company and the candidate. As compared to recruitment agencies, they are able to provide a much larger number of quality candidates to employers. Job-seekers get complete privacy as their profile is blocked from the current and past employers as well as from companies they may be interviewing with, which is a major concern with using job boards.
They have already placed hundreds of candidates at the top companies in India, which has given them a significant presence in the tech hiring vertical. Candidates do not need to spend on any upfront fee as Instahyre charges the hiring company a very competitive fee as compared to recruitment agencies.
The Recruiter
The sole founder of Instahyre is Aditya Rajgarhia. He received his Master's degree in Computer Science from Stanford University, and a Bachelor's degree from Illinois Wesleyan University. Before founding Instahyre, he worked at a San Francisco based startup called Clustrix. He has also worked in Yahoo and Vmware. He is passionate about leveraging technology to incur a progressive change in HR landscape of the country, which led him to develop an innovative platform such as Instahyre.
The problems he personally faced while hiring as well when searching for great jobs was one of his main inspirations for this venture. He sets the vision for the company and its products with his ability to merge technology, product design and strategy. Instahyre was launched in May 2014. The current team size is almost 30 and growing at their offices in Delhi.
The Hiring Challenges
Most founders and managers would agree that finding the right talent is without questions a huge problem. Moreover, even though finding a job is not a problem for a talented individual, exploring all the different options is not feasible without the use of a technology platform like Instahyre.
Having spent many years in Silicon Valley, Aditya was used to a population with pervasive technology usage. However, technology adoption is very low in India. Also, most people don't have much trust in technology, especially when it comes to products or services that charge the customer. Thus, they saw a lot of Indian companies having to put significant effort in building out their operations. The most successful Indian companies will definitely have to adapt to the local landscape, and it's something Instahyre have been focusing on as well.
Dreams become Reality
For Instahyre the greatest experience is getting positive customer feedback from people who've found their dream jobs through Instahyre, and knowing that there are some very high-profile startups who have mostly built their tech teams through Instahyre!
"The goal is to be the one-stop, full-stack recruiting solution for white-collar jobs. We will continue to constantly improve our product, service and team strength."
At the moment they are catering only to funded startups hiring top-tier tech and product talent, They are doing a run-rate of crores, with more than 200 companies hiring on their platform. These include big names such as Amazon, Ola, Zomato as well hypergrowth startups like UrbanClap, LocalOye and Swiggy. They plan to expand to most white-collar jobs, such as Software Engineers, Product Managers and UI/UX Designers, Marketing and Sales. This gives a large market opportunity, which according to conservative estimates is pegged at $1 billion in India and growing fast.
They are not actively looking to raise funding as they have sufficient funding as well as revenue. At the moment, they would be open strategic funding if someone sees great potential in the business and would be strongly interested in partnering with them.
More reads:
Read Speed hiring catches fancy: 12 minutes and hired or fired
Read Employers struggle to hire relevant tech talent: Monster
Read TalentPad – Recruitment Platform That Lets Companies Bid For Premium Candidates !