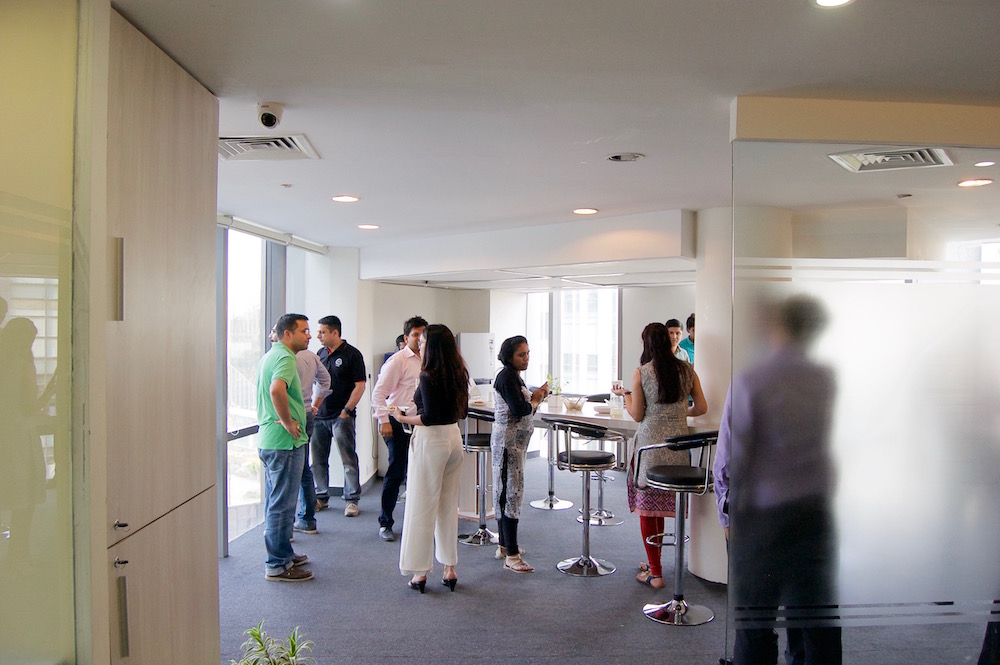 New Delhi, January 10: InstaOffice, India's fastest growing chain of business centres and co-working spaces, has raised its pre-series A round of investment led by Globevestor, which had previously invested in leading start-ups like Zoomcar, OnlineTyari and Rubique. Several leading angel investors also participated in the round, including Zishaan Hayath, Co-Founder Toppr, Karan Chellani, Managing Partner at SQUE Capital and Mohit Satyan and, Director DFM Foods and Chairman Teamwork Arts, along with a cluster of other industry experts and angel investors. InstaOffice's legal advisors for fund raise were Vertices Partners.
InstaOffice has grown phenomenally from a single Business Centre in Gurgaon in Feb 2016 to more than 50,000 sq. ft. area under management, spread across 10 Centres across Gurgaon, Delhi and Bengaluru in less than a year's time. InstaOffice has modelled a unique strategy for expansion, allowing it to grow at an exponential rate. InstaOffice partners with landlords while staying extremely light on its Capex and Opex needs, which has enabled it to acquire this scale at a fraction of a cost compared to other operators in the space.
"The commercial Real Estate has been plagued by multiple friction points and two of them have been leases with long term lock-in periods and availability of only large floor plates. However, users today need spaces, which are highly flexible in time, area or layout of the space. Consequently most landlords suffer from high vacancy periods and poor rental yields, not to mention the legal hassles when clients do not complete their lock-in periods. We at InstaOffice are disrupting the commercial real estate industry by structuring partnerships with landlords where they can earn higher rental yields from their spaces and customers can get high degree of flexibility." Said Devendra Agarwal, Co Founder, InstaOffice.
With 4 operational Centres in Gurgaon, 2 in Bengaluru and 4 more in Delhi-NCR becoming operational over next 2 months, InstaOffice has a community of 400 members, growing to over 1,000 active members by next quarter. All of its centres are located in key business districts and highly convenient commercial locations, including Golf Course Road, Sohna Road, and Sector 32 in Gurgaon and Indira Nagar in Bengaluru.
InstaOffice has developed a highly vibrant ecosystem with high value partners, mentors, events such as InstaOffice Unwind Sessions and a wide range of support services, allowing its members an end-to-end office space solution. With a keen focus on providing an experience par excellence, InstaOffice has emerged as a leading brand in the Coworking industry and an exclusive platform for its members to engage with a vast community.
"Coworking is a fairly nuanced industry. Our members have very diverse needs depending on numerous factors. The key is to build the right product with the right value at the right location, which InstaOffice continues to do at great pace. Hence our members come from across the board; ranging form early stage entrepreneurs, mature start-ups, SMEs to large corporations and MNCs like Dr. Reddy's, Staples, Yahoo, Amazon amongst others. We have brought a systemic change in the commercial Real Estate space, delivering considerable reduction in office occupancy costs to our members and superior rental yields to our landlord partners", added Vikas Lakhani, Co Founder InstaOffice.
Evolving macroeconomic and technological dynamics have led to a massive demand of serviced offices. Startups continue to be big users of Coworking spaces, at the same time mature companies and large corporations are increasingly adopting Coworking spaces as an integral part of their wider workplace planning and strategy.
"India is going through a shift in workplace preferences by companies of all sizes. Given the astute business acumen of the core team at InstaOffice, we are excited to back these entrepreneurs and their journey to take Indian co-working industry by storm," said Ankur Srivastava, cofounder Globevestor.
Comments
comments