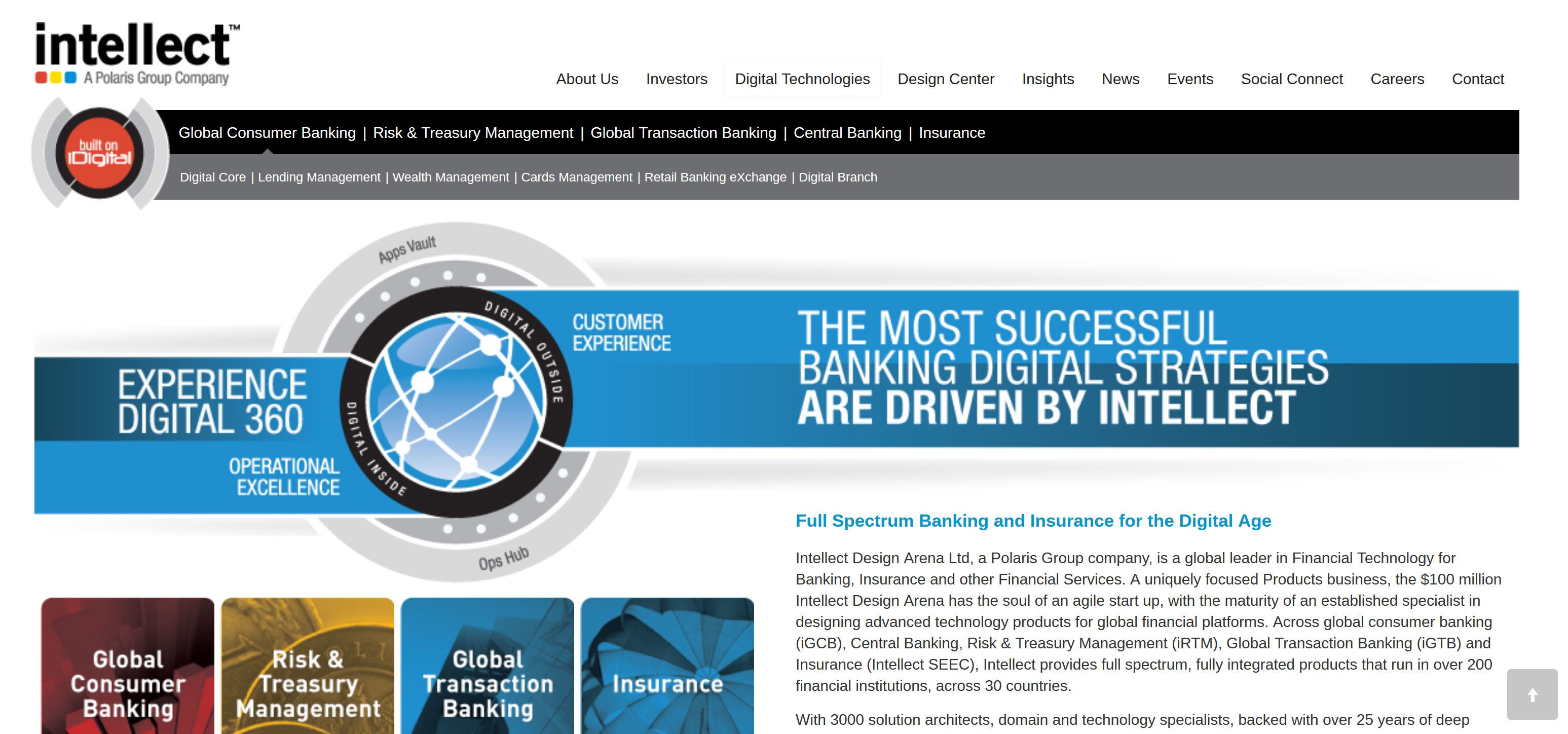 15 digital-led wins, including 2 digital transformation engagements
Chennai (India), October 21, 2015: Intellect Design Arena Ltd, a specialist in applying true Digital Technologies across Banking & Insurance, announced its second quarter results for FY 2015-16 today.  Intellect drives some of the most successful digital transformations across Global Consumer Banking, Global Transaction Banking, Risk & Treasury Management and Insurance.
Revenue Grew by 44% YoY. Revenue Guidance revised upward.

Revenues grew by 44% YoY in Q2 FY 16 and stood at Rs. 207 crore, compared to Rs. 144 crore in the same quarter last year.
In dollar terms, revenue stood at $32 mn compared to $24 mn in the same quarter last year, recording 34% growth YoY.
Revenue Guidance revised upward to 26-30% growth compared to the earlier levels of 22-26% growth.
Gross Margin stood at Rs. 109.6 crore.
R&D investments for the quarter stood at Rs.33.8 Cr, in line with planned annual investment of Rs. 130 crore (USD 20 mn)
Sales & Marketing expenses were stable during the quarter at 28% of revenues.
Driving Accelerated Digital programs and Digital Transformations
The Intellect suite of products is built on robust & contemporary Digital Technologies helping our customers accelerate their digital programs.  Intellect's path breaking approach of Digital 360 has helped in gaining client trust with their digital programs and digital transformations.
The company was awarded 15 Digital programs in the last quarter, including 2 transformational programs.
A few of these are highlighted below:
Hong Leong Bank, Berhad, a leading financial services organization in Malaysia, chose Intellect as its partner to transform and digitalize its wholesale banking offerings with the Intellect Global Transaction banking (iGTB) suite. This consists of a digital omni-channel delivery platform and rich applications across Digital Cash Management, Liquidity Management, Domestic and Foreign Payments, Trade Finance and Supply Chain Finance which will enable the bank to facilitate mass adoption of real-time digital payments amongst its Corporate clients
One of the largest financial institutions in the Middle East chose Intellect's iGTB Suite to implement Corporate Banking Exchange (CBX), Mobility, Payments, Collections & Receivables, and Liquidity as the Transaction Banking standard for their 12 Country operations.
One of India's leading integrated infrastructure finance players chose Intellect as their Treasury transformation partner.  Intellect will be offering its expertise in the area of Treasury analytics.
A Turkish state-owned bank, one of the country's strongest and most reputable institutions, has chosen Intellect Collect to drive their digital transformation agenda.
One of the leading Local Area Banks in India, which pioneered modern banking facilities in rural areas, chose Intellect's Digital Core, with inbuilt Mobility & Omni-channel, for enabling mobilization of rural savings by local institutions to make them available for investments in local areas.
One of the oldest and top public sector banks in India chose Intellect Treasury to drive its FOREX business.
New Products
Intellect OneLRM, is a comprehensive BASEL III Liquidity Risk Management solution specifically designed for advanced markets. With a power packed BCBS 248 Intraday Bank Liquidity Management, and Omni-Channel digital Risk Visualizer Treasurers, CROs CFOs and Funding Managers now have a comprehensive Liquidity Risk Management product to prevent liquidity squeezes, by providing accurate cash projections with hi-order precision and by providing the cost effective funding option, thereby mitigating risk of credit erosion, regulatory fines and reputational damage.
Intellect Risk Analyst from Intellect SEEC, is the first ever virtual assistant for underwriters launched on the Cloud. It enables a change from the manual approach of underwriting with the latest advancements in technology to improve loss ratios and profitability. It is designed to make underwriting faster and more efficient with quick, effective and accurate risk predictions in minutes.
Leadership Additions
 Given the rich suite of Digital FinTech products and the exciting market opportunities, the company continued to strength the Leadership team.  Senior Leadership hires in the quarter include:
Delisa Stone, SVP and Senior Business Development Manager, iGTB: Delisa brings over 20 years of experience shaping and driving revenue growth to FTSE50 and Fortune 50 Financial Services clients up to 2bn in value. Over the past 5 years, Delisa worked with HSBC Group to lead and drive Digital lead Commercial Strategies across Transaction Banking, Wealth, Private, Commercial, Corporate and Retail Banking.
George Lee, SVP – Sales, iGTB: George joins us with 27 years of global transaction banking, software management and technology consulting experience. His distinguished career includes senior positions at JP Morgan Chase, Citi, Deutsche Bank as well as the global IT consulting firm – American Management Systems and FundTech. George will be focus on driving new and existing relationships, revenue growth and iGTB's brand recognition in the financial services market place.
Indranil Dasgupta, SVP & Business Head of OneLRM: Indranil has over 25 years of P&L Leadership, Strategy, Marketing & Delivery experience in FinTech and Change Management in Investment Banks. He joins us from Credit Suisse. In the area of Investment Banking, he has worked at senior levels at Deutsche Bank, Nomura & Lehman Brothers.
Management Statement
Arun Jain, Chairman and Managing Director, Intellect Design Arena Limited said, "The investments made in digital technologies, structure and leadership has started delivering the desired results.  We have invested considerable efforts into the design of products perfectly tailored for the digital & experience economy. This means we will not only be able to accelerate the digital initiatives of the bank, we will also enable ease of change and a delightful implementation. Be it a Digital Core banking implementation or Treasury digitalisation, we are able to crunch the implementation timelines significantly better than our competition"
S Swaminathan, Chief Financial Officer, Intellect Design Arena Limited, said, "The Q2 & half year Financial Performance gives us the confidence of upgrading the guidance to 26-30% growth compared to the earlier levels of 22-26% growth. We continue our focus on operating costs in order to meet our guidance of breakeven in Q4, while sustaining our investments in new digital platforms, technologies and market opportunities."
Comments
comments