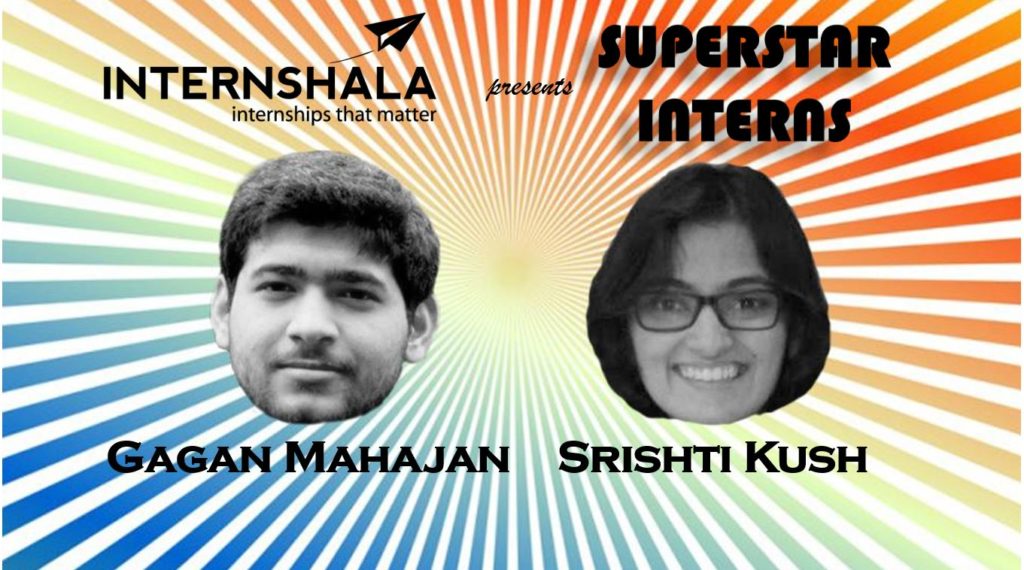 Interns – the reason why many startups have succeeded and survived in India today. Interns bring a lot of passion to learn, deliver, grow, and allow every startup to remain extremely agile and cost effective. As a tribute to the contribution of interns to startup ecosystem, Techstory along with Internshala is bringing to you a series focused on Superstar Interns – stories of interns who have played a significant role in the success of the companies. Today, we present the story of not just one superstar intern, but two: Srishti Kush and Gagan Mahajan of Sheroes.
Srishti joined Sheroes in December 2013 during the 8th semester of her college, when she was trying to figure out what she wanted her career path to look like. "A place where ideas are welcome and there is no thought control is the perfect place to start your career! And SHEROES gave me just that. My seniors here helped me figure out my career path and have been great mentors and leaders helping me at every step along the way. A helping team, learning curve and growth were the incentives that made me go full-time here" says Srishti.

For Gagan, who joined the organisation in June 2015 for a 21 day project, the 21 days were a superb ride of interaction, learning and analysis. "The organization's mission to connect women to opportunities and the open culture where I felt I could grow really well, drove me to join SHEROES" says Gagan.
Sairee Chahal, CEO of SHEROES, who has been working with interns all through her corporate and entrepreneurial career mentions that intuitively she knew Srishti and Gagan imbibed SHEROES' values and mission. Speaking about their role in the organisation's growth, Sairee says, "Both Srishti and Gagan run core functions at SHEROES and are fully empowered to take calls on things we would do or not do. They know our mission and our values and are always working towards building up SHEROES. Between them, they have run diverse functions, projects, teams – especially Srishti whose responsibilities range from content to sales – and product."
As a category creator and a high energy organization, SHEROES is a great fan of working with young people with awesome ideas and enthusiasm. They have always had interns work with them.
"We totally love the energy that interns bring to the table. Having them is core to our growth strategy and also in helping build a unique high value business. Their lack of baggage is refreshing.
We work fast, with no walls, give a lot of room to play and have a zillion experiments going on. Interns make it happen – especially as they become part of the team and also our ambassadors." adds Sairee.
At SHEROES, where every day brings a bunch of challenges, the superstar interns have the freedom to take initiatives, execute and run the show. Srishti says that it is the sense of ownership which keeps her excited at Sheroes. For Gagan it is the speed, agility and success celebrations that keeps him excited.
Speaking of responsibilities, Srishti currently handles product and community teams to enhance the user experience for the community and companies. Gagan is solving the problems of SHEROES community by thinking of digital solutions and getting them executed. "I start with data analysis to find the pain points of the user and then document a feasible solution which gets developed by the tech team. Of course, taking feedback at each step is an inseparable part of my role" explains Gagan.
SHEROES built a product that never existed from scratch and there was/is no perfect formula to run things in such cases "Everything initially was hit and trial, from communicating with the community to building and designing the product. We failed multiple times but the idea is to learn from each of these mistakes" says Srishti.
For Gagan, his biggest challenge was to connect deserving women to right opportunities "To ease it to some extent, we came up with a digital platform (SHEROES Career Resources) which women can leverage to upgrade their skills and bag the job they deserve" adds Gagan.
Both Srishti and Gagan's fresh perspective and the willingness to do anything and everything was the advantage they brought to the table for company's growth. Both wish to see SHEROES as a global platform for women and wish to spearhead the company towards this vision in their respective leadership role in 5 years.
Being true to the nature of SHEROES, both of them name two women who have constantly inspired them since their child hood. While Srishti credits her aunt to be her role model, Gagan names his mom as his role model!
If you're looking to hire interns, sign up on Internshala for hiring great interns!