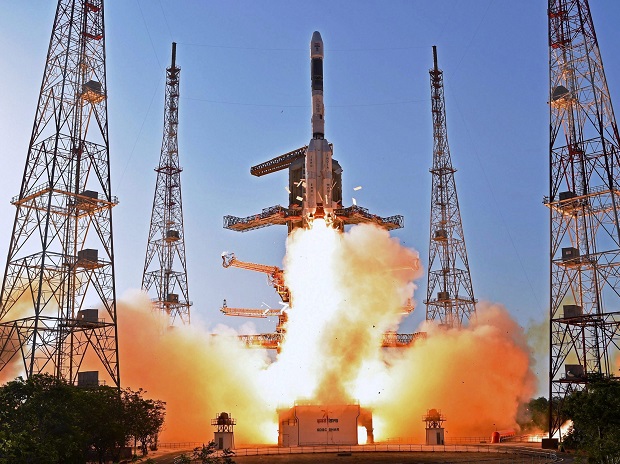 05 June 2017, India:
The Indian Space Research Organisation (ISRO) has successfully launched a communication satellite GSAT-19 using its heaviest rocket GSLV Mark-III.
Former Isro chairperson K Radhakrishnan said the successful launch would open up the international market for Isro and that foreign satellites can also be launched from here in future. "If today India has to launch communication satellites beyond 2.3 tonnes, we have to go abroad," Radhakrishnan told PTI. "We will have self-reliance in launching communication satellites, and we will be able to attract foreign customers."
The GSLV – MKIII D1/GSAT-19 mission takes India closer to the next generation launch vehicle and satellite capability. The nation is proud!

— Narendra Modi (@narendramodi) June 5, 2017
This launch will also prove to be cost-effective for India in the future. Launching heavy INSAT-class satellites of 3.5 tonnes from the European Space Agency currently incurs a cost of Rs 800 crore each, GSLV Mk III Vehicle Director J Jayaprakash told The Times Of India. "At one third the cost or at about Rs 350 crore, India can launch heavier satellites on GSLV Mk III," he added.
Also read- NASA All Set to Launch Mission to Touch The Sun by 2018!
The GSAT-19 next-gen communications satellite has a lifespan of around 10 years and is carrying along Ka and Ku-band multibeam payload. It has been coupled with several other payloads, including a Geostationary Radiation Spectrometer (GRASP) to analyze the nature of charged particles and the influence of space radiation of electronic components as per the report by Tech Portal.
GSLV Mk-III satellite is capable of launching 4-tonne satellites to the geosynchronous transfer orbit (GTO). It is a three-stage vehicle with two solid motor strap-ons (S200), a liquid propellant core stage (L110) and a cryogenic stage (C25). (Image- Business Standard)
Also read- Real Life Robocop Joins Dubai's Police Force
Comments
comments