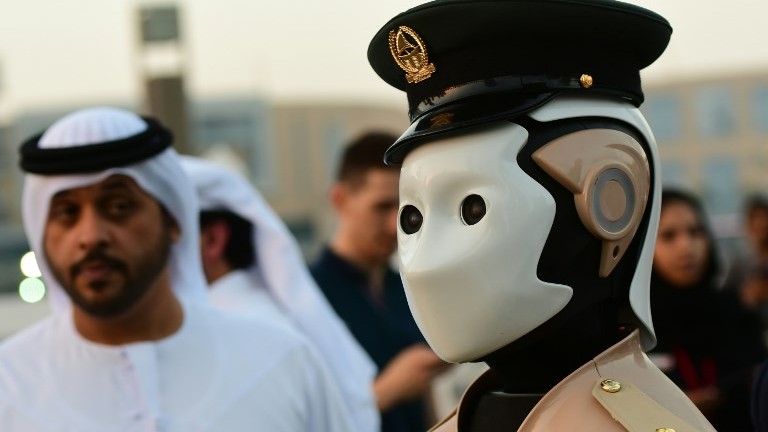 In one of the forums on the 11 Best Police Practices Forum held in Dubai recently, Major-General Abdullah Khalifa Al Merri, Dubai Police commander-in-chief, addressed the gathering with the announcement, "we are looking to have more robots in future to handle policing work".
The transformation was expected to take place in May 2017 and today it was announced that the first robotic cop has officially joined the force. The latest from the world of sci-fi that can be witnessed in Dubai for real is the robot cop after other fantasies like office made of 3D printers, rotating skyscrapers among others.
Also Read: Why You Need To Robot Proof Your Jobs To Secure Your Future!
The robot cop on wheels was introduced at the foot of Burj Khalifa with a touch screen device in its centre where tourists can lodge their complaints. Dubai known to have attracted as high as 15 million tourists last year, is deploying the robot cops in tourist areas to send the live feed to control room so that suspects can be identified immediately.
The police force which was previously for introducing Lamborghini and Ferrari as police vehicles is now looking to expand the robocops to 25% of its workforce by 2030.
With the latest police force change to monitor tourists, can we expect more tourists just to see the robot cops?
Also Read: 10 Best Robots Of The World That Were Present Since Industrial Revolution !
Comments
comments