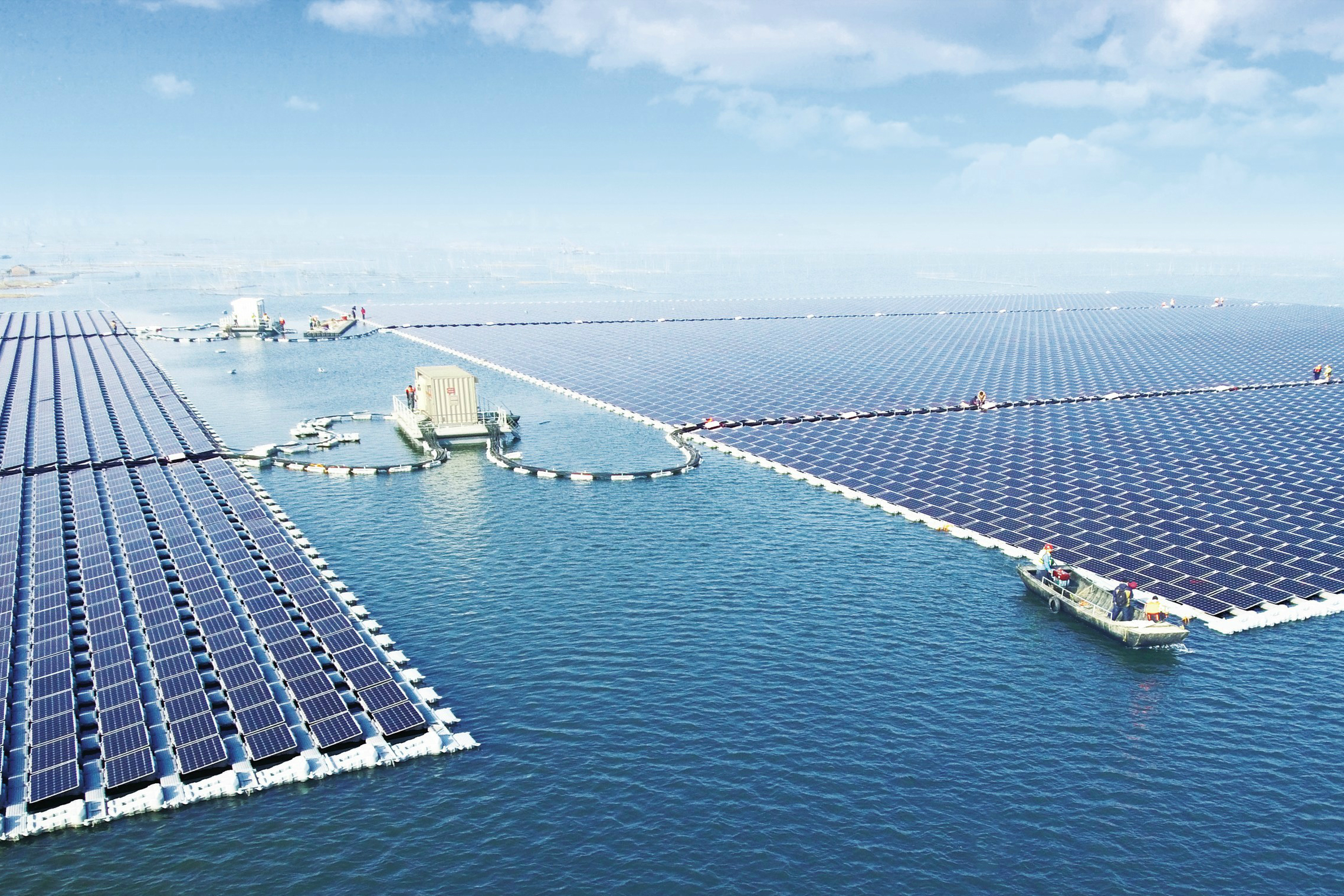 The world's largest floating solar power plant is now operational in Huainan city in Anhui province in Eastern China. The 40MW power plant has been set up on a reservoir near a coal mining area in the proximity of the city.
When one superpower, the United States has withdrawn from the 2015 Paris climate agreement, the other superpower, China is showcasing its emission reduction and renewable energy investment commitment.
China, the largest country on the globe by population is facing one of the most grievous problems- air pollution. Air pollution is estimated to cause 1.1 million deaths a year in the country. The major reason for pollution is emissions from power plants, factories and automobiles. On the other hand, release of green house gases is causing rise in global temperatures.
China is closing down polluting factories and coal-fired thermal power plants. In March, it cancelled plans of constructing 103 new coal-fired thermal power plants of combined power capacity upto 120GW. It has started promoting electric vehicles and renewable energy in a big way.
Solar photovoltaic cell is a non-polluting and safe method of power generation unlike thermal or nuclear power plants. But to set up a solar PV power plant of Megawatts scale, huge parcels of land is required. When land demand for housing and agriculture is high, solar power plants becomes unsustainable. To overcome this, the concept of floating solar power plant was envisaged.
Related Read: Solar Cell Printing – The Power Of Sun Now In Your Hands !
Sungrow, the global leading photovoltaic (PV) inverter system supplier, set up the world's largest floating PV power plant which has started supplying 40MW of power to the grid in Huainan. The panels are assembled on a floating container which acts as both foundation for panels and for engineers to walk on.The depth of the water ranged between 4 to 10 meters.
The massive solar plant is offered as a turn-key operation as part of Sungrow's recent developments. The company lowered the cost of installation and reduced assembly times by shipping the solar panels in 20-foot segments.
Floating solar power plants seem to be better options as they can be set up on all water bodies like lakes and seas near shores. They can be set up near cities where power consumption is more and land availability is less. Thus transmission losses can also be reduced . The problem of undulations on land is also overcome. Also, the rear of the panels get cooled due to evaporative cooling. increasing the efficiency of the system when compared to land based systems.
The system has some risks too which can only be answered until the plant stands the test of time. Due to the water body, there will be very high humidity which might cause rusting of the metal easily. The company claims that the system is specifically designed to work in environments of high humidity and salt spray. Also, the plant might deny sunlight access to the plant and animals growing in the water body and thus affect the ecology.
Related Read: Floating Solar Technology: A Step Towards Addressing India's Need of Renewable Energy Sources
If the system is set up in sea, we have to see if it can withstand the worst sea conditions like cyclone or storm. Besides, safely transporting the power from the floating objects is another challenge. These challenges must be addressed effectively as part of the research and development.
India has installed some of the floating solar power plants. The first one, a 10kW plant was installed by Vikram Solar in Rajarhat New Town in Kolkata in December 2014. Manipur Renewable Energy Development Agency (MANIREDA) installed floating solar power plant of 100kW capacity at Loktak Lake in Manipur, the largest fresh water lake in North East India. NTPC installed a 100kW solar power plant at Kayamkulam in Kerala in March.
Innovations such as this and 1MW canal-top solar power plant on Narmada canal in Gujarat in developing countries show their commitment in the international arena.