The ChatGPT chatbot from OpenAI is the subject of an investigation by Italy's data security regulator concerning alleged violations of the rules governing information gathering by applications that use AI.
The agency further charged ChatGPT, which receives funding from Microsoft, with failing to verify the users' ages. The application is reportedly only accessible to those who are at least 13 years old.
The firm stated in a statement that it had temporarily limited the chatbot's access to the private information of Italian users. An email requesting comment was not immediately answered by OpenAI.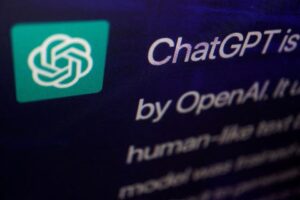 When it was introduced last year, ChatGPT generated a tech craze, encouraging rivals to produce comparable products as well as companies to adopt it or related technology into their applications and goods.
The Italian agency alleged "the absence of any legal basis that justifies the massive collection and storage of personal data in order to 'train' the algorithms underlying the operation of the platform".
According to UBS research released in the past month, it is believed to have surpassed 100 million active users per month in January, just two months after release, which makes it the most rapidly expanding consumer program in history.
Last week, the law enforcement organization of the European Union, Europol, added its voice to a symphony of worries by sending out an alert about the potential usage of chatbots in phishing scams, disinformation campaigns, and crimes.
Earlier, an extraordinary scenario in India occurred on Monday when the Punjab and Haryana High Court released a decision that comprises quotes from the ChatGPT AI bot.
The jury used the response to evaluate ChatGPT's stance on whether to offer bail to a guy suspected of a violent attack.
Judge Anoop Chitkara clearly stated in his ruling that ChatGPT's statement was only meant to provide a more detailed comprehension of what was happening instead of an opinion on its merits.
The artificial intelligence company OpenAI, based in the US, created ChatGPT, which was released in November.
The spotlight has been given to the big language model's tendency to generate replies to inquiries that resemble those of individuals. Exams in both law and business at colleges have earned acceptable scores for their work. A Colombian court had earlier received help from the AI chatbot in coming to an agreement.
"What is the jurisprudence on bail when the assailants assaulted with cruelty?" was the query that ChatGPT got from Punjab and Haryana High Court.
According to LiveLaw, the program's response stated that the law in these circumstances would be controlled by the laws of the nation where the lawsuit was filed.
Comments
comments