An Indian-American engineer, Amit Kshatriya has been appointed as the first head of the newly created Moon to Mars Programme of NASA on Friday, March 31.
His department will look after the exploration activities of humans on the Moon and Mars with an aim of establishing a long-term lunar presence in practice for the following giant leap of humans to the Red Planet.
"The golden age of exploration is happening right now, and this new office will help ensure that NASA successfully establishes a long-term lunar presence needed to prepare for humanity's next giant leap to the Red Planet," said NASA Administrator Bill Nelson.
"The Moon to Mars Programme Office will help prepare NASA to carry out our bold missions to the Moon and land the first humans on Mars," Nelson explained.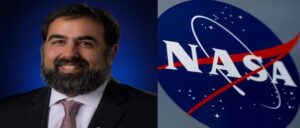 As per the NASA Authorisation Act, of 2002, the office will lay an emphasis on hardware expansion, mission integration, and risk-managing functions crucial for the exploration program.
This includes the Space Launch System missile, Orion spacecraft, helping ground systems, human landing systems, spacesuits, Gateway, and other connected technologies for deep space exploration.
The newly formed office will also plan and analyze the long developments to support human Mars missions. For this role, Kshatriya will be working on the planning and enactment of the program for the mission to Mars and the Moon.
About Amit Kshatriya:
Amit has a long history with NASA as director and leader for different space programs. Earlier, he served as the acting deputy associate administrator for the Common Exploration Systems Development Division and guided global groups in the operations and undertaking of the space station during all stages of flight.
His parents were first-generation Indian settlers to the United States. He was born in Brookfield, Wisconsin, however, he considers Katy, Texas, as his hometown.
He holds a Bachelor of Science in Mathematics from the California Institute of Technology and a Master's degree of Arts in Mathematics from the University of Texas at Austin.
He has been acknowledged for his assistance in space exploration with the NASA Outstanding Leadership Medal and the Silver Snoopy award.
He started his space career in 2003 as a software engineer, robotics engineer, and spacecraft operator primarily concentrating on the robotic assembly of the International Space Station.
He was allocated to the headquarters of NASA in the Exploration Systems Development Mission Directorate in 2021 as an assistant deputy associate administrator. He was an integral aspect of the team that returned a spacecraft organized to carry humans to the Moon during the Artemis I mission.
Comments
comments