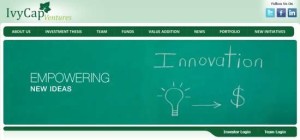 June 18, 2016:  The early-to-mid-stage, IIT Alumni Trust-sponsored venture capital firm, IvyCap Ventures has brought on board Lipika Rajpal as a senior investment professional, the Mumbai-headquartered investment firm announced on Friday.
Prior to joining IvyCap, Rajpal was with home grown private equity firm CX Partners, as part of the investment team for its mezzanine fund, CX Intermediate Capital Fund.
According to an official statement released by IvyCap Ventures, Rajpal has also had stints with SBI Capital Markets, focusing on arranging project finance of over $6 billion for large corporations in the oil and gas and chemicals sector.
She has also worked as a portfolio manager with the Royal Bank of Scotland, underwriting local and foreign currency financing of over $10 billion for companies across sectors such as FMCG, metals and mining, the press release added.
Vikram Gupta, Managing Partner of IvyCap Ventures said, "It is a pleasure to have Lipika on board with us, and she brings along a wealth of practical experience that will be beneficial not only to our portfolio companies but also to the potential new startups."
Rajpal, who holds an undergraduate degree in commerce from Christ College Bangalore, is also an alum of SP Jain Institute of Management & Research, Mumbai.
The latest hire by IvyCap Ventures comes at a time when the sector-agnostic, early-to-mid-stage investment firm is in the process of raising its second fund – IvyCap Trust Fund-II – while also actively investing out of the same.
Earlier this month, ET reported that the investment firm was mulling doubling the size of Fund-II, to Rs 1,200 crore, buoyed by increasing interest from institutional backers, and the performance of its portfolio companies.
Gupta told ET that Fund-II had already received hard and soft commitments of about Rs 450 crore, with an additional Rs 150 crore expected to be raised over the next 3-4 months.
Earlier this week, it was reported that the firm had led a pre-Series A investment round in on-demand product rental marketplace GrabOnRent.
Separately, Mint had reported that online jewellery retailer Bluestone, an IvyCap portfolio company, was in advanced talks to raise about Rs 200 crore in a fourth funding round led by venture capital firm Iron Pillar.
Comments
comments