Jack Ma, the founder of Alibaba has returned to China, completing a more than a year-long vacation that the sector saw as representing the gloomy state of its private companies and which, according to insiders, ultimately prompted the new premier to make contact.
After a brutal two-year regulatory crackdown, the return of China's most well-known industrialist may help to ease the fears of the country's private industry.
The government's softer approach towards the private industry as officials work to rescue an economy ravaged by three years of COVID-19 curbs is supported by Ma's re-emergence in the spotlight.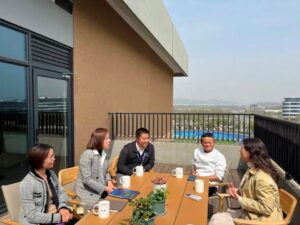 Online rumors of Ma's return started to spread on Chinese social media early on Monday before even being verified by the South China Morning Post, a newspaper that belongs to Alibaba, and a school that Ma had visited.
Ma, a former English teacher, spoke with school authorities on WeChat about ChatGPT, an artificial intelligence-powered chatbot, and conveyed his desire to return to instructing in the future during his visit.
Ma arrived back in China last week, according to two sources familiar with the situation. How long he intends to stay in China this visit was unclear to Reuters.
According to five sources familiar with the situation who spoke to Reuters, China's latest premier, Li Qiang, a close associate of President Xi Jinping, had started asking Ma to come back since late last year after realizing that Ma's return to the nation might enhance business confidence among entrepreneurs.
Two of the insiders stated that many of these attempts included requesting Ma's friends and business associates to personally convince the founder of Alibaba when he was still residing in Japan.
Reuters was unable to instantly determine whether Ma had come back as a result of Li's attempts. Requests for clarification from Alibaba and China's State Council, or cabinet, were not immediately entertained.
'ALREADY BEATEN'
After Beijing's regulatory crackdown on Ma's empire and the tech industry, his stay overseas came to symbolize a turnabout in the prospects of China's private sector.
It is widely acknowledged that a lecture Ma delivered in 2020 criticizing China's regulatory structure is what sparked greater government supervision and led to his departure from public life.
He left the Chinese mainland in late 2021, and since then, pictures from Japan, Spain, Australia, and Thailand have emerged.
Ma's return "boosts the sentiment of the broader platform and internet industry," said Zhang Zihua, chief investment officer at Beijing Yunyi Asset Management.
"Because that means the new top leadership has indeed been re-examining the position and the importance of the platform companies in China's economic development."
Zhang added, "The previous restrictive policies on the platform and internet sector are also expected to be adjusted."