Emerging Market of Cloud Telephony!
Enterprises like Zoho, Salesforce.com are harvesting on cloud because it has much to offer. The success of these cloud-based providers have demonstrated that a cloud-based platform can be just as effective as a software-based platform, at a much lower cost, with less hassle, and shared resources. An added advantage with cloud-based software is it gets updated frequently in a seamless manner. With cloud services, you only pay for services or applications you utilize. Customers have a more cost-effective, reliable and secure communication environment, without the pain associated with more conventional systems. Because of these promoting factors, the cloud industry is growing on a fast-moving pace. Enterprise computing is taking over on-premise computing.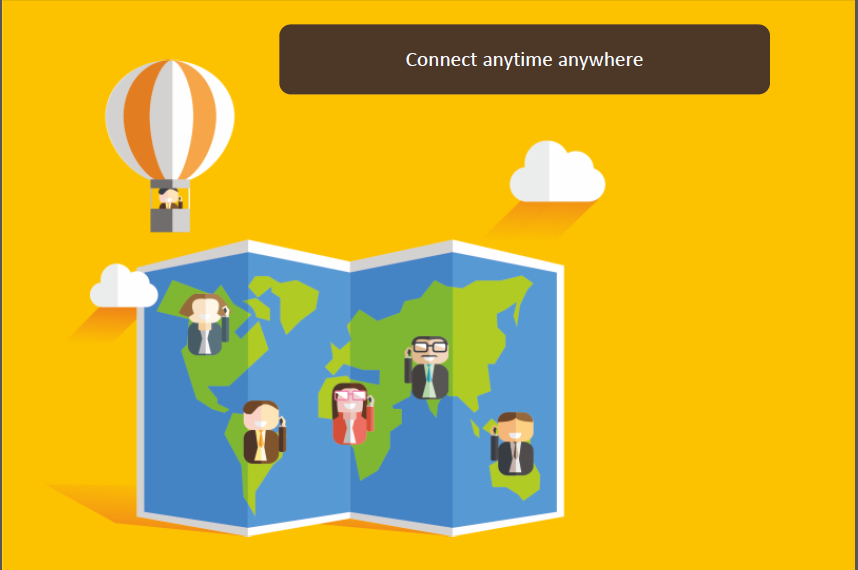 Cloud industry is especially suited for emerging market entrepreneurs because unlike the developed and established markets, there is a lack of proper infrastructure in the emerging markets. Entrepreneurs can give up their worries about taking care of hardware and maintaining it. So it's a godsend for them, to have hassle free software, managed on the cloud which is 1/10th cheaper than what it would have cost them to install things on premise. Because of these reasons the cloud industry is growing in leaps and bounds.
Cloud Telephony is a very recent industry. It has its parallel in cloud computing, enterprise computing that has the world in its grips today. Cloud telephony or the interactive voice response system (IVRS) is a replacement of conventional clumsy equipment i.e. PBX (Private Branch Exchanges) with Internet Protocol-based Private Branch Exchanges. Nevertheless, all the positives hold true for cloud telephony as well. Everyone today uses a phone- consumers use it to reach out to businesses and businesses would need some kind of telephony solution to handle these calls. Enterprises now have a choice between on-premise and cloud telephony. Cloud Telephony is 1/10th cheaper, hassle-free, no downtime, automatically scales up and down without any problem and gets updated very quickly.
Cloud Telephony has a bright future in emerging markets. In the India's backdrop, availability of hi-speed internet connection, enhancing distribution of business operations of a firm across multiple locations, rising inclination towards adoption of hi-tech mobile and non-mobile computing and communication systems are expected to give momentum to the cloud telephony service industry. As estimated by industry analysts, net worth of cloud telephony industry in India is to be around INR 300 crore. Knowlarity has been riding on this in India. Knowlarity started this wave in India and have been successfully riding it ever since.
Knowlarity: Provider of Unified Communication Solutions!
Knowlarity is the biggest provider of unified communication solutions to empower your company with marketing automation and communication tools! Knowlarity is the first company from an emerging market that is selling business productivity solutions to small businesses. In a situation where emerging market SMBs are reluctant to use and pay for complex software, Knowlarity is able to do it because they have simplified the technology to the level that end customers can understand- It is on their phone!
All growing businesses that care about their customers love cloud telephony because their customers can contact them 24×7 at a really low, flexible cost. Companies can earn up to 40% more revenue just by providing a professional experience to their callers through cloud telephony. As businesses embrace globalization and technology, cloud telephone is a natural fit.
Cloud telephony works when good old phone lines, sometimes large banks of them, terminate at a data center that uses specialized technology to make the information flowing through those phone lines accessible through a web interface. An analogy can be drawn to E-mail. Email consists of digital data flowing through physical hardware wires accessed through a web interface. Cloud Telephony companies like Knowlarity make the same thing possible with voice information.
We have the three main products from Knowlarity which provide solutions to enterprises in the cloud telephony domain:
SuperReceptionist is Knowlarity's best selling product. This robust, cloud based, telephony service is your virtual assistant, front office receptionist, lead manager, and CRM rolled into one. It is sold directly as well as indirectly through tie-ups with various IT and Service vendors. Hassle free installations, quick setup, low maintenance, rapid scaling capability makes it every entrepreneurs dream product.
SmartIVR creates the impression of a professionally managed company at very little costs to you. You can create multiple departments within your company with the help IVR, "Press 1 for Sales", "Press 2 for Voicemail", "Press 3 for Marketing", "Press 4 for Voicemail". IVR services are a must for any modern enterprise looking to make the best of their limited resources. It provides an option for afterhours or holiday customers by routing calls to voicemail or night support. Unlike conventional IVR Systems that are expensive to install and maintain, Knowlarity's Smart IVR services are affordable as you spend for what you use and there is no excess capacity.
SuperConference is a smart conferencing system on the cloud that gives a high quality sound experience, connecting teams anywhere and anytime. It is secured with a unique PIN and ID number.
Knowlarity's flagship products, SuperReceptionist and SmartIVR, can process over two million calls an hour. Knowlarity is a SaaS (Software as a Service) company with a 'pay as you go' subscription model.
The company was incorporated in 2009. Knowlarity is backed by Sequoia Capital and Mayfield. Knowlarity is headquartered in Singapore and has offices in Gurgaon, Mumbai, Bangalore and Chennai in India.
Knowlarity deals with B2B clients mainly. Clientele ranges from individuals to SMBs to large enterprises. Knowlarity deals with clients from all business verticals for example education, hospitality, medical, government, advertising etc.
Knowlarity usage cases span multiple industry verticals, organization roles and function. "We don't want to restrict ourselves into any one-business segment. We work closely with government, NGOs, Fortune 500 companies, SMES, SMBs and startups. We provide custom fit communication solutions for any industry requirement. We have tie-ups with several IT vendors, CRM provider and search companies like Justdial improving our market reach" says Ambarish Gupta, CEO and Founder of Knowlarity Communications.
Knowlarity has been ranked amongst Asia's top startups by Red Herring, and was recognised for its innovative practices by the Deloitte Fast50 India programme.
The Big Wheel of Knowlarity Communications!
Ambarish Gupta is the CEO and Founder of Knowlarity Communications– the leading player of Cloud Telephony in Asia.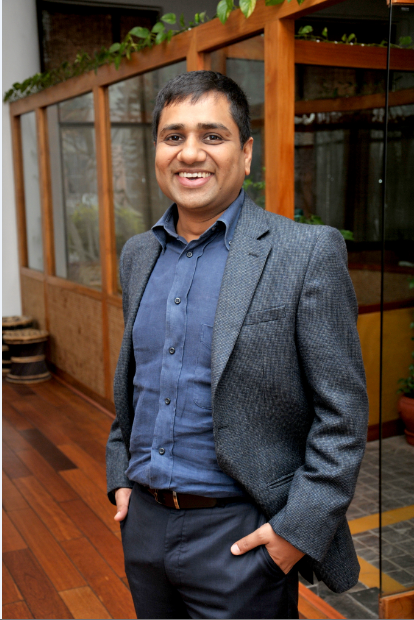 A graduate in Computer Science from the Indian Institute of Technology, Kanpur, He holds an MBA from Carnegie Mellon University, USA.
After passing out from IIT Kanpur, he worked for three years in the Silicon Valley. He came back to India in 2004 and started an online real estate brokerage company, Inventica, but it did not take off as it was not a good time for online business to flourish and no venture capitalist was ready to invest in the business. So, Ambarish went back to the U.S and did his MBA and served a brief stint with McKinsey. He started off his career as a researcher at the Fraunhofer Institute for Computer Graphics in Germany before joining software major EFI. In the year 2008 the telephony industry was going through a revolution. Using automation technology, companies in customer support and marketing could reach out to the masses. The idea was to build a platform which was flexible and did not require too much hardware support. Ambarish approached companies and told them that he could give them a phone number with a welcome message and that too without any hardware and at a low cost. That's how the concept of Knowlarity was born.
After having worked with consulting firm McKinsey & Company as a Senior Associate, in 2009, Ambarish founded Knowlarity, which provides business telephony software to some of the world's leading corporations.
A technocrat at heart, Ambarish believes that advancements in communication technology hold much potential for changing how the world does business.  There are massive numbers of SME's in emerging markets but they are under-served because of sales, marketing and distribution issues. To address this market potential, Knowlarity Communications caters to over 12,000 SME's in 65+ countries.
Product Differentiation and Competitive Advantage!
"We have built our own technology- 'Knowlus' right from scratch. We have structured our services around our customer – we understand that SMBs want to access technology without having to deal with it."
Whether it is providing a single dashboard for managing multiple marketing campaigns at one go or providing SR App on Android, Knowlarity aims at maximizing user utility by providing simple yet powerful cloud based solutions.
Understanding the environment in which customers operate has led Knowlarity to make investments in areas that are crucial for their customers – a large support team, a large in-house consulting team and investments in reliability and scalability – that their more technology-focused competitors have not realized as yet.
In India, their competitors are Exotel, Ozonetel, Sonetel and VoiceTree and globally, they have competition from Twilio and Plivo. However, Knowlarity is the largest Cloud Telephony Service Provider in Asia and has been able to capitalize on their expertise in PSTN technology that is mandated in many countries in the Middle East and South America. 
The Growth Path!
"Our biggest challenge was the paucity of funds in the beginning. Investor confidence was at an all time low because of the banking fiasco. Markets were depressed, customers were hard to come and we had to hustle customers really hard to keep our dreams alive. We pivoted from outgoing to incoming calling because outgoing was not generating the kind of revenue stream we needed for our company" Ambarish explains.
There are over 14 million SMBs in India operating in tough conditions characterized by a chronic lack of infrastructure, funding and market opportunities. Owing to these conditions, the SME segment has traditionally remained shy of opting for the automation route, trusting manual note-keeping and ledger-based systems. The biggest challenge for Knowlarity so far has been in weaning these SMEs off manual systems and convincing them to shift to automotive systems. Up until now, there was little market awareness on the various benefits of cloud. Indian SMEs have to work with limited budgets, unlike their counterparts abroad, making new technology investments a tough proposition.
Another bigger challenge is internationalization- from a product and workforce perspective. Knowlarity needs to understand and bridge cultural differences to get a toehold in markets abroad. Regulatory frameworks are always a challenge as well. They have to find the right channel partners to sell their products.
Also, talent acquisition strategy is important. They need to identify the right talent at the right place and the right time to succeed internationally. Knowlarity overcomes these challenges by being consistent and focused in approach.
Grown from a garage set-up to a 517+ strong team
National and international awards – NASSCOM top 10 companies in 2012, Deloitte 11th fastest growing company in India to Red Herring top 100 companies in Asia, Edison award 2014 Nominee to name a few.
Built own in-house technology- Knowlus
Expanded globally to all possible business verticals
As the market is growing, it is hard to put a number on cloud telephony market size. The cloud telephony market is estimated to be a $600 million market in the US alone, and Knowlarity estimates it to be worth over $60 bn globally. Knowlarity is presently the market leader in Asia for cloud telephony services. They are already 10x the size of our competitors. They expect to grow by 5x over the next 3 years and interim goal is to be a billion dollar company. 
Knowlarity is growing by a Quarterly growth rate of 35% in terms of revenue and targeting to double revenues every six months. Projected revenue FY 15 end is 75 Cr. Also, they have presence in 65+ countries.
The Path Ahead!
Ambarish adds that "In the coming months, we are enriching our technology to offer our customers the best products and an awesome customer experience.  We are focusing on our mobile app to cater to the needs of common man and businesses of all verticals".
Ambarish's Advice to Aspiring Entrepreneurial Minds!
Starting up is like an acid bath because by the end of it, you would be much different from the one who went in. A startup journey takes off everything from you other than your solid determination. You need to engage with the reality – the practical world, to be successful in your startup.
The most important and difficult learning is that you cannot move things unless you face the real harsh truth. Inventica's (my first startup) failure made me go back to the USA to pursue his MBA. I had also promised myself to not startup ever again.
 It is always better to work with the industry that is growing because it gives a lot many opportunities to move up the ladder even when you are at your worst. I would advice to keep looking for that one thing which would lift up the business, to mix creativity as much as one can to improvise in the best way to find a fighting chance. One needs to be flexible with their plans to accommodate all of the possible revenue sources.
Lastly, I would add that while creating a product, one needs to know the kind of market and consumers that they cater too. In emerging markets, people are satisfied with less value at a lesser price and hence it is always better to simplify things than to over engineer them. One should stay focused in life.
Links:
Related Reads:
Cloud telephony: Yet another amazing use of technology and internet ; Exotel utilizes it perfectly to assist businesses and startups !
Cloud Based Contract Management Platform Icertis Is Poised For A Strong Growth !
Chat Based Commerce Is The Future of Ecommerce Industry !