Laundry Industry in India
If you are planning to set up a Laundry Service business in India, there cannot be a better time than now.
On-demand services are catching momentum across various cities in India. On-demand services with integration of Hyperlocal services are considered to be the future of businesses for delivering goods and services. Talk about On-demand video streaming services (Netflix), or cabs (Uber) or even grocery (PepperTap), you can avail them everywhere. Moreover, with the number of middle-class families preferring at-your-doorstep laundry services steadily on the rise, this business has immense potential. So much so, even global companies have started tapping into it.
While the unorganized sector i.e. your local dhobi, still rules the roost, organized players are slowly making inroads into the industry. According to a recent survey, India's dry-cleaning and laundry industry is approximately worth Rs 3,000-Rs 3,500 crores. If another survey is to be believed, it is estimated that by the end of 2020, more than three million Indian households would be requiring laundry services on a weekly or even daily basis.
As a start-up idea, doorstep laundry service has many advantages. To begin with, it's a relatively untapped market and the number of competitors offering high-quality services is very less. Also, compared to many others, it's a business that doesn't require any major investment. Basic laundry equipment, a few support staff and you are done. Another major factor is that you don't need any high-end training before entering this business.
However, Laundry market in India has always lacked structure and has been lacking in terms of quality and commitment for an average. Laundrize wants to make laundry a hassle-free chore for consumers along with bringing a structured approach to the present market, a market with a 2X growth trend.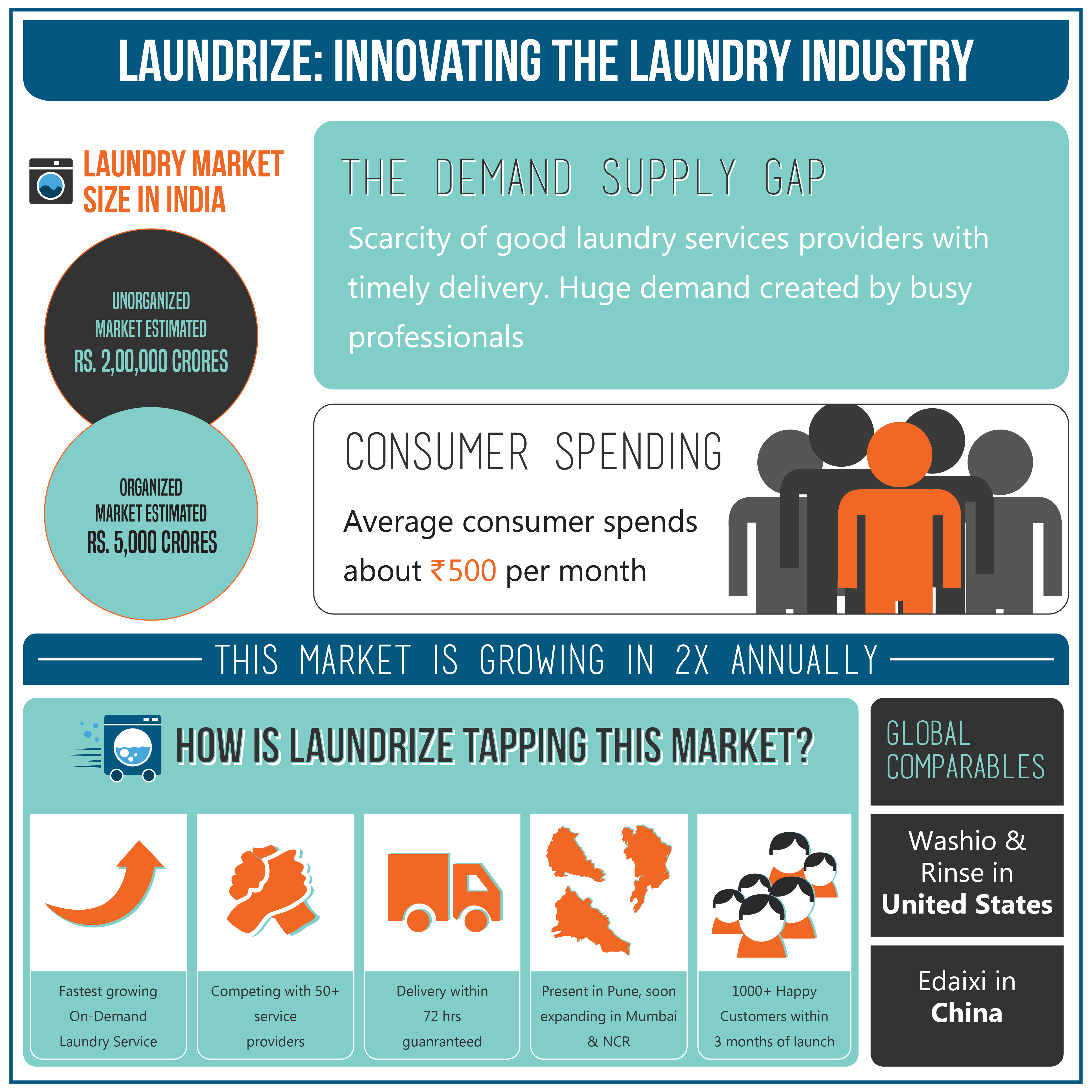 There are roughly 50 service providers (Give or take a few) in this segment currently operational in India while global competition includes companies like Washio in the U.S.A and Edaixi (China). As per a KPMG study, the current unorganized laundry market in India is of about Rs 2,00,000 Cr of which the organized laundry market is Rs 5000 Cr and this is the market Laundrize aims to target.
Online On-demand Laundry Service
Laundrize is an online on demand laundry service which aims at bringing all the laundry needs of a consumer under one umbrella. From simple ironing orders to specialized orders such as shoe laundry, Laundrize aims to cater all laundry needs of consumer. Laundrize launched its website www.laundrize.com  in July and Android app for customers in August.  
Laundry as a chore has always proved to be challenging for everyone. Be it washing the n number of shirts or t-shirts or ironing your clothes at 7 in the morning for office. It's one of the most time-consuming tasks that we are allotted.  Like everyone else, Shubham Jha and Parag Poddar hated every moment of it. Both thought what if every laundry need you could think of is just a tap of a button away?  So, both decided to make the process a matter of minutes instead of hours. Thus, was born Laundrize – every Laundry need on one single portal.
Laundrize's Founding Team includes Shubham Jha (CEO) who is an engineering Graduate in Mechanical Engineering from Manipal Institute of Technology with work experience in Tata Technologies Ltd and Parag Poddar who is an alumnus of IIM Indore.
One of the major differentiating factors of Laundrize is that platform focuses on everything related to laundry, which suggests that not only does it aim to service the traditional laundry requirements of consumers like dry-cleaning, ironing etc, but also offer specialized services so that customers can fulfill all their laundry needs. Laundrize has already taken a positive step in this direction by including niche services like Bag & Shoe laundry on portal.
The Destination, and the Journey
Along with people, technology plays an important role when it comes to manage operations. One of the most critical aspects of turning a traditional industry like laundry into a technology based startup is to maintain sync between on the ground operations and the end product for consumers. It requires tremendous planning and each member of the team has to be acutely aware of his/her roles. Since every step of the product from consumer end usually translates into a physical activity on portal's end, planning for as many eventualities as one can think of, preparing contingencies in case of roadblocks and ultimately keeping up the commitment made to the consumer are key challenges to Laundrize. We at Laundrize spent a lot of time into pre-product planning. "A lot of research in terms of quality of product, the time it take for a service to be completed, feasible area etc. was done and is still done before we launch into any new area" says Shubham.
Shubham shares one of the most exciting moments for Laundrize when Laundrize 's Consumer Android App was selected for the prestigious FBstart program- an initiative by Facebook to support upcoming mobile application based startups. Laundrize is a part of top 1800 mobile application based startups in the world chosen by Facebook under this initiative.
Since its launch in July, Laundrize has achieved major landmarks in this short span of time. It has a customer base of 1500 + customers along with a very positive response for app. it has 1500 + app downloads on the Google play store with an average user rating of 4.2. Currently, Laundrize team, including both the product and the operational end, comprises of 9 members and covers all the major areas of Pune.
In upcoming months, Laundrize focus is to consolidate its operations in all the current operational areas in Pune. Also, Laundrize is aiming to expand to Mumbai and NCR regions. Apart from operational expansion, Laundrize is also looking towards service based expansion in line with its Everything Laundry initiative.
Laundrize is looking for raising its first round of investment. "We would be happy to get in touch with any angel or VCs in this who shares the same vision as our team. We hope not only to obtain monetary benefits from our investors but also benefit from their experience and guidance in the e-commerce ecosystem" Shubham concludes.
Comments
comments