Based on a sec filing, eBay on Tuesday disclosed plans to lay off 500 jobs, or around 4 percent of its staff.
Tuesday's prolonged trading has seen a small increase in eBay's stock price.
CEO Jamie Iannone stated in a note to workers that the firm decided to make cuts after evaluating the macroeconomic conditions around the world over the last few months.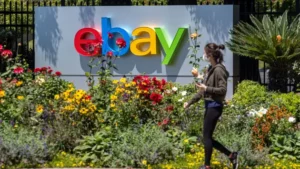 He stated that by implementing the reductions, eBay will be effectively able to offer good user experiences and be capable of focusing on regions where it can have the greatest effect.
"Importantly, this shift gives us additional space to invest and create new roles in high-potential areas — new technologies, customer innovations, and key markets — and to continue to adapt and flex with the changing macro, ecommerce and technology landscape," Iannone wrote in the release.
In the following 24 hours, he added, impacted staff would be notified.
With Zoom also declaring its intention to lay off roughly 1,300 employees on Tuesday, the company's layoff declaration represents the most recent series of employment layoffs in the tech world. Google confirmed intentions to fire more than 12,000 staff in January. Microsoft declared intentions to cut off 10,000 staff members. Salesforce disclosed plans to dismiss 7,000 members of staff.
About eBay:
eBay Inc. is an international American e-commerce corporation with headquarters in San Jose, California, that allows both business-to-business and consumer-to-consumer trades through its platform. Pierre Omidyar started eBay in 1995, and it rapidly became well-known as a notable dot-com boom success story. As of 2019, eBay is a multibillion-dollar firm that operates in around 32 nations.
The company operates the eBay platform, a global community where individuals and organizations may purchase and sell a broad range of products and services. Buyers can access the website for free, but merchants need to spend to display products after a certain amount of free listings and the other, separate payment whenever the items are sold. As of 2022, it gained revenue of 305 crore USD.