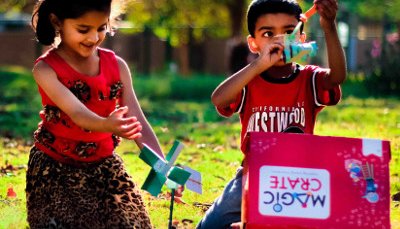 4 February, 2016, India: Seems like Mohandas Pai has not stopped his journey of supporting the statups of the country. In his recent move, Pai along with venture funding firm, Aarin Capital have invested an undisclosed amount in an India-based childhood learning startup Magic Crate.
Apart from above two investors, the funding round was witnessed by Narayanan Ramaswamy, head of education practice at consulting firm KPMG, and Sethuraman Sivaramakrishnan. Founded by Vishwanathan Ramakrishnan in 2015, it deals in providing subscription based service that produces and delivers hand-on activities for kids. All these activities are carved by the team of experts and product designers. The main motive behind these activities is to provide entertainment and impart knowledge at the same time to the kids. Parents who subscribe to the service receive a box every month which has the necessary materials, ideas and instructions for kids to build.
Explaining the idea, Ramakrishnan said, "Research has shown that about 80 per cent of critical brain development happens before a child turns 8. During these years, they have a lot of free time, and it becomes a big challenge for parents to keep them engaged at home. Many parents don't have time for that, and give them a phone to play with, or switch on the TV for them to watch. We want to solve this pain point for millions of such busy, well-intentioned parents," reports dealstreetasia.