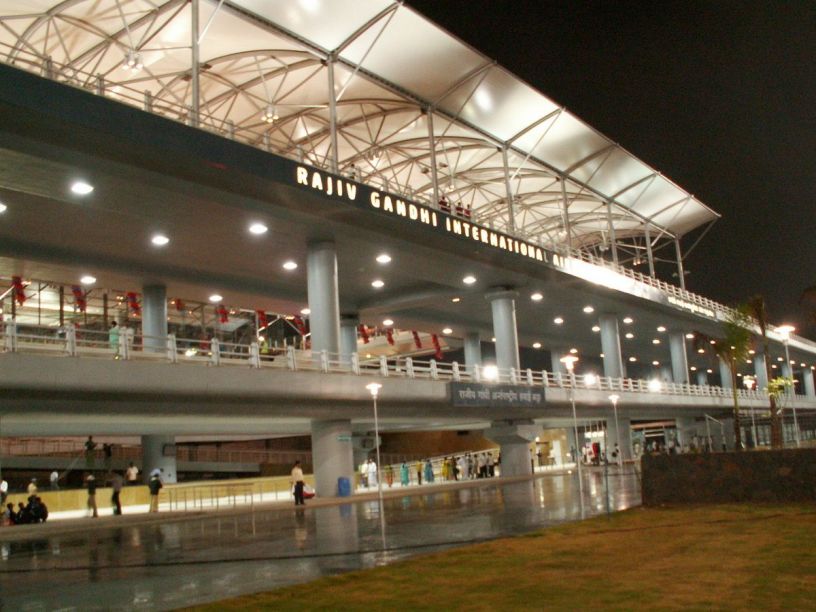 4 February, 2016, Hyderabad: Fropcorn today launched its on-demand entertainment service at Rajiv Gandhi International Airport (RGIA), Hyderabad. The innovative and personalized service offers passengers the freedom to download movies in a span of 3 minutes.
With this, RGIA has become the first airport in India to offer passengers the freedom to download a wide range of blockbuster movies, TV shows and videos at the terminal at hyper fast speeds without needing any internet or data connection. The entertainment WiFi hotspot is currently available at the Security Hold Area of the Domestic Terminal, which shall soon be extended to other parts of the airport.
Fropcorn, a media-technology startup founded by Kartik Poddar and Kartik Bansal has been rolling out its product in inter-city buses, hospitals, hotels and other high-footfall locations. Fropcorn's superior WiFi-enabled media servers create a secure hotspot that flyers at RGIA can now connect to from their phones and tablets. Once connected to 'Airport Movies' WiFi, users can browse and download movies via the Fropcorn App which can be viewed anytime later on their flights. The content catalogue includes 100s of high quality movies across multiple genres and languages.
Commenting on the launch of this service,  SGK Kishore, CEO, GHIAL, said, "At GHIAL, we strive to offer our flyers a stress free and enjoyable journey experience. We understand entertainment is a great way to keep them engaged on the flight journey as they have limited or no entertainment options. With Fropcorn entertainment hotspot, we now extend the GHIAL experience even beyond the airport premises and ensure our flyers have a great time throughout the journey. We expect this to be a wow experience for both the flyers and the airlines and shall further augment Hyderabad airport's status as a preferred Gateway for South & Central India."  RGIA already offers a wide range of retail brands and F&B outlets for the passengers to indulge in, and Fropcorn's product is an extension of RGIA's philosophy of elevating customer convenience and experience.
Speaking on the launch, Kartik Bansal, Co-Founder & CTO, Fropcorn, said, "We have been working closely with the GHIAL team to ensure our technology and the content catalogue meet the demands of the new age traveller. We are excited to launch this service in partnership with GHIAL and will be releasing multiple product features and engaging content to keep the service exciting for the airport passengers."
Image-Traveljee.com
Comments
comments