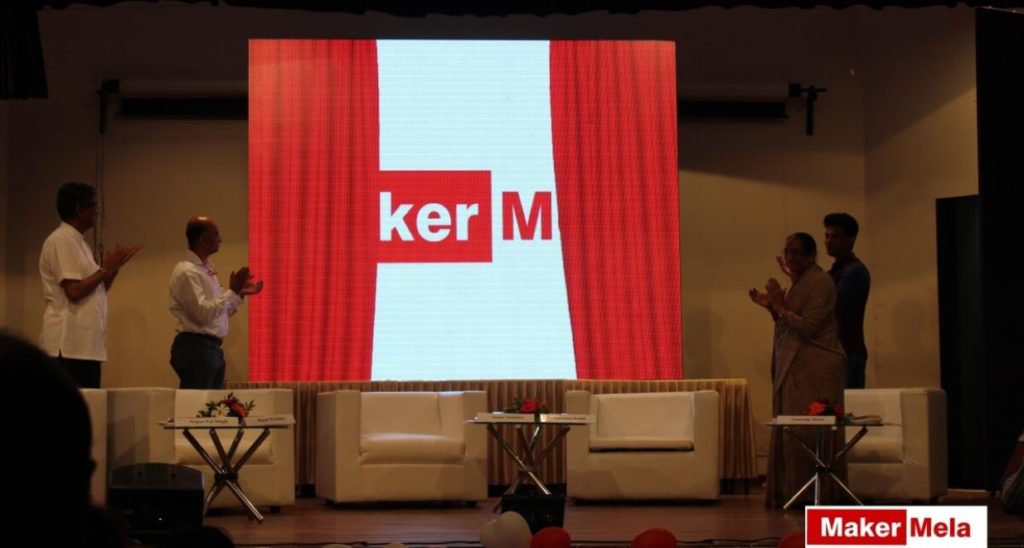 Somaiya riidl presents Maker Mela 2018, the third year of its annual three-day showcase of innovation, creativity and technology. The one of its kind initiative Maker Mela invited applications from innovators across India out of which 100 have been selected to present their ideas.
For three days, beginning January 11, 2018, Make Mela will provide a platform for innovators, entrepreneurs and makers to showcase their ideas, share knowledge and demonstrate their capabilities to visitors from India and abroad.
Maker Mela the celebration of arts, crafts, engineering, science, the Do-It-Yourself (DIY) mindset, and the Maker Movement has had a phenomenal response in the previous years.
With 100 Makers, from across all fields coming together, sharing a diverse range of raw, unique and unconventional ideas, Maker Mela 2018 is the place to be from January 11 to January 13, 2018.
Added to the rich menu of exhibitions from makers, talks from eminent personalities, demonstrations and performances are among the most sought-after favourites at the Maker Mela each year.
Renowned speakers this year include, Devendra Fadnavis, Honourable Chief Minister of Maharashtra, Prakash Javadekar, Honourable Union Minister of Ministry of Human Resource Development, Ms. Ada Yonath, Nobel Prize Winner in Chemistry, Ms. Paula Mariwala, Founder & Co-President at Stanford Angels & Entrepreneurs India, Master. Tanmay Bakshi, Child prodigy and the youngest IBM Watson Developer, Dr. Ananda Shankar Jayant, India's most eminent classical dancer and choreographer, Mr, Ravi Grover, Vice-Chancellor of the Homi Bhabha National Institute, Mr.Sanket Modi, Scholar CEO & Cofounder of  LucideusInc, a cyber-security platform and service company, and Mr.Akash Manoj, Inventor of a silent heart attack prediction device.
At Maker Mela, selected start- ups will have an opportunity to pitch their ideas to investors and corporate which include Mr. Manish Advani, TEDx Speaker, Award Winning Story Teller and Song Writer, and Head of Marketing & Public Relations at Mahindra SSG, Mr.Vikash Mittersen, CMD of Nazara Technologies / President of India Business Group / Author of YOU CEO / TEDx Speaker, Dr. Apoorv Sharma, Angel Investor, Cofounder & President at Venture Catalysts and Charter Member at TiE, Mr.Prakash Patel, CMD, Bhumi World Industrial Park, Mr. Sanjay Mehta,  Angel & PE Investor Director Core Media, Investor in Cryptocurrencies and many more.
An initiative of Somaiya riidl and Somaiya Vidyavihar, Maker Mela is supported by Department of Science and Technology and Start-Up India.  It has received patronage from UNESCO, Startupindia, Skill India and NYCS.
Says Gaurang Shetty, CEO & Chief Innovation Catalyst, "We are amazed away by both the volume and calibre of entries we received this year. India's robust entrepreneurial and creative spirit is reflected in the ingenious, innovative "Makers" of all ages who will be part of this year's showcase."
Somaiya riidl's mission is to inform, connect and inspire Makers and aspiring Makers to share their accomplishments with audiences from across the country.
This year's makers participating are from the age of ten years to seventy years; backgrounds are ranging from tech enthusiasts to crafters, educators, tinkerers, hobbyists, engineers, artists, science clubs, students, authors, homesteaders, garage tinkerers and even commercial exhibitors.
The event will take place at the Somaiya Vidyavihar campus at Vidyavihar, Mumbai. Interested participants can register here.
Comments
comments