The Manchester United and Tezos to announce sponsorship deal. The partnership between Manchester United and blockchain platform Tezos will be revealed with a new multi-year sponsorship of their training kit. Training-kit sponsorship with professional services firm Aon, worth £120 million over eight years, ended at the end of last season. Tezos will have to pay a 33 percent premium over its predecessor.
Report: Manchester United and Tezos are about to announce a sponsorship deal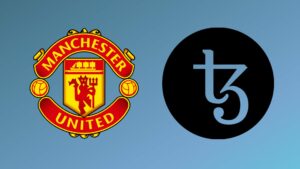 According to The Athletic, blockchain platform, Tezos is expected to sign a multi-year agreement to sponsor Manchester United's training uniform for more than £20 million ($27 million) every year.
The club's previous training-kit sponsorship deal with professional services firm Aon, which was worth £120 million over eight years, expired at the end of last season. Tezos will have to pay a premium of 33% over its predecessor.
While Tezos has already partnered with Formula One's McLaren Racing and Major League Baseball's New York Mets, the Premier League team, together with Spain's Real Madrid and FC Barcelona, is considered to have one of the largest fans following of any soccer club in the world. It is also regarded as having one of the most valuable soccer team brands in the world.
In recent months, sponsorship partnerships involving sports teams or events and crypto corporations have been more common; crypto exchanges FTX and Crypto.com have both been particularly active in this field in the previous year.
Manchester United is regarded as the world's fourth most valuable football club. Manchester United's first big foray into the blockchain sector would come as the club seeks to leverage prospects in the Web 3.0, NFT, and Metaverse arenas.
The annual value of the transaction is estimated to be in excess of £20 million. Tezos has experienced rapid growth in recent months, averaging over 300,000 daily transactions (more than 25% of all Ethereum transactions) and over 6 million smart contract calls per month.
The Athletic stated:
"United have already shot promotional materials at the club's training center ahead of an announcement."
As Adam Crafton, a reporter for The Athletic, put it: "Both parties are eager to advance collaboration."
"…discussions focused on how the partnership may go beyond the training kit to help #mufc define its understanding and advance towards the prospects connected with the "metaverse and Web 3.0."
If you find this article informative then do not forget to share it with your friends and family!
Also read: The Super Bowl is now being called 'Crypto Bowl' upstart finance firms spend millions on TV ads