According to persons who know the facts, McDonald Corp. is undergoing a corporate restructuring this week that may lead to dozens of layoffs as well as for certain workers, a drop in their pay levels.
Workers in the United States and abroad, at McDonald's company headquarters in Chicago and in its offices around the country, together with different divisions like advertising and operations were all hit by mass layoffs and changes at the burger company, according to the individuals.
Several of the insiders stated that the corporate restructuring has already been growing in several stages this week, which was backed by internal company communications. As reported by the Wall Street Journal, McDonald's temporarily shut down its U.S. facilities and began informing selected executive staff about layoffs on Monday.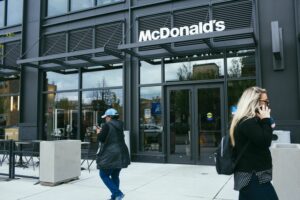 Those with knowledge of the situation allege that the restaurant chain also gave certain staff the choice of remaining with the company in return for a decrease in their perks, including title adjustments and rewards like incentives and stock awards.
According to a company's internal email sent on Thursday, last week's reorganization measures featured job adjustments or promotions for other employees, including almost 10 U.S. officers working throughout operations, finance, and marketing.
In a Thursday email, McDonald's notified U.S. restaurant owners and operators that it will be eliminating its regional offices in the months ahead due to underutilization, with the majority of site personnel spending their days working in restaurants. Rather, the firm stated that it would create a unified, federal structure to manage its 10 regional offices.
"While the McDonald's Brand is in the strongest position it has been in years, we also recognize that our business has grown increasingly complex in recent years," Joe Erlinger, president of McDonald's USA, said in the email viewed by the Journal.
McDonald's instructed some global staff members and U.S. workers to work from home from Monday to Wednesday so the firm could make staffing decisions remotely in an internal memo last week. All in-person meetings at McDonald's headquarters with merchants and other third parties were urged to be terminated by staff.
According to a source with knowledge of the situation, American employees who were cut off have left the company but will keep getting paid by McDonald's through June 15 and might become eligible for compensation. Those who are impacted and have corporate automobiles have until June to return them or purchase new ones, the source said.
Senior workers who had been employed at McDonald's for generations in addition to those who only worked there a short time were among those who have been let go. Other individuals sent heartfelt farewell notes to their coworkers and store managers. One director who spent over 20 years working for McDonald's waved goodbye by posting a haiku on LinkedIn.
"This is not good-bye – But a 'see you later' note – I'm cheering for you," the poem's closing words read. According to those who had knowledge of the situation, McKinsey & Co. advised McDonald's on the chain's restructuring process.