According to Government of India – Health Ministry, more than 63 million people in India are forced into poverty every year due to "catastrophic" expenditure on healthcare. According to reports of a recent survey in Bangalore it was found that more than 25% of children in the city have  Asthma and more than 15% of adult population in Bangalore have Diabetes. The stats are alarming. And at times when the Flipkarts and the Zomatos are making life easier for us Indians, healthcare sector remains far away from basics such as information availability and transparency. Team Medyog is working relentlessly to change that.
[box type="shadow" align="aligncenter" ]Medyog is an online healthcare aggregator for Diagnostics, with a special focus on Preventive Healthcare. A platform where users can search from a large directory of over 2000 tests, discover prices, compare options, book appointments, avail huge discounts and get reports online.[/box]
Most ailments do not occur overnight and can be detected at an earlier stage through regular check ups. Several severe health complications which could take a toll on both your biological as well as financial health can be avoided if diagnosed at an early stage. Through their work in the area of Preventive Diagnostics, Medyog plans on helping clients detect their ailments at an early stage and thus preventing them for becoming severe.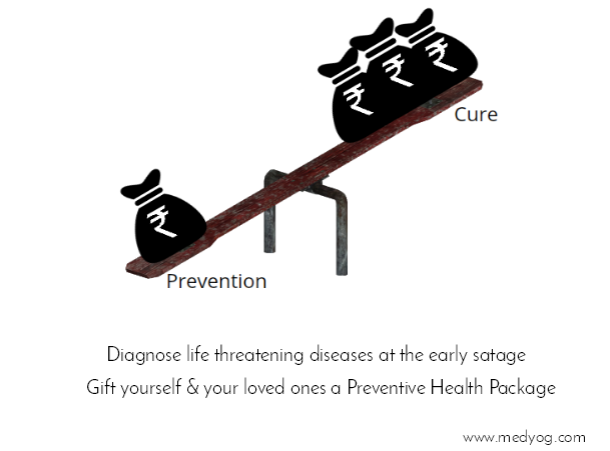 Medyog helps users go through various Preventive Health Plans and identify the best one. Medgoy also offers a customized preventive health plan (Smart Preventive) based on your symptoms, lifestyle habits and family medical history.
Team Medyog is also working relentlessly to bring in transparency and convenience in the healthcare industry (by answering questions like "Where can I undergo this test?", "How much would it cost me?", "Which diagnostic center is better?", etc.), create awareness around preventable diseases and promote a culture of regular health check-ups.
The size of the market that team Medyog is tapping into is huge. The Preventive healthcare market is only 8 % of the total $3.5B diagnostics market in India.
"We plan to take this number to 20% to 30% "
says Pranat Bhadani, Cofounder of Medyog. Medyog mainly faces competition from Ziffi.com , a site that mainly focuses on Doctor Appointments, but has recently entered the diagnostic industry and DoctorC.in.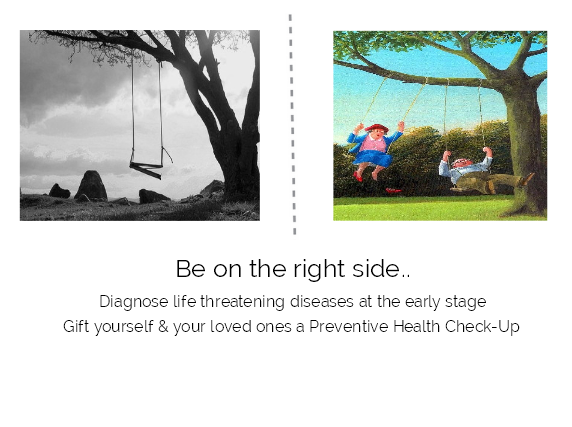 So what is it that Medyog does that is different from their peers ?
Medyog enables users to not just to discover prices, compare offerings and make a smart choice based on real reviews and ratings of the centers, but also passes on huge discounts for the tests/packages. Medyog ensures that the user:
1) Gets the reports online to share it with the doctor and loved ones
2) Has his/her Personal Online Repository: A secured interface storing all your medical records online, no need to carry your medical file everywhere you go
3) Allows creating multiple profiles under one account: Managing your families healthcare needs couldn't be any simpler, with separate profiles for your children and parents, you can now manage the health of your loved ones seamlessly
"Our focus on Preventive Healthcare is what further differentiates us from our competitors, and to help promote this further we recently launched the "Smart Preventive"" 
says Pranat. With an aim of making regular health check-up's a norm in the society, Medyog has build a tool that would customize health packages for every individual. Their Smart Preventive tool asks the user to answer a set of multiple choice questions aimed at getting personal & family medical history and symptoms, and designs customized health plans based on responses.
Medyog launched its Beta version on the 15th of Dec'2014, and released its final version on 20th Jan'2015.  Medyog has currently partnered with 15 different centers in Bangalore and plan to increase that number to over 30 by the end of February.

Medyog was started by Pranat Bhadani, Shantanu Jain  and Nitin Jain. It was Pranat's personal experiences and journey that led him to work in this area.
"It was in the year 2008 that I first read about Dr. Devi Shetty, Founder of  Narayana Hrudalaya, and his immense contribution in the field of affordable healthcare. What amazed me most was the power of economies of scale in providing basic healthcare to the under-served in India. But it was only around 2 years back when I was admitted in Narayana Hrudalaya – diagnosed with Sarcoidosis, that I saw for myself the impact of this healthcare institution. How a single institution could have such a positive impact on the lives of millions.
Post my surgery, I had to do monthly follow-ups and it was then that I realized the hassles that an individual faces to get information around those tests. It seemed impossible to answer questions like "Where can I undergo this test?", "How much would it cost me?", "Which diagnostic center is better?".
I was surprised to see how little was being done in the healthcare space when the internet revolution was transforming the consumer experience in every other space I could think of.
A little deep dive revealed that the existing nexus between the doctor and the diagnostic center. The Indian diagnostic setup is currently driven mainly by doctor referrals and the user has very little choice (Exception- Preventive Healthcare) in the whole process. Through Medyog we aim to restructure the industry from doctor driven to a doctor-patient driven. "
says Pranat. Pranat is an IIT Bombay alumnus and takes care of Product and Business development an Medyog. He has worked with Capital One for close to 3 years in Bank Fraud Analytics. Shantanu Jain  takes care of the technology side of Medyog and has previously launched a couple of Android apps, which have had over 50,000 downloads. Nitin Jain takes care of Marketing at Medyog. What makes this team special is that they are cousins and have known each other most of their lives. Including the founders, Medyog is a 4 member team now.
Medyog work in areas such as regular preventive health check up or making your health data available online is going to require change in the way Indian consumers have been functioning till date. The company is therefore bound to face challenges.  When asked about challenges, team Medyog enlists 2 main challenges that they face and how they are tackling these challenges.
Redefining the source – From making it a completely doctor driven industry to a doctor-patient driven one: Medyog is taking an indirect route to tackle this by aggressively promoting preventive health check-up's, even designing personalized preventive health check plans (Smart Preventive)
Trust – When it comes to healthcare, no one takes any chances: Medyog have partnered with only the most reputed brands in Bangalore (only the ones with the Highest Government Certification)
And what have been some of the learnings along the way ?
"The two main things we have learned till now are
When it comes to healthcare keep it very simple. In terms of design, when we first launched our Beta version, the landing page was intended to be "eye catching", but the engagement levels were lower than anticipated. Within a week, we removed the colorful images and simplified our homepage, and there was a very noticeable spike in terms of engagement.
Don't just ask your initial users for feedback, meet up with them and just observe them using your platform. This will provide you with key insights to the behavior of the user and help you design accordingly. "
says Pranat. The company is planning on increasing the number of services they make available online in the coming few months. The company is currently bootstrapped but will look to raise money soon to scale their operations.
About Medyog
Blog: blog.medyog.com
Android App: https://play.google.com/store/apps/details?id=com.medyog
Comments
comments