Mercedes brakes ground on a new battery recycling facility in Germany. With this new facility in Kuppenheim, Germany the automaker aims to achieve a remarkable recovery rate of 96%. It is in reference to the four key materials, lithium, cobalt, nickel, and eventually graphite.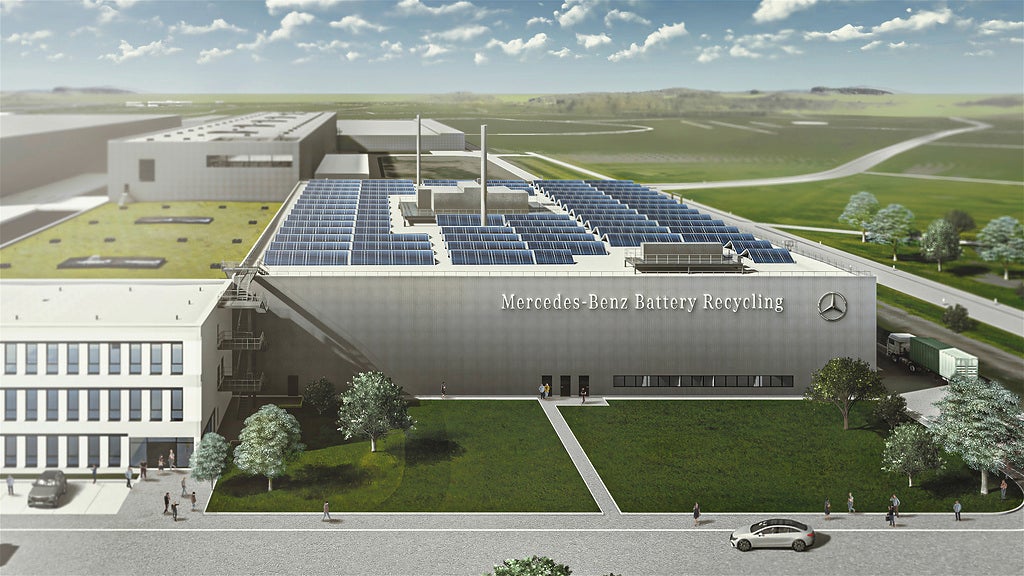 Two of the biggest challenges in the industry of electric vehicles are the price of battery materials and what happens with batteries when they are at the end of their useable lives. Yet more and more manufacturers are finding that these two problems can help solve each other through the use of battery recycling. In efforts to source more materials more sustainably and cheaply, Mercedes has broken ground on its first battery recycling facility that will slowly ramp up to help meet the automaker's material demand. It will have an annual recycling capacity of 2,500 tons and aims to begin processing by the end of this year.
Member of the Board of Management at Mercedes-Benz, Jörg Burzer said, "This foundation symbolizes the decisive step towards closing the material cycle for batteries from Mercedes-Benz. With a recycling rate of more than 96 percent, a 'mine of tomorrow' is being created here in Kuppenheim. The innovative technology approach enables us to incorporate valuable raw materials into new Mercedes-EQ vehicles. We are consistently expanding our expertise in the battery value chain and are taking an important step in our strategy towards 'Electric Only.'"
 Decarbonize its production
Mercedes also specifies that the new facility will be 100% carbon neutral as part of the German automaker's continuing efforts to decarbonize its production facilities in the coming years. This is achieved through a mix of solar energy installed at the facility and green energy purchased from the grid.
German regulators were quick to point out that the new facility will also be a vital part of the country's efforts to limit dependence on rare earth imports, which were particularly affected on the European continent due to the COVID pandemic, COVID restrictions in China, and the Rissian invasion of Ukraine. "This is of particular importance in view of the limited availability of important and highly sought-after raw materials such as lithium, cobalt or nickel," noted Thekla Walker, Minister for the Environment, Climate Protection and the Energy Sector Baden-Württemberg. "Crises such as the corona pandemic or the brutal Russian war of aggression against Ukraine have clearly demonstrated our dependence on supply chains and primary raw materials. Increased recycling can help to reduce this dependence on critical raw materials and thus strengthen the resilience of the economy."