Tech giant, Microsoft is working towards bringing new and new functionalities to their browser, Microsoft Edge. Here it's been said that Microsoft Edge will be bringing the support for the new split screen within the single browser windows where the users will be allowed to compare or work within the two different tabs at the same time.
As per reports, this two-tab feature was first introduced by a popular Redditor named Leopeva 64-2. As of now, this feature has been availed as an experimental flag and is available as a Beta version, right now. Once activated, a new button that allows you to divide an Edge window into two distinct tabs side by side appears next to the address bar.
Microsoft Edge to feature duo split tabs within a single browsing window
As we mentioned, the new split tab feature will be allowing the users to provide a better comparison of the tabs within a single window. As per reports, you will be allowed to drag your tab and provide a great split-in view where it's clear that we will get to see a side-by-side view of the tabs within the single window.
Whether you start sliding the tab all of the ways to the right or left of your window, you may find it challenging to achieve this. Avoiding navigating amongst tabs or opening a brand-new internet browser, adopting Edge's built-in splitting view enables things easier but with only a single click.
If you finding it harder to understand via text, then here we have an embedded widow which actually gives a good idea about how this new split tab feature actually looks like.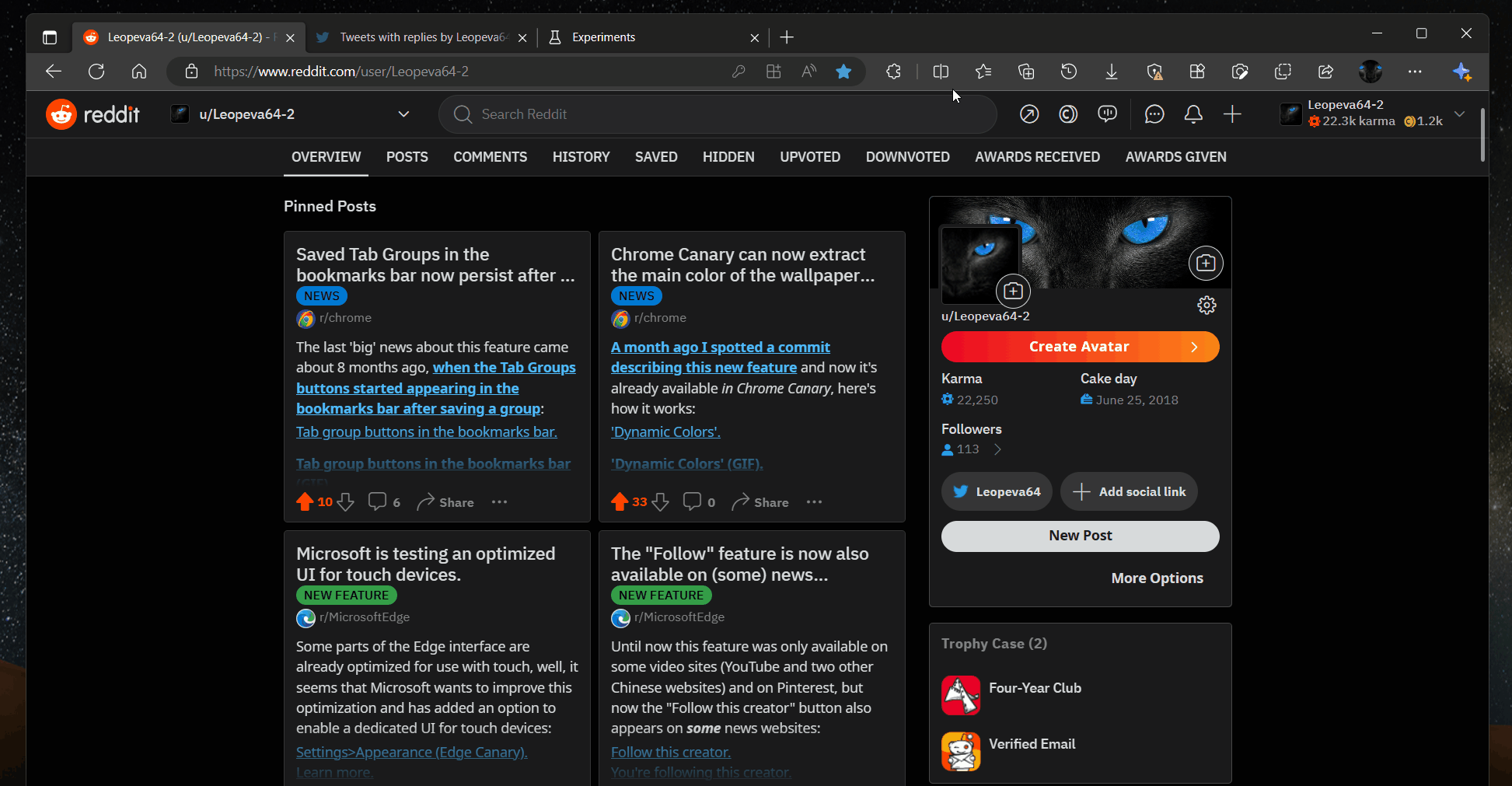 However, this is actually a beta version, and there are a lot of chances that the final version of this new Microsoft Edge will be getting a lot of changes after release. As you have been in the above video, you can see that the users will be able to navigate between two of the tabs within a single window.
Besides the navigation part, this browser will also get the feature to pin these tabs side-by-side, and also you will be able to duplicate these tabs and add them to a separate group too. Because of this, if you frequently compare documents or web pages, this tool is really helpful.
When will this feature make its way to release?
As of now, we don't have any reports about when will we get to see the final version of this feature. But, soon we will be updating you as soon as we get a new update about the release. As of now, it's been said that Microsoft has been testing this feature on different operating systems including Linux OS and MacOS too.