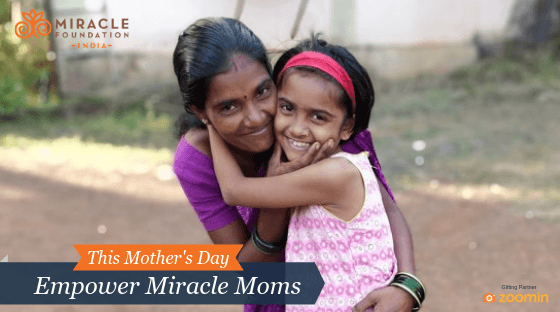 03 May 2019, India:
Miracle Foundation India has partnered with photo service platform, Zoomin, to be its gifting partner for its Mother's Day campaign.
Zoomin will be facilitating donor gifts for Miracle Foundation India, which donors can personalise and share with their honourees on Mother's Day. These gifts can be claimed by donors through free vouchers shared by Miracle Foundation on behalf of Zoomin within 24 hours of donors making a donation.
Additionally, Zoomin will be selling prints of card designs made by the children under the care of Miracle Foundation India. All proceeds earned from the sale of these cards will be donated to support the special cause behind Miracle Foundation India's Mother's Day campaign.
Through the Mother's Day campaign, Miracle Foundation India will support housemothers of children living in children's homes, to create an enabling environment for children while they await transition back into their biological families.
Funds raised from the campaign will also go towards preparing and counselling the biological mothers of these children to welcome their child back home.
Donors can make a tax-deductible donation to the campaign.
Nivedita Das Gupta, India Country Head, Miracle Foundation India said, "We are glad to have Zoomin on board as our gifting partner this year to show our appreciation for the support we receive from our donors. At Miracle Foundation India, we believe that every child deserves a loving, caring and safe family. Unfortunately, several parents are unable to take care of their children due to a lack of resources and support."
Nivedita Das Gupta, added, "As a result, most of these children end up in children's homes away from the love and care of their own family. Our goal is to reunite these children under our care with their biological families keeping their best interest in mind.  Zoomin's support to our Mother's Day campaign is taking us a step further to achieving our goal.  It is with the help of donors and organizations like Zoomin, we're able to make a true difference in the lives of children."
Sachin Katira, CEO, Zoomin said, "Since Mother's Day is around the corner, we will be sharing stories of people about motherhood. We loved the idea of Miracle Foundation India and feel really proud that they have taken such a great initiative and are doing great deeds for the care of orphaned and vulnerable children. We support this cause deeply."
Sachin Katira, added, "We are happy to be a part of this change and spread the message across our customers to support Miracle Foundation India and help in transforming the lives of children. We believe there will come a day when no kid will grow away from their family."
(Image – Miracle Foundation India)
Comments
comments