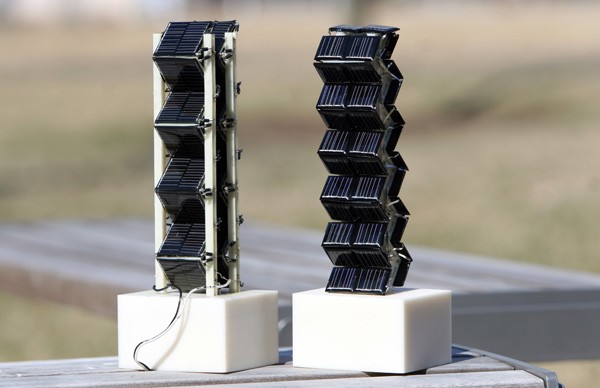 24 March, 2016, USA: MIT scientists are buckling up to transform the way solar technology works around the globe. The researchers have been experimenting with a new solar technology from quite a while and have developed solar panels that track the movement of the sun and are capable of producing extremely large amount of power.
In order to track the movement of sun, scientists have built vertical towers with solar panels attached to it. The panels attached to the towers track sun more efficiently when it is close to the horizon, as well as during changes in seasons. Apart from tracking the sun, the panels are also capable of generating 20x output which is much higher than the energy generated through flat panels.
With this development, it seems like world is getting ready to replace the flat panels with the newly designed one. Another speciality of these solar cells is they can be 3D printed. Though these panels are bit expensive than the flat ones, but their capability to generate more power at the same time equalises the price.
The study was documented in Energy and Environmental Science. The value of this new model is made possible because of the drastic drop in cost of solar panels over the last decade. "Even 10 years ago, this idea wouldn't have been economically justified because the modules cost so much," said Jeffrey Grossman who led the study says. But now, he adds, "The cost for silicon cells is a fraction of the total cost, a trend that will continue downward in the near future."