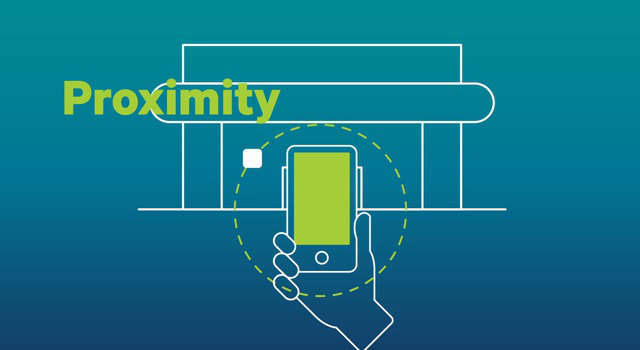 Rapid change in consumer lifestyle and the significant growth in contactless payments over the last decade has resulted in Mobile Payments gaining momentum owing to its value proposition for Customers, Merchants as well as Banks. Ovum's new m-payments forecast* shows that the total global user base for mobile payment will reach 4.77bn by 2019 from the existing user base of 689.99mn in 2014. Mobile proximity payments are the fastest growing segment for mobile payments. The growth trends of global mobile proximity payment users have been shown in Fig. A. The total transaction value of mobile proximity payments (both NFC and non-NFC) will grow from $4.77bn in 2014 to $141.21bn in 2019.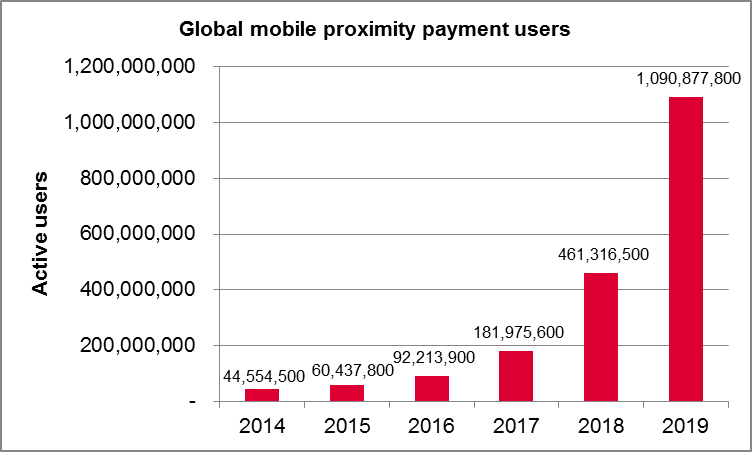 Figure A: Growth trends of global mobile proximity payment users
NFC (Near Field Communication) and MST (Magnetic Secure Transmission) are two leading technologies in driving the mobile proximity payments. They are quite similar in nature if you take a deep dive. In both cases, users upload their card data into mobile payment app on their smartphone and then use it to make purchases in brick-and-mortar retail stores. These card details are encrypted within the phone and provide one-time authorisation tokens for each individual purchase.
NFC and MST are also both contactless payment solutions that don't require the mobile device to physically interact with a merchant's terminal. All you need is physical proximity and the customer's approval to authorise a transaction.
Near field Communication (NFC):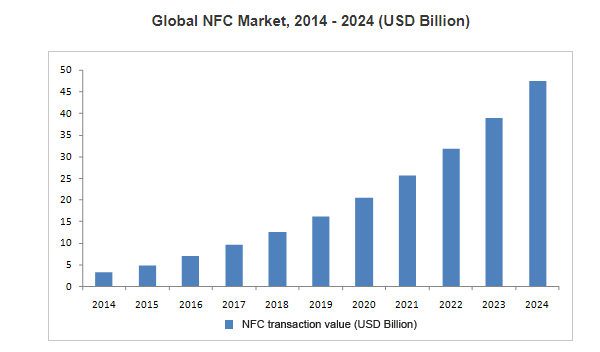 Source: Grandview Research
NFC enables contactless communication between two compatible devices, when brought closer. Some of the NFC devices are Tags, Tattoos, small transmitters, Mobile, Wearables, USBs, Keys, Business cards etc. As per Ovum's reports, by 2019 there will be a total of 1.09 billion global mobile proximity payment users, of which 939.10 million will be NFC.
The popularity of NFC has increased so much that it is being enabled on mobile for ATM cash withdrawal wherein a customer can initiate an ATM transaction by signing into their mobile wallet features and tap at NFC enabled ATM.
Moreover, NFC is being deployed in access control and in health care for functions like patient monitoring etc. besides payment use cases. NFC is also being deployed in automotive environment for functions like unlocking car doors and enabling keyless entry in the cars.
NFC Forum, a key industry and standardisation body, has launched a certification program in September 2017, which assures performance and interoperability of NFC components to ensure "consistent, compelling, and connected user experiences."
Magnetic Secure Transmission (MST):
Magnetic Secure Transmission (MST) is a technology, used in smartphones, that emits a magnetic signal that mimics the magnetic strip on a traditional payment card and sends it to the payment terminal's card reader for accepting payments. With this proposition, merchants may accept mobile payments without purchasing new POS technology. MST works at about 90% of the card readers out there.
Smartphone players are already integrating this technology in their proprietary payment apps. Soon more key players will join the movement by adapting or developing alternatives to the existing MST technology in the market.
 The Indian Context
Indian market has huge potential for mobile payments with popular technology like UPI, NFC, QR Codes etc. While MST based terminals are still in majority, the recent focus on digitisation of payments has ensured a good penetration of mobile based solutions along with growth in NFC acceptance infrastructure.
According to a rough estimate approximately 20% of the PoS terminals in the country may now be contactless (NFC) enabled and the popularity of EMV compliant Tap & Pay contactless solutions especially like National Common Mobility Card (NCMC), OEM-pay (Samsung Pay, Apple Pay etc.) are further going to drive the usage of NFC based payments.
NPCI is working extensively on developing NCMC use cases for mass transit and smart city initiatives through its proximity based payment solution for all form factors including card (NFC) and mobile (HCE/UPI).
* https://ovum.informa.com/resources/product-content/te0003-001063
Disclaimer: The opinions expressed in this article are those of the authors and do not necessarily reflect the views of NPCI.
About the Author:
Mr. Nalin Bansal is a Vice President, RuPay Contactless at National Payments Corporation of India (NPCI). He is a Product & Business Strategy Professional with a rich experience of 15+ years on assignments with a global perspective. Nalin spearheaded the launch of many initiatives in the telecom business and incubated new age payment solutions with organizations like Airtel and MasterCard. He has also been an advisor to multiple startups for their go-to-market strategy.
Comments
comments