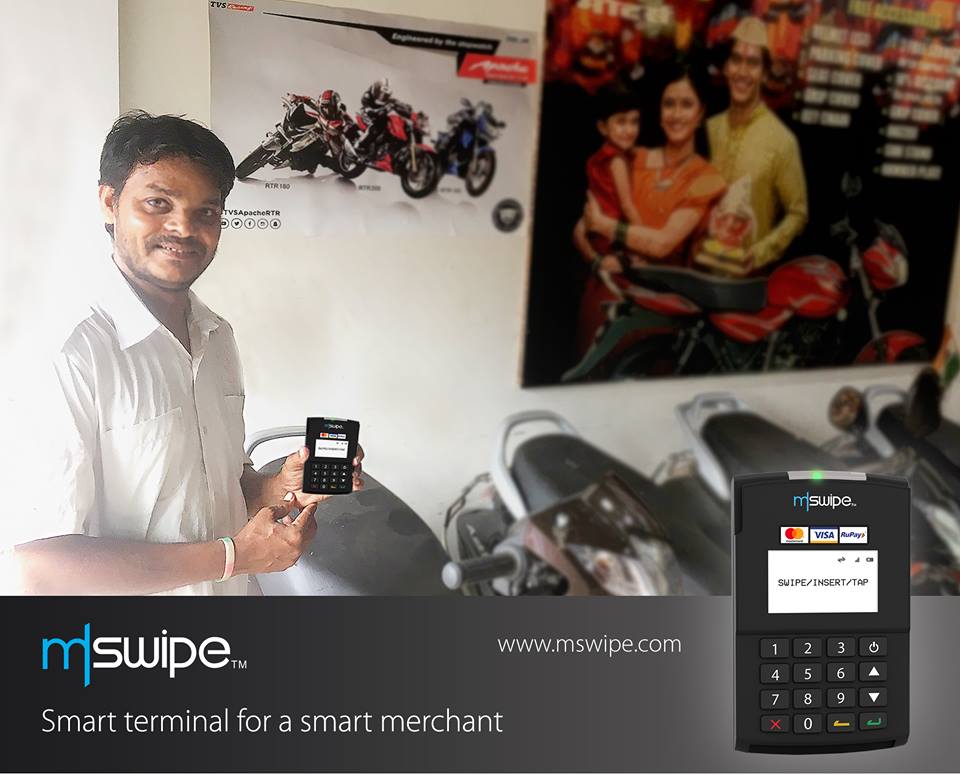 Mumbai, December 7, 2017: Mswipe Technologies Private Limited ("Mswipe" or "the Company"), one of India's largest independent merchant acquirer and Point of Sale (POS) network provider, today announced the closing of Series-D round above US$40 million mark, which includes US$31 million announced earlier.
B Capital Group ("B Capital"), a global tech fund that invests in pioneering fintech, healthcare, industrial logistics, and consumer enablement companies, has led the latest investment in the Company together with Mswipe's existing investor – DSG Consumer Partners. Eduardo Saverin, Partner at B Capital and Co-founder of Facebook, will join Mswipe's Board and work closely with the Company as it enters its next phase of growth.
Other investors participated in the Series-D funding include UC-RNT Fund, Matrix Partners India and Falcon Edge Capital. The capital raised will support Mswipe's continuous effort in expanding Mswipe's acceptance network at retail merchants for card and digital payments and strengthen its product development capability.
Mswipe is addressing a large market estimated at 14 million merchants with low POS penetration. Since its inception in 2011, the Company has quickly disrupted the card acceptance business with its innovative POS and business payment solutions, paving the way for greater acceptance for cards and now digital payments in the sub-continent.
It is already India's leading non-bank merchant acquirer, with a network of 280,000 terminals spread over 650 cities and towns. Mswipe's omni-channel platform offers merchants an easy and efficient way to accept digital payments like UPI, Google Tez, PhonePe, BharatQR, and BHIM in addition to card payments using Mswipe's industry leading payment terminals, mobile phones, tablets or PC's.
Kabir Narang, Partner at B Capital, said, "We have been actively looking at investment opportunities in leading technology companies in Asia. We are excited to partner with Mswipe, an end-to-end payment solution that is made for India. Our philosophy at B Capital is to back exceptional founders and teams like the one at Mswipe and market leaders where we can leverage our global network to help accelerate their growth."
"While the US has been the traditional anchor for innovative technology, we are seeing disruptive innovation emerging from geographies like India, China, South East Asia and Israel. This is one of the reasons at B Capital we started with a global investment model and a presence in Asia and the US from day one." he added.
Also Read: Mobile Wallet Industry in India: Are We Asking the Right Questions?
Manish Patel, Founder and CEO, Mswipe said, "At Mswipe, we are at the forefront of the payments revolution by powering acceptance infrastructure at the merchants'end, enabling them to accept card and digital payments in a hassle-free manner.
It is a great validation to have an investor like B Capital along with our existing investors. B Capital's expertise in the sector and its exceptional network in Asia will be an important ingredient as we shift orbit and execute our next phase of growth."
Deepak I Shahdadpuri, MD, DSG Consumer Partners, and Chairman, Mswipe, said, "On behalf of all the investors, I would like to welcome B Capital to Mswipe and Eduardo Saverin to the board. B Capital compliments the existing investor base and will add significant strategic value as Mswipe starts its next phase of growth to build India's leading payments and lending business."
Comments
comments