Navayuvak Entrepreneurs and Jaarvis Accelerator Presents the Mumbai Startup Fest in Association with Fr.CRCE E-Cell & NMIMS MPSTE. The event will be held on 6th February 2016 at Fr Agnel Ashram, Bandstand, Bandra (W), Mumbai.
Mumbai, ever since start has been centre for continuous development of the spirit of entrepreneurship across the nation where young dreamers get an opportunity to realize their dreams. Mumbai Startup Fest 2016 is being organized with a vision to promote and celebrate this entrepreneurial spirit of Mumbai. It aims to provide the start-ups and budding entrepreneurs a platform to showcase their potential and discuss roadblocks where every start-up has difficulty in envisioning a long-term successful venture. It is a mission and goal to create a budding entrepreneurial ecosystem in Mumbai and foster the spirit of the same in the long run.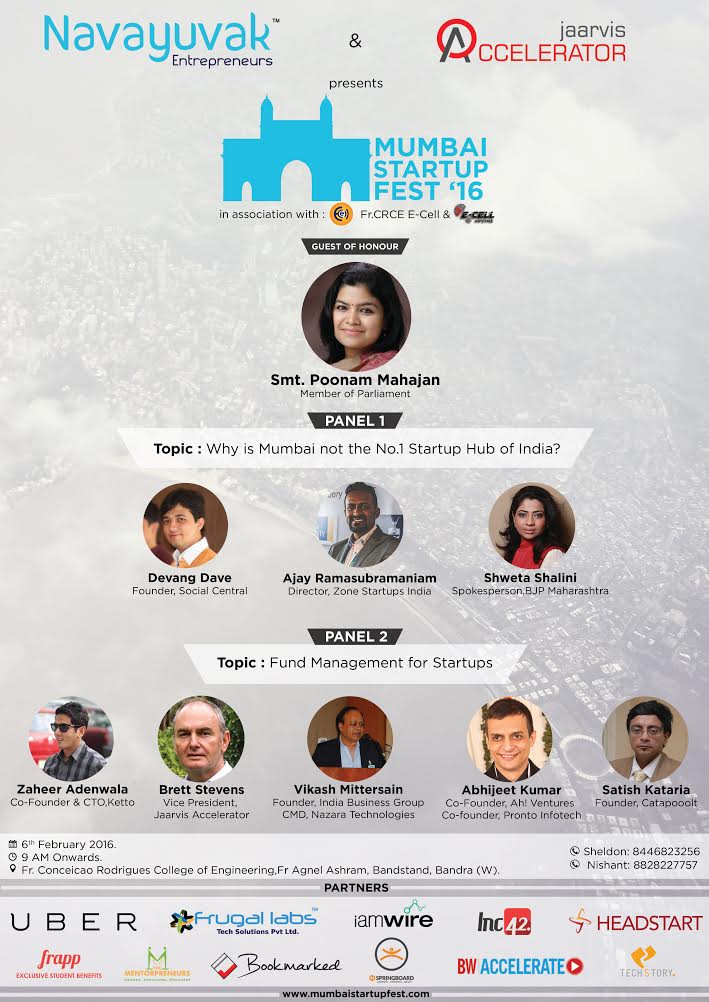 The theme of Startup Fest is Smart City- designed by the experts from Govt. of Maharashtra.
List of the speakers for the Mumbai Startup Fest includes:
Guest of Honour, Smt. Poonam Mahajan ( Member of Parliament)
Shweta Shalini (BJP Maharashtra, Spokesperson)
Devang Dave (Founder, Social Central and the Brain behind Maharashtra's E-Governance Portal- Aple Sarkar)
Brett Stevens ( Vice President, Jaarvis Accelerator)
Vikash Mittersen (Founder, India Business Group & CMD Nazara Technologies)
Abhijeet Kumar (Co-Founder, Ah! Ventures & Co-founder, Pronto Infotech)
Satish Kataria (Founder, Catapooolt)
Zaheer Adenwalla (Co-founder and CTO of Ketto)
Ajay Ramasubramaniam (Director – Zone Startups India)
Kartik Raichura (Founder, Management Paradise & Entrepreneur.co.in)
Other then the guest speakers, fest will also feature events including Mumbai Global, Panel Discussion and IoT Workshop.
Mumbai Global at the Mumbai Startup Fest provides a platform where the young dreamers and change makers will get opportunity to realize their dreams. Mumbai Global is a competition where, early-stage start-ups present their startup ventures to a diverse audience of their peers, mentors, educators, advisors and investors. In the process, getting mentored by national level mentors and taking valuable feedback to guide their dreams. Mumbai Global would be Live Streamed to startup enthusiasts and investors globally. Top 50 start-ups would get the benefit of YouTube showcase on the esteemed YouTube channel, video based mentor feedback and information being shared with all top investors invited for the Mumbai global. Also, Top 25 startups will be invited to the Mumbai Global Bootcamp and will get the exclusive opportunity to pitch and get one to one mentorship from distinguished mentor panel plus networking lunch invite to meet the who's who of the startup community.
The Live Pitching and Bootcamp: @ Mumbai Global
Applications link: http://mumbaistartupfest.com/mumbai_global.php
Top-5 starting pitching Winners at Mumbai Startup Fest get direct access to Zone Startups Accelerator program for 3 months.
A Panel Discussion on topic 'Fund Management' is scheduled during the fest. The fest will also host a talk on 'Why Mumbai is not the No.1 Startup Hub of India'.
The fest will also organize an IoT Training Workshop registrations for which can be done at the link: http://mumbaistartupfest.com/iot.php
Important:
Time- Saturday, February 06 2016 at 09:00 am to Saturday February 06 2016 at 08:00 pm
Venue– Fr. Conceicao Rodrigues College of Engineering Fr Agnel Ashram, Bandstand, Bandra (W), Mumbai, Maharashtra, India
Website– www.MumbaiStartupFest.com
Buy Tickets here!