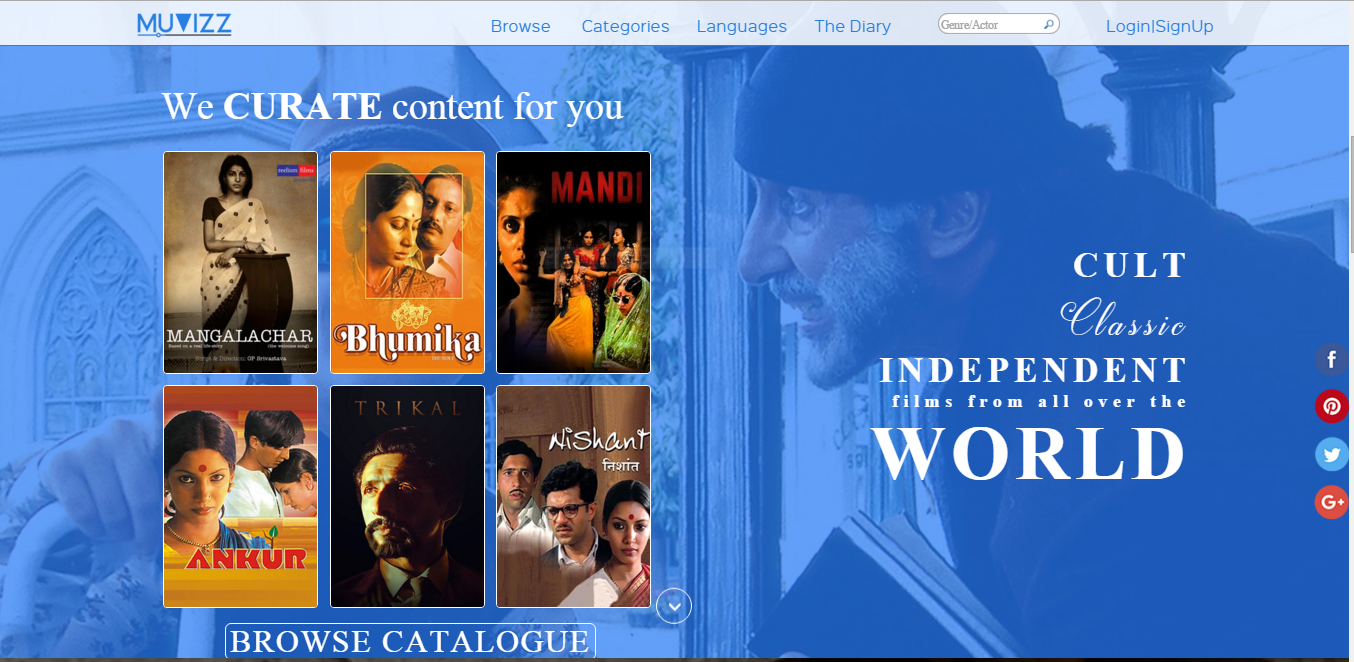 Muvizz.com
Video on Demand refers to systems that allow users to view selected videos when they want rather than sticking to specific broadcasting timings.Now a days this feature is present in satellite dishes which allow viewers to enjoy movies of their choice right from the comfort of their homes.
Muvizz.com, an online social platform was developed with the intention of streaming curated list of cult, classic and independent films. Being an avid movie lover, serial entrepreneur Abhayanand came across a problem, he was unable to watch his much awaited "Gangs of Wasseypur" in Singapore on its release date. He knew this problem was not only faced by him, but by Indians all across the globe and he had to come up with a solution. That's when the idea of movies on demand struck him, he knew that this would not only solve the release issues, but also would be a platform where movie fans like him and many more could relive their favorite cults classic again and again.
"Every film is a great film and people in India are not aware of good contents that are non-mainstream movies; muvizz.com would help independent movies with good content reach their intended audience."
He jointly founded Muvizz with Bollywood actor Manoj Bajpayee and Piiyush Singh who heads the Indian Operations.
Techstory had the opportunity to talk to Abhayanand Singh, Co-founder about his love for muvizz and movies!
The Industry
With the rise of digital media, the industry is opened to a gateway of opportunities, film makers started exploring movies for niche audience who prefer quality content over commercial masalas. The industry is huge and it can be disrupted with quality steps taken towards saving it. Right since the time, Netflix came to India, there has been a lot of buzz in the industry about the future of theatres. But theatres have always been and will always be there, this is not the first time that theaters face such competition. They have seen the likes of video libraries, digital casettes, and online downloads.
Traditional cinema will always be there. But all films don't get screened, hence it's better to stick to simultaneous platforms.
There are still a few big names from the industry like the Dark Knight fame Nolan, who prefer IMAX film releases over digital release, but this is all due to his cut off dates, he adopted to the technology which was present when he entered the industry and modern day film makers have a wider range of technologies to choose from as their cut-off. Anyhow, the user experience we get from viewing our favorite movie on a big screen is one of a kind, but when we don't get to see them, VODs are better alternatives. There are around 15+ players in India, offering the service and it is the big players who educate about the industry as a whole to the audience.
Muvizz
Offering a wide range of cult classics, and national award winning movies, muvizz also encourage independent, documentary and short film makers. They have developed their UI and UX carefully, so that streaming is not interrupted by any spikes or buffers during usage, they realise that this is necessary for a better movie experience. They have also given offline syncs like to i-tunes where users can enjoy the movies during travel or in remote locations, these movies will be available on the offline backup for a specified time, to avoid piracy.
Creative Freedom
The greatest advantage of releasing your movie in an OTT or VOD platform is that it restores the democratic rights of the directors, that is, the rights to express their creativity without any fear of the censorship board.
"Movies represent the social, psychological and cultural background of the society in many ways. International movies give us an insight about their lifestyle"
But this does not mean that any movie can be uploaded, every movie goes through a strong screening committee which share the same love for cinema as the directors of the movie and contents that are offensive cannot be broad casted on the platform.
Cinephiles
Movie watching has always been a social experience with friends and family members and discussions about movies have always been a part of our social gatherings.
"Expression of such views are usually confined within the closed circle, but now it can be expressed to the whole world."
Their cinephile section is the social media for muvizz where passionate film lovers can express their views and discuss about the good contents in movies. This also promotes good movies that are available both within and outside the platform, which is actually a great news for the industry as any good movie can sustain now, with the praise from cinephiles in general.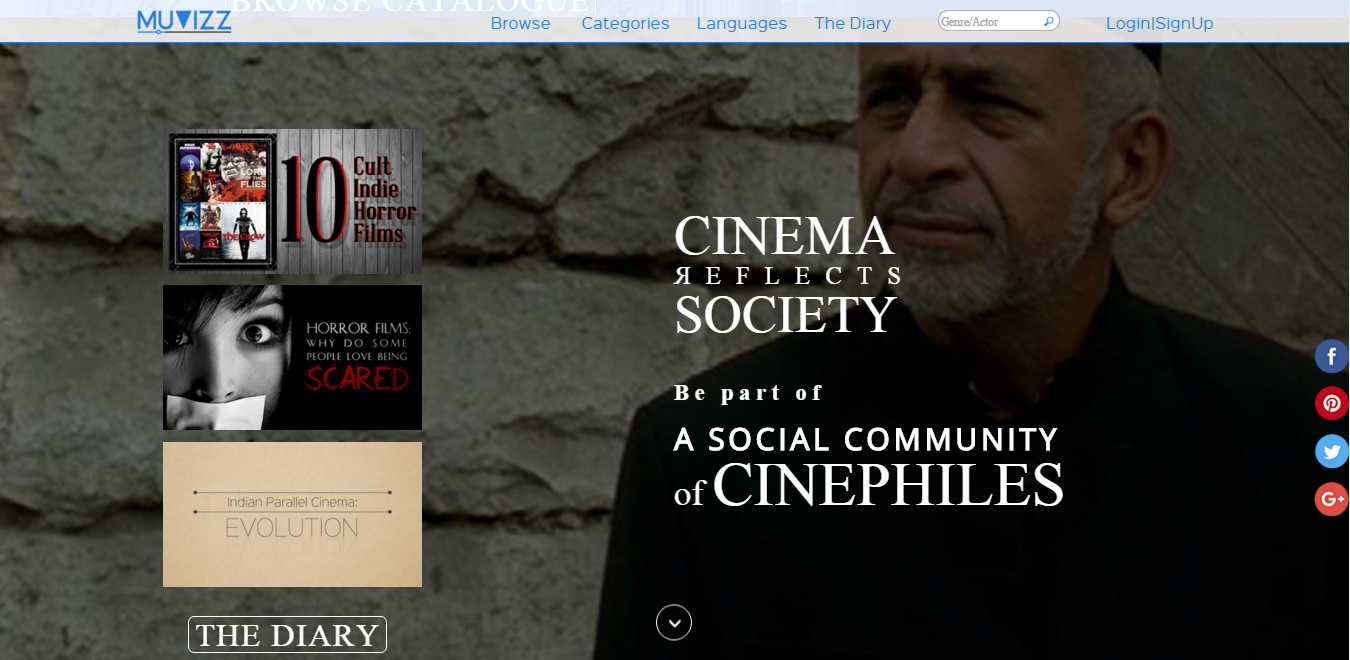 The Cinephiles of Muvizz
The Language Barriers
India being a diverse nation has over 1650 spoken languages, out of which minimum 150 are spoken by a sizable population and 22 are classified as official languages. For an ardent cinephile, this language issue can never be a barrier, the idea whole point of VOD platforms is to bring in the versatility of film making not just in India, but the entire world to limelight.
"Films reflect the society and as an user you get to watch the best of world cinema."
We have been watching other language movies right since our childhood, irrespective of our mother tongue we all must've had the memory of Friday afternoon regional cinema with English subtitles in Doordarshan.
"Everytime a good movie will reach a good audience if it is marketed well"
Take the case of LunchBox, it did exceptionally well not just in India but internationally amongst non-Hindi speakers too. There are so many good movies in regional languages such as Bengali, which is limited to Bengali audience in that particular region alone, all of this can changed with the help of VODs.
Muvizz Marketing
Muvizz.com aims to bring contents from all across the globe that includes feature films, documentaries and even short films that have exceptional story telling. Films that are brought to the platform is generally not released in theatres, and how many of us have watched or atleast name the Indian Oscar nominee for this year? Independent film makers approach muvizz for simultaneous releases too.
"We'll try to market every movie that we acquire"
There are many movies that haven't reached a wider audience because of minimum marketing budgets and hence muvizz platform can help in marketing those movies to their users, offline events, social media platforms and institutions. For instance, let's take the example of a sports documentary, these documentaries can be targeted to sports goods companies and coaching centres.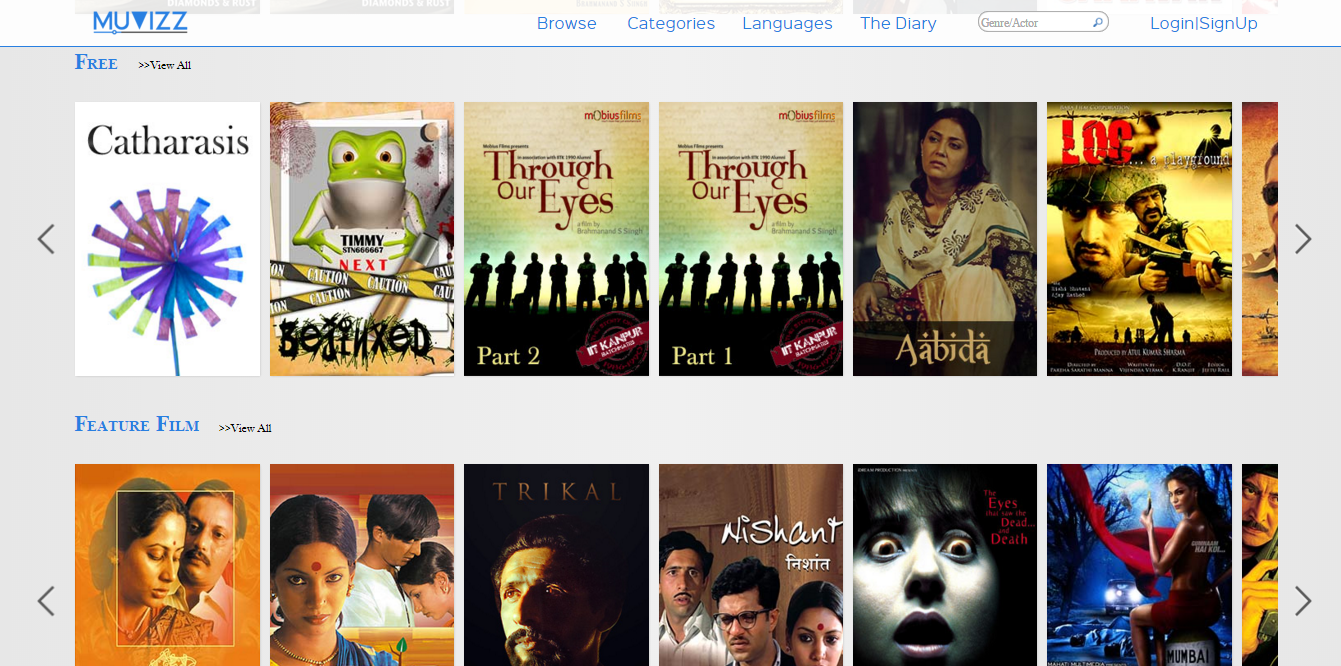 The Muvizz Catalogue
Movie Piracy
Research proved that people go for piracy, due to lack of availability of content, not just for the sake of illegal download. Even while downloading, many a times they come across issues of attached viruses, which would harm potential files in their hard drives and this just prevents them from appreciating movies anymore.
"Piracy will come down if you provide quality content at the right price."
We have seen the same in audio industry too, due to platforms like thinkmusic and gaana, many are now able to enjoy songs from their favorite composers internationally without having to for the illegal methods. The industry as a whole has to fight to reduce this major issue.
The Journey Ahead!
They are currently working on launching their mobile app, in order to reach a wider range of audience, as it is their fundamental idea to promote the movies to a large audience. The platform too is evolving both in terms of content added and the technology in terms of the user experience, they are also looking into limiting the number of IPs a user can login from, to avoid many users sharing the same ID. In reference to their contribution to the industry, they are also co-producing a short films and are in talks for a feature film.
The one thing that worries good content makers is will his movie reach maximum audience? And they need not be worried anymore because of Muvizz!
---
Also checkout: gomovies free website
Similar Reads:
Spuul Delivers Indian Content on Demand – An Idea Whose Time Has Come !
Shammi Arora's Vyu TV app to make watching TV an enjoyable experience again !