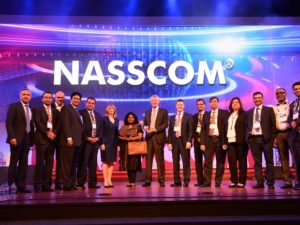 What is NASSCOM?
NASSCOM stands for The National Association of Software and Services Companies. What does this association do exactly you ask? NASSCOM describes itself as a trade association between the Indian INformation technology industry and the Business Process Outsourcing Industry also known as the BPO industry. Now, this may sound like a conjugation of large words but its quite simple to understand really and we'll get to the understanding what it does in just a bit. But first, let us start with a brief introduction.
Before we go ahead it is important to know that NASSCOM is a not for profit organisation. Established in 1988 Debanjani Gosh stands as the president of NASSCOM with Keshav R Murugesh as the Chairman and UB Pravin Rao as the vice chairman. The body holds more than 1300 members which include the people involved in both Indian and multinational companies.
NASSCOM is essentially a facilitator of trade between the IT and BPO industry of India. After the technological boom around the globe, it became imperative for IT to be acknowledged as a proper industry and one with great economic and financial potential. Comapnies like NASSCOM give these industries the entrepreneurial boost. NASSCOM has been playing the role of catalyst in binding the industry players together, representing them and engaging with various stakeholders to encourage the growth of the Indian IT-BPM industry.
There was no officiated platform where the IT and the BPO industry can interact and NASSCOM became that platform.
Apart from providing business opportunities, since the technology was a new development the government also needs to be made aware of the new policies, regulations, initiatives that serve the interest of Indian IT-BPM players.
Over the past few years, members of The National Association of Software and Services Companies foresee and tackle hurdles, strategize for the technological future, share ideas, and discuss practices that can help with the growth of a competitive industry but make this growth long term and sustainable.
NASSCOM's member and associate member companies are broadly in the business of software development, software services, software products, consulting services, BPO services, e-commerce & web services, engineering services off-shoring and animation and gaming.
"About 25 years ago, NASSCOM's founders felt that there is a need for a model agency to look into government and international environment to analyse the forces that affect Indian IT-BPM industry. This helped the team and the members to leverage the opportunities and address challenges prevailing in the environment. ", quotes a NASSCOM spokesperson
In simpler words, NASSCOM is a facilitator for business and for thought.
Events and Awards
To facilitate the growth between the two industries apart from working as a regular company, NASSCOM also hosts a range of exclusive events over the years as a meeting an networking platform for people to interact i real life and not just over business calls.
It gives a platform to the developing companies to network and presents their product. NASSCOM hosts National, International, Regional and Flagship events.  Some events that the organization hosts include:
NASSCOM Product Conclave
Emerge 50
Global In-house Centers Summit.
Big Data Analytics Summit.
Diversity & Inclusion Summit.
HR Summit
Nasscom Leadership Forum
NASSCOM Engineering Summit
Annual Information Security Summit
Innotrek
To recognize and commend appropriate growth in the industry NASSCOM also hosts and gives awards to deserving members. NASSCOM Emerge 50 is an annual Indian awards ceremony honouring the most promising and innovative startups in software and technology domains. The winners are chosen after a yearlong scrutiny process by a panel of eminent jury. Also, each year the top 10 startups are given the collective title called The League of 10.
Functions of NASSCOM
Here are some functions of NASSCOM in order to gain a better understanding of the tangible role the organization plays for a person involved with the association.
Insights on industry trends:
NASSCOM research and intelligence that tracks industry trends, growth opportunities and best practices. There are also opportunities to with the NASSCOM research team and share case studies or transformational stories.
Opportunities to enhance visibility
Speak, sponsor or participant opportunities at NASSCOM events or the chance to contribute to blogs and newsletters as thought leaders.
There is also brand building through NASSCOM awards and recognition.
Opportunity to network, build and share best practices
There are opportunities to share or learn best practices through city-level networking sessions on human capital development, data security, contract management, quality, diversity and more.
Global trade development
Members can participate in opportunities for global networking and build a business at NASSCOM's global events, and through delegations and road shows. One can also receive information regularly about policy updates in countries. Along with this, a member can understand issues related to visas, immigration through NASSCOM's mobility best practices sessions.
The company also runs a mentorship program for mid-sized companies for membership.
AS of June 2007, more than 1,110 information technology companies in India were members of NASSCOM, which included domestic software/ITES companies along with multinationals operating within India.
Why Are Platforms Like NASSCOM Imperative For The IT Growth In India?
The IT-BPM sector is a field which is undergoing rapid evolution and is changing the shape of Indian business. India is the only country that offers the depth and breadth of offerings across different segment of this industry – IT Services, BPM, Engineering & R&D, Internet & Mobility and Software Products.
The sector has rapidly evolved, in terms of expanding its vertical and geographic markets, attracting new customers, transforming India all the way from a technology to a strategic partner. Thus cementing India's position as the premier global sourcing destination is an important step to take and NASSCOM helps exactly with that.