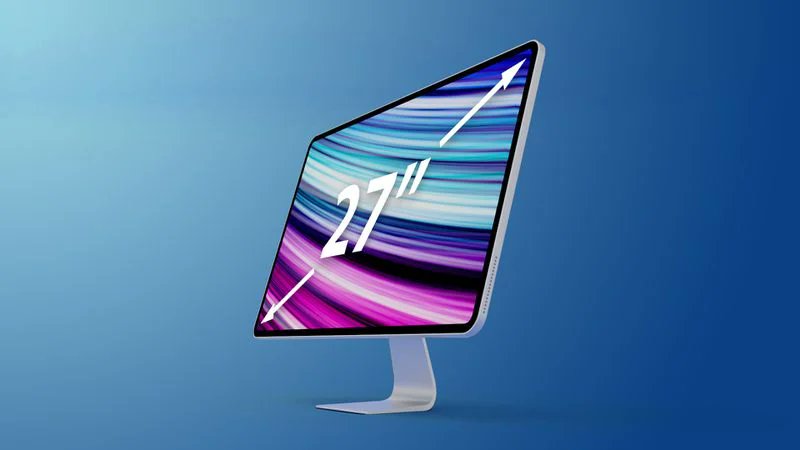 Reportedly working on a redesigned version of the larger-screen iMac, which might revive the "iMac Pro" designation to differentiate it from the 24-inch iMac that Apple launched in 2021. The larger iMac will be available in the first half of 2022, with a new design, M1 Pro/Max CPUs, and a mini-LED display.
Leaks and rumors for Apple iMac Pro 2022
According to leaker Dylandkt, the new iMac will be designed similarly to the 24-inch iMac and the Pro Display XDR. It will have black bezels, and if it resembles the Pro Display XDR, the bezels may be significantly thinner and there may be less of a bottom chin.
The next-generation iMac, like the 2021 MacBook Pro models, will include a mini-LED display for brighter colors, deeper blacks, and enhanced HDR, as well as ProMotion display technology, which allows for up to a 120Hz refresh rate.
A refresh rate of 120Hz would enable better games and navigation through programs such as Safari, as well as improved overall animations across macOS. Some speculations claim that the iMac will feature a display larger than 27 inches to match the smaller iMac's growth from 21.5 inches to 24 inches, however, display analyst Ross Young claims that it will be 27 inches like the present model.
According to leaker Dylandkt, Apple has tested Face ID for the iMac Pro, but it is not a confirmed feature, and it is unclear whether Face ID will make it into the machine's retail version.
The iMac is likely to include a connector arrangement similar to the MacBook Pro, featuring USB-C/Thunderbolt connections, an SD card slot, and an HDMI port. Apple may potentially incorporate an Ethernet connector into the power adapter, as it has done with the 24-inch iMac.
The iMac Pro will use the same M1 Pro and M1 Max CPUs that were debuted in the MacBook Pro, and Apple may add one more higher-end option to the computer.
The M1 Pro and M1 Max share the same 10-core CPU (albeit the M1 Pro also comes in an 8-core variant). The M1 Pro has up to 16 graphics cores, whilst the M1 Max has up to 32 graphics cores.
Apple is apparently dubbing the iMac the "iMac Pro" internally, and it might be its official moniker as well, following in the footsteps of the MacBook Pro and iPad Pro. The moniker "iMac Pro" distinguishes the 27-inch iMac from the 24-inch variant and indicates that it employs the same "Pro" CPUs as the MacBook Pro.
The entry-level iMac Pro is believed to include 16GB of RAM and a 512GB SSD, with prices starting at $2,000. The next iMac Pro will be available in 2022, maybe in the first part of the year, at or before WWDC. It will replace the existing 27-inch Intel-based iMac, one of the final Mac models that employ Intel CPUs.
Also Read: