INGOLSTADT, GERMANY — NewsCrypto and Polygon will collaborate to increase interoperability and connect the Polygon blockchain to Stellar, resulting in Wrapped XLM (XML) coins that may be used in Polygon's DeFi ecosystem.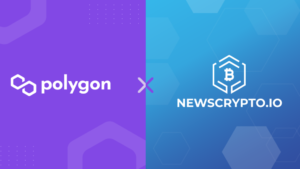 Polygon has awarded NewsCrypto a grant to construct an advanced, low-fee bridge to connect the two ecosystems. The relationship is a change from NewsCrypto's main business of educating crypto novices, but it is also a natural progression, as NewsCrypto's NWC token was launched on Stellar in the first place.
Due to the tremendous throughput of both blockchains, the Stellar-Polygon bridge allows for near-instantaneous swaps and nearly no costs. The bridge is designed to be as secure as possible. With decentralised multi-sig techniques and Chainlink's Proof of Reserve ensuring that the swap wallets are balanced correctly. Proxima conducted a full audit of the system.
In 2021, the Polygon ecosystem emerged as the dominant hub for scaling Ethereum-based apps, accumulating over $10 billion in value through Ethereum bridges. An extra $10 billion in value in the XLM ecosystem will be released for use in DeFi as a result of the partnership with NewsCrypto.
NewsCrypto and the polygon network
NewsCrypto is interested in joining the Polygon network and deploying its learning solution stack. According to Arjun Kalsy, VP Growth at Polygon, the Stellar network community can now transfer liquidity and participate with Polygon's developing ecosystem. Thanks to the newest Stellar – Polygon bridge built and developed by NewsCrypto. In a similar line, Vid Gradiar, CEO of NewsCrypto, stated.
The Stellar Bridge is a critical turning point in our infrastructure development. Popular interoperability solutions are woefully underserving the Stellar ecosystem, far less than its potential would suggest. We knew it would have stayed the same without us, so we went ahead and linked the $10 billion XLM ecosystem to DeFi on Polygon.
Sandeep Nailwal, Co-Founder of Polygon, stated. "Having XLM available on the Polygon PoS Chain means it can be used for lending, decentralised trading, and any other significant DeFi function". Subsequently, he said, "We're excited to collaborate with NewsCrypto on this and other exciting new projects".
Despite this, the Stellar bridge is the first of several NewsCrypto collaborations with the Polygon community. With a loan solution on the platform scheduled in the coming months.
About NewsCrypto
NewsCrypto's platform provides every user with a comprehensive selection of cryptocurrency instruments to facilitate seamless crypto asset trading. The platform is well-known among cryptocurrency professionals for its wide range of features. Which include auto charting tools to assist beginners with market technical analysis and complex proprietary indicators for advanced traders.  Additionally, NewsCrypto offers readers the opportunity to learn about bitcoin trading through the platform's Crypto School.
The NewsCrypto platform is powered by its native token, the NewsCrypto currency. NewsCrypto is a cryptocurrency that may be utilised on different Blockchains.
NewsCrypto is a cryptocurrency that may be utilised on different Blockchains. However, the token is used by NewsCrypto users to purchase a premium membership. Also, it is used to participate in NewsCrypto games, and participate in the platform's token staking system.
Comments
comments