As ChatGPU & similar AI Tools are becoming accessible, NVIDIA AI GPUs experienced huge growth, and this month's shares rise to greater heights.
The capability to process AI is where ChatGPT and other languages, image, and video production technologies primarily depend, and this is where NVIDIA shines.
Although the firm may be best remembered for its lightning-fast gaming GPUs, AI is yet another area where it thrives and where it has recently experienced better results. When it comes to AI, NVIDIA clearly outperforms its competitors Intel and AMD.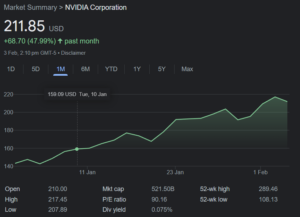 With its Hopper H100 and Ampere A100 design, NVIDIA now owns the finest AI GPUs on the market. Because of their possible use in military support, both processors have been restricted from the Russian and Chinese marketplaces, however, the manufacturer continues to distribute updated versions there.
There is massive competition for quicker AI performance not only in such technologies but also in the data center, cloud, and automotive markets, where NVIDIA also has a dominant position, all credit to its own GPUs. The firm has expanded considerably by over 40 percent in only one month, and the present stock has risen an incredible 45%+. (this month).
With Bloomberg stating that CEO Jensen Huang gained $5.1 billion US to his fortune this year, the sole greatest and "largest percentage gain" among several other US billionaires, it is clear that NVIDIA is placing its AI expertise to great use as well as converting gold into revenue. At the present, Jensen Huang maintains the 80th position on the ranking of US billionaires.
However, Citi experts believe that ChatGPT will keep expanding, which might lead to even more NVIDIA GPU shipments for the year 2023, so NVIDIA's success is still far from over. Expected sales vary from $3 to $11 billion.
According to additional experts from Bank of America and Wells Fargo, NVIDIA is expected to benefit from the hype around the AI and ChatGPT industries. All that said, this is great news for NVIDIA since they will have the opportunity to grow and report significant favorable profitability in a Pc industry that is presently in a recovery stage.