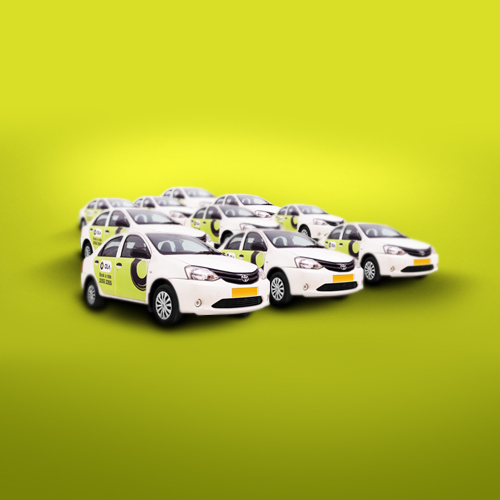 To strengthen leadership in the personal transportation market in India
$100mn earmarked towards fueling expansion & growth of TaxiForSure
Bangalore, 16th April 2015: Ola (formerly Olacabs), today announced its Series E round of funding of $400mn led by DST Global with participation from GIC, Falcon Edge Capital and existing investors SoftBank Group, Tiger Global, Steadview Capital and Accel Partners US. Ola has expanded to 100 cities in the current year from 10 cities a year ago, revolutionizing personal transportation across cabs, taxis and auto-rickshaws. This growth has been further accelerated with the acquisition of TaxiForSure, India's second largest cab aggregator in March 2015. Ola has leveraged its strength as an on-demand platform by going beyond transportation into instant food delivery with OlaCafé, currently available in beta across four cities.
The additional investment will allow Ola to go deeper into smaller cities to build personal transportation ground-up. Ola has already seen tremendous growth in tier 2 & 3 cities owing to very limited transportation options that currently exist. There is a large opportunity waiting to be unlocked, to transform the ecosystem from within. Ola will help drivers from these small towns turn entrepreneurs, creating lasting social and economic impact for them, while a robust transportation utility is created for the citizens. The company will continue to invest in building cutting edge technology to suit the needs of drivers and customers as well as invest in the driver ecosystem. While the spread of categories like Ola Mini, Sedan, Prime, Auto-rickshaws and Taxis have quickly evolved over the past year, Ola aims to further localize its offerings for the benefit of citizens and driver partners in every market. Ola plans to be in 200 cities by the end of this year.
Driver partners on the Ola platform have grown as entrepreneurs, benefitting from access to increased scale and revenue. They also benefit from better-structured financing options offered by banks and financial institutions as well as significant discounts from car manufacturers, if associated with Ola. Through 'Ola Pragati' in partnership with the State Bank of India, drivers can now avail of a daily loan repayment facility and a lower down payment to buy a car of their choice. Ola aims to offer this program to over 100,000 driver entrepreneurs across India within the next 2 years.
Bhavish Aggarwal, Co-founder & CEO, Ola said, "DST Global, GIC and Falcon Edge have been partners in some of the leading Internet success stories globally and we are excited about having them onboard. Our vision is that people shouldn't find the need to own a car. And we have been able to make this possible for millions of customers in the past four years and creating over a hundred thousand driver entrepreneurs on the platform. With increasing smartphone penetration and immense growth in smaller cities and towns, we will be able to drive the benefits of this on-demand platform deeper into the lives of our customers and partners."
Rahul Mehta, Managing Partner, DST Global said, "Ola offers a strong value proposition for both users and drivers and is transforming personal transportation in India. We're excited by their impressive growth and the potential to expand the platform into other categories and look forward to continue working with their visionary founders and management."
Avnish Bajaj, Co-founder & Managing Director, Matrix India added, "The Ola journey has been phenomenal and is a unique occurrence in the lifecycle of investment firms! We are privileged to be Bhavish and Ankit's early partner and to have witnessed execution to their grand vision and scale. This investment by DST Global, GIC and Falcon Edge supported by existing investors, sets the Company up for future growth and we welcome them to the partnership."
Ola has raised earlier rounds of funding from Tiger Global, Matrix Partners India, Steadview Capital and Sequoia Capital. SoftBank Group led the most recent Series D round of $210mn, in October 2014.
Ola (formerly Olacabs), founded in Jan 2011 by IIT Bombay alumni Bhavish Aggarwal and Ankit Bhati, is India's most popular mobile app for personal transportation. Ola integrates city transportation for customers and drivers onto a technology platform ensuring convenient, transparent and quick service fulfillment for both customers and drivers. Ola's proprietary technology for drivers across commercial transport vehicles helps them connect with customers looking for a safe and reliable ride. Using the Ola mobile app, users across 100 cities can book from over 100,000 vehicles, including auto-rickshaws in Bangalore, Delhi, Chennai, Pune, Ahmedabad, Hyderabad and Kaali-Peeli taxis in Mumbai. The Ola app is currently available on Windows, Android and iOS platforms. Ola recently acquired TaxiForSure, India's second largest cab aggregator, which continues to operate as an independent brand.
Founded in 2009 by Yuri Milner, DST Global is one of the leading investment groups globally to focus exclusively on Internet related companies. DST Global's portfolio includes some of the world's leading and most valuable Internet assets.
GIC is a leading global investment firm with well over US$100 billion in assets under management. Established in 1981, the firm manages Singapore's foreign reserves and is uniquely positioned for long-term and flexible investments across a wide range of asset classes, including public equities, fixed income, real estate, as well as private equity and infrastructure. In private equity, GIC invests through funds as well as directly in companies, partnering with our fund managers and management teams to help world-class businesses achieve their objectives. GIC employs more than 1,200 people across offices in Singapore, Beijing, London, Mumbai, New York, San Francisco, São Paulo, Seoul, Shanghai, and Tokyo.
Comments
comments