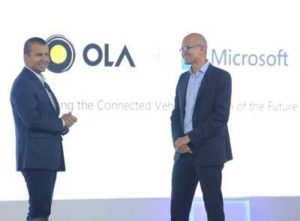 07 November 2017, India : Ola ties up with tech giant Microsoft for developing a new connected vehicle platform for automobile firms worldwide. This is a global partnership.
A 'The Hindu' reports states that "After this partnership, Microsoft will be a preferred cloud provider and its Azure cloud platform will be used to power Ola's existing connected car platform – Ola Play."
Ola Play is an onboard entertainment system which was launched in November 2016. Initially Ola Play was available to prime customers in Delhi, Bengaluru and Mumbai. Now, Ola Play has expanded to three more cities in India : Hyderabad, Pune and Chennai.
Ola told that "This partnership will transform driver and passenger experiences, providing vehicle diagnostics, improved in-car productivity, advanced navigation, predictive maintenance of vehicles and more. Both companies will collaborate to take this platform to car manufacturers globally, to integrate with vehicle systems."
At the India Today Conclave Next 2017, Ola co-founder and CEO, Bhavish Aggarwal said "There are synergies… The two companies working together can accelerate the future of mobility, especially in India and beyond."
Bhavish Aggarwal further added "Globally, the auto industry is experiencing a seismic shift as the definition of automobiles is increasingly changing from gas-powered vehicles to technology-packed, connected devices. With Ola Play, we have already set the tone for connected vehicles in India; together with Microsoft, we can make the new platform available to a larger, global audience and unlock futuristic experiences for customers worldwide."
Microsoft CEO Satya Nadella said "Today's car is quickly becoming the ultimate computing device and together with Ola, we're focused on providing more intelligent, connected and productive experiences to our customers. The combination of Microsoft Azure, Office 365 and our AI platform with Ola Play will deliver new customer experiences and business opportunities across the automotive ecosystem". Currently, Mr. Nadella is on two-day India trip.
(Image – Navbharat Times)