We all must have heard people going on and on about life, and how surprising it can be. Aristotle himself had said that "the secret to humor is surprise". So, what is a surprise actually? One of the many positive definitions of surprise that I found in the dictionary was that surprise is a sudden astonishment you feel when something totally unexpected/unplanned happens to you. There you go, I just typed that surprises are basically unplanned events that give a happy memory to the subject being surprised (the person), but try to imagine the amount of hard work put up by people in planning those events for the person. Tiring, right? You know you want to surprise a person (eventually make them happy), but the problem is how to do it. The solution is really simple, just call "Oye Happy".
The Gifting Industry in India
I'm pretty sure you'll be surprised to know that the gifting industry is growing at a very fast pace. The gifting market in India is valued at 7 billion dollars. In the last 2 years alone, spending in the experience segment has doubled. Experiences have a high viral coefficient since this is the social media generation and it gives them talking points. Apart from experiences, 71% of the people also said they preferred gifts which help build an emotional connect rather than the regular flowers and cakes. The industry is evolving really fast and since people are getting more expressive especially with a time constraint, they look for newer and better ways of making the expression meaningful, just like adding a emoticon at the end of every text we send.
There are currently very few companies in India in the experiential and customised gifting space and none offer the kind of products "Oye Happy" does. Exciting Lives and Giftxoxo are probably the only big players attempting to change the perception of gifting in India.
The Happy Cousins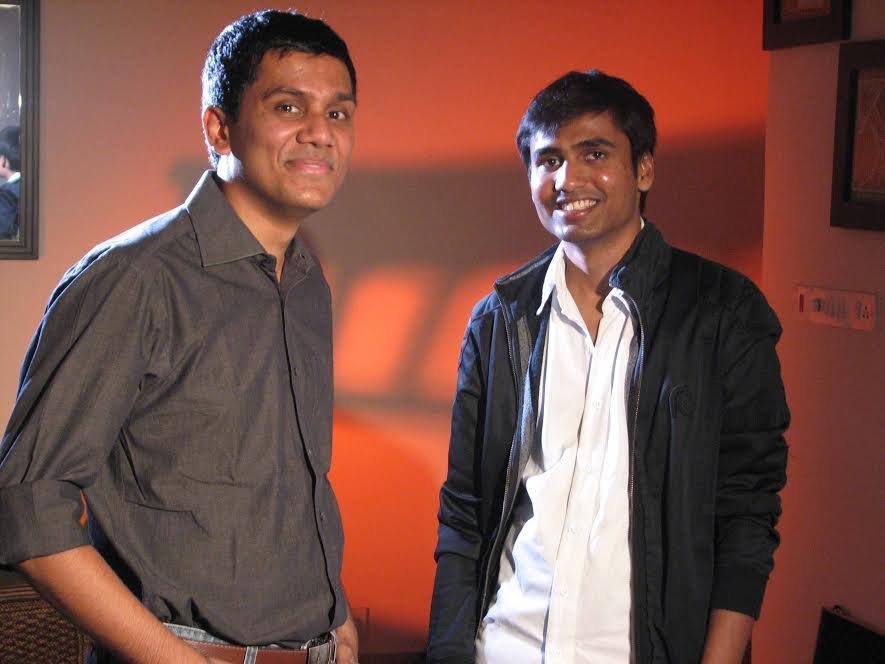 Way back in 2009, cousins Harsh Khemani and Varun Todi had a crazy idea. They wanted to make people happy. In a 138 square feet room, this took the shape of Oye Happy. Both have always been great at making special occasions extra special for their loved ones. Harsh was a strategy and operational efficiency consultant at KPMG and Varun worked as a copywriter and creative consultant for advertising agencies before this venture.
They initially began in a tiny shop at the Hyderabad airport, from a word of mouth references and phone call orders they have now taken a big plunge in the online world with their fledged e-commerce portal for surprises launched back in 2014. Headquartered in Hyderabad, they are currently a team of 15. While they dispatch gifts across the country, they also have freelance happiness consultants in every city to help them with the surprises.
Making Customers The Brand Evangelists

It all began when a friend once requested Harsh to surprise her boyfriend at the airport as he was flying in from the US. They actually held a mock 'swayamvar' to welcome him! They had such a blast getting it together; the friend and her boyfriend couldn't have been happier. That was when they decided they had to this for a living.
Since then, they have dressed as fishermen to welcome a fiance, hosted a surprise book launch and signing for a closeted poet, arranged for a proposal in the air, put up private pani puri stalls for foodies, booked billboards in the city for people who want to announce to the world how special their loved ones are and this doesn't even cover all of their favorites. From organizing free surprises for people to spread the word to getting over 50% of their business through repeat and referral purchases, they have come a long way. In just a year they have successfully delivered more than 100 surprises across the country.
"A happy customer is always more than just a customer."
They are probably the only company in India where if a customer cries at the end of a surprise it's considered a compliment. They often get calls, mails and messages from customers not only to arrange for surprises but also thank them for helping them with the surprise. Some of the clients have turned into friends and constantly refer them to more people and promptly respond to emailers.
The leap to sending over a Harley-Davidson for a day as a birthday gift instead of a bouquet is quite large for most people. That has been their biggest hurdle so far. Even when people want to try something new, they can be apprehensive at first. But once you place an order with Oye Happy, then you are bound to return for arranging other surprises.
Their customers are their brand evangelists. In a business such as this, which thrives on word-of-mouth marketing, they strive to walk the extra mile to create more and more brand evangelists as they can. Most of the ideas on the website are a result of customer feedback and suggestions.
The Happy Journey
The Oye Happy's journey so far has been nothing short of 'surprising'! Their immediate plan is to have a physical presence in every metro to enable quality experiences. They are already getting queries from across the country, including smaller towns, for experiences. A lot of corporates too have shown interest in Oye Happy 'Excite' and they will soon take that forward.
At present, they are growing at a steady and encouraging pace so funding as of this moment is not their primary concern. In a few months, they will start looking for their second round of funding.
So, how do you surprise a company that surprises people for a living? Investors can definitely surprise them, as they are not expecting any funding at present. For others, it's time to put their ideas to your use and start spreading happiness.