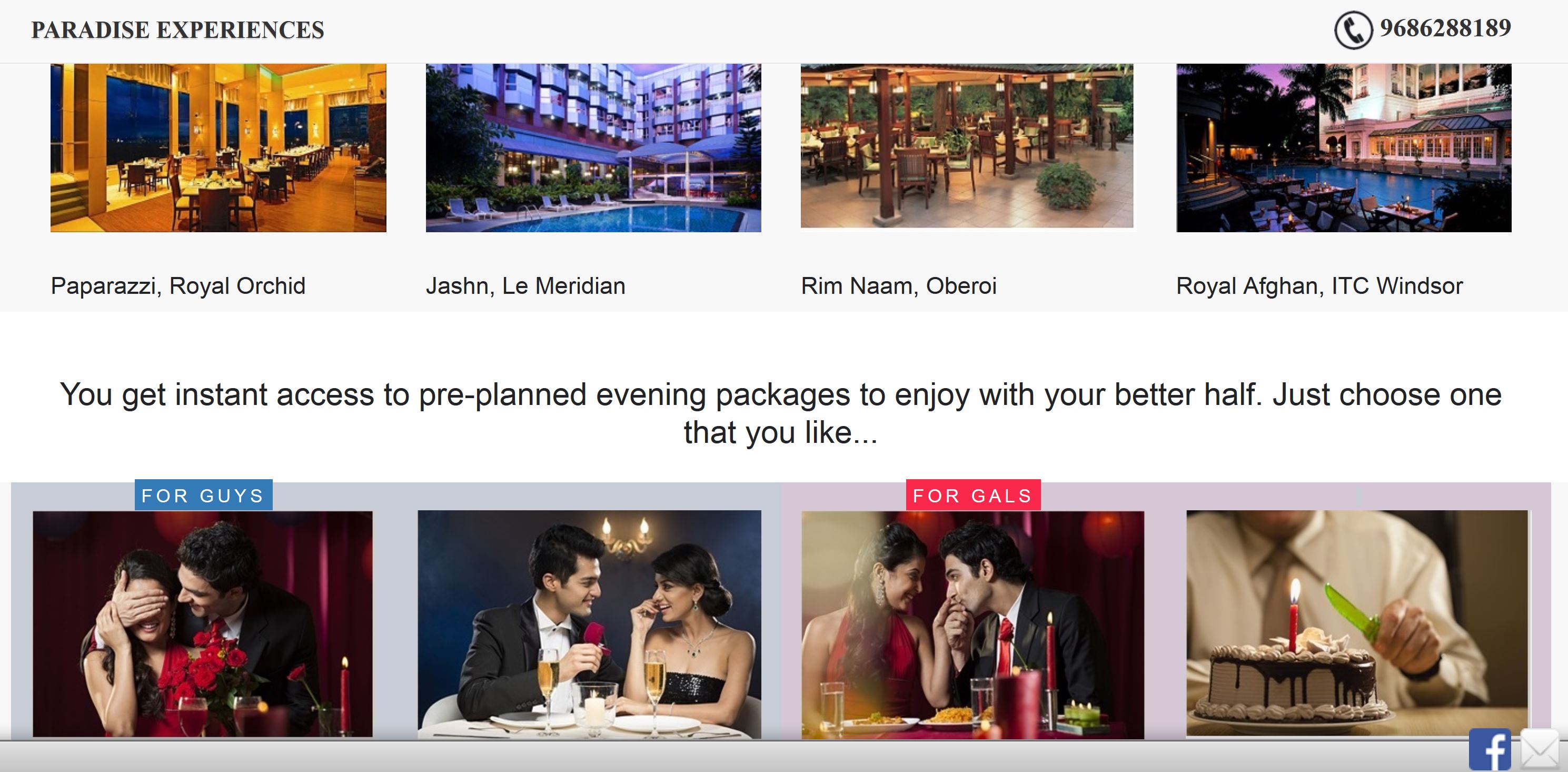 All of us would like to treat our special someone like a king or a queen. Especially on a special occasion. Most of the times we end up celebrating our special occasions by going to a fine dining restaurant. But what if someone could package a complete royal experience for us right from picking us up from our homes till dropping us back. This is exactly what the guys at Paradise Experiences are doing for you.
[box type="shadow" align="aligncenter" ]Paradise Experiences is a company which specializes in providing custom experiences to celebrate your events in private in Bangalore city.A typical paradise experience would look like this -A chauffeur driven luxury car such as a BMW or Audi picks you up from your home and takes you to one of the best restaurants (usually 5 star) specializing in your favorite cuisines where a beautifully decorated table is waiting for you at the pool side.[/box]
You can always book yourself a nice spot at the restaurant for your special occasion but to create a complete customized package is a hassle.
"The consumer does not have to worry about anything and only has to call our guest services and we will do the rest. The real advantage which we bring to the table is that the experiences have been handpicked by our team keeping in mind the best experience."
says Ravi Huliyappa, founder of Paradise Experiences.Ravi  already owns Quick service restaurants (QSR) called as Hulliyappa's Biryani in Bangalore. After leading a successful business he always had a desire at trying out something in the luxury service industry.
Ravi started Paradise Experiences in September,2014 after an initial test marketing where they received good response from their customers. Based on the learning's from the test market phase the company started accepting bookings from December on-wards.
"I believe it is the right time for entering into the luxury segment now as people are having higher  disposable income and are looking to have newer experiences."
says Ravi.Having run a successful business, Ravi believes that he is well equipped to take the new challenge.
"The challenge initially was to get few of our partners on board , but we were able to convince them to come onboard based on the concept which we had and also the business potential of this concept."
says Ravi.Ravi is currently busy planning out newer experiences for his users of Paradise Experiences.
"For example we are in the process of working out an evening of "Cocktail Mixing Course" where an experienced bartender at a 5 start hotel will run the couple through an evening where they are explained the basics of making a cocktail and then served a sumptuous dinner to wrap up the evening"
The company is currently not looking for any funding and plans to tap into the huge Bangalore market first before moving on to another city.
Comments
comments