In the midst of massive mass layoffs, one Amazon worker has reported gloomy sights at the firm's India offices. As reported in a Times of India article, the global e-commerce Amazon company has started announcing reductions that will impact 1% of its Indian workers.
This month, over 1,000 individuals are likely to be kicked out of office, and the procedure has already started for some.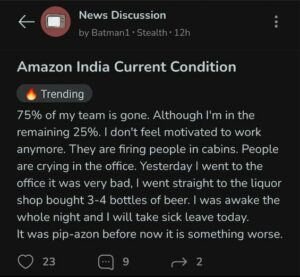 Individuals are allegedly "crying in office" after knowing about layoffs, based on a statement on the anonymous professional community app for Indians named Grapevine that was supposedly posted by an Amazon India worker.
A day ago, a staffer commenting as "Batman1" created the post entitled "Amazon India Current Condition."
He claimed in his post that 75% of his crew had already been let depart and that despite still being employed he lacked the drive to work. The individual withheld his departmental connection.
"75% of my team is gone. Although I'm in the remaining 25% I don't feel motivated to work anymore," the Amazon employee wrote in his Grapevine post. "They are firing people in cabins. People are crying in the office."
On Twitter, a picture of the post has gathered nearly 4.5 lakh views and dozens of responses.
A post from India Today alleged that cutbacks have touched a variety of departments in places like Gurugram and Bengaluru. Staff who were impacted were alerted through email and requested to meet with the leadership group on a particular timeline to get their queries resolved.
According to the article, Amazon provided laid-off workers with five months' amount of severance payment.
Andy Jassy, CEO of Amazon, initially revealed the company's plans for massive reductions in November of last year. "We plan to eliminate just over 18,000 roles. Several teams are impacted; however, the majority of role eliminations are in our Amazon Stores and PXT organizations," Jassy said in an update shared on January 4.
Earlier in November, Amazon said that it would be removing a number of roles in its devices and publications sectors in addition to providing several staff in its people, experience, and technology (PXT) organisation voluntary reductions in workforce.
Salesforce, a provider of enterprise applications, just declared it is cutting off around 8,000 individuals, or 10% of its employees.
The 23-year record of the San Francisco firm, formed by former Oracle CEO Marc Benioff, revealed that the planned cuts are among the most ever. As per associated press AP, Benioff developed the idea of renting out software systems to internet-connected gadgets, an idea now known as "cloud computing."