It is rightly said that friends become our chosen family. Friends are the best thing that can happen in anyone's life. They bring out the best in us. So why not do something special to celebrate the true spirit of friendship. The good days of calling your friends over and enjoying some uninterrupted sessions of binge-watching don't seem so practical in today's scenario. However, in a world where technology and stress are written in the same sentence, life and its simplistic experiences have the power to bring a huge grin on the face, a positive thump to your heart and a hope for a better tomorrow. One of these simplistic experiences is playing card games like online rummy with your friends. 
Now play rummy online with your best friends at Adda52Rummy.com and win from a prize pool of up to ₹5,000 Instant Bonus. Adda52Rummy.com brings a brand-new Tournament, Rummy Friends Forever to make the month-long fiesta more thrilling for you. Make your first deposit at Adda52Rummy.com and get an absolutely Free satellite ticket of Rummy Friends Forever Tourney starting July 19th with the grand finale on 2nd August. What's more? Get extra benefits of the Welcome Bonus offer. Can't wait to play your best Sunday at 6 PM?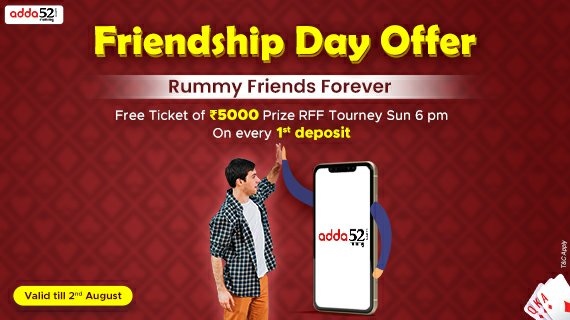 25 Lucky Winners from Rummy Friends Forever Tourney hosted on 19th and 26th July will stand a chance to qualify for the Grand Finale on 2nd August to win from a prize pool of up to ₹5,000 for Top 20 Winners. 
1st winner will win ₹1,000
2nd winner will win ₹750
3rd winner will win ₹500
4th winner will win ₹450
5th winner will win ₹300
6th to 10th winner will win ₹200 each 
11th to 20th winner will win ₹100 each
Nothing can match up the pleasure of playing rummy with your cherished friends. Then why miss this golden opportunity? Spread the word among your buddies and make big winnings on this Friendship Day. Don't miss the chance to create your own Online Rummy Tribe at Adda52Rummy.com – India's most rewarding Rummy site. The best part is that there is absolutely no limit on the number of friends you can bring to play rummy. The more friends you bring, the more fun it will be to share your happy winnings and memories.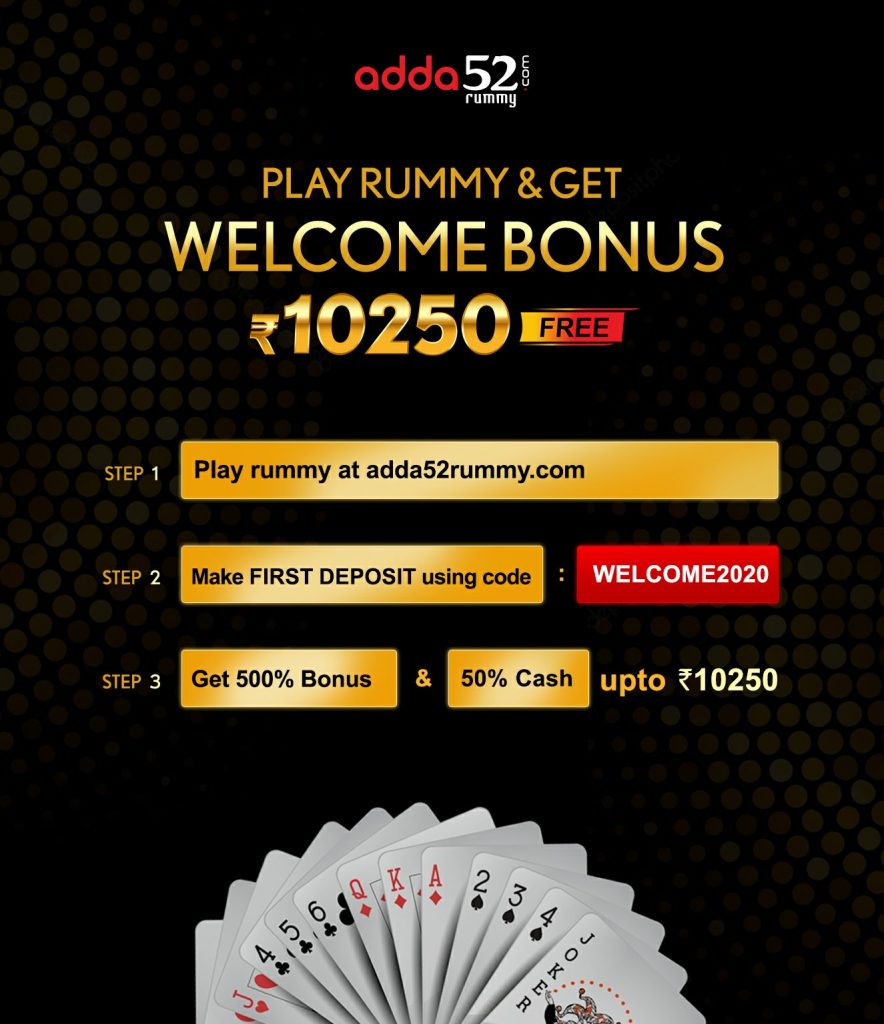 This Friendship Day make Adda52Rummy.com your New Friend Forever by joining the Rummy Friends Forever Tournament and unlock more exciting offers in store for you. Make your first deposit today to play Rummy Friends Forever. Also, get 500% Welcome Bonus up to ₹10,250 + 5 Tourney Tickets when you add cash for the first time. Follow these 3 easy steps to avail the Welcome Bonus: 
Make your first deposit at Adda52Rummy.com
Apply Bonus Code: WELCOME2020
Get 500% Bonus and 50% Instant Cashback up to ₹10,250
Playing Rummy is more rewarding than before at Adda52Rummy.com. Get more on your first deposits and make the most of the Friendship Day extravaganza. Play online rummy games with your friends to celebrate the bond of friendship. 
Comments
comments