The Insurance Industry
The insurance industry is one of the fastest growing industries with an immense growth potential. Insurance industry in India is already over US$ 60 Billion in size. Online insurance currently has a small share in the market but it's bound to grow in the coming years and we expect the online channel to contribute nearly 50% of the premium going forward. Online insurance has just started picking up and is expected to contribute significantly to this in the next few years due to confluence of factors like rising internet penetration, growing attractiveness of online v/s offline products and diminishing procedural requirements for online buying.
Why Are More & More Indians Taking Their Financial Lives Online ?
As per the market estimates, still a majority of our population are uninsured or have very low insurance awareness. Insurance penetration in India stands at a dismal 4% which is way below the global average of 6-7% as per recent reports and studies. Hence, both the life and non-life segments have tremendous growth opportunities and online medium will play a major role in ensuring that insurance reaches each and every corner of the country and whosoever is eligible for insurance, gets insured. Thus, there is an immense opportunity in the segment which has been further outlined by entrance of many new players in the market.
Online Insurance Web Aggregator
PolicyX.com is one such player in the market which is growing rapidly among insurance comparison portals in India. Setup in November 2013, it is an online insurance web aggregator company which provides free quotes and comparison related to motor, health, life, child insurance and many other related products. The company is IRDA approved and is headquartered at Gurgaon.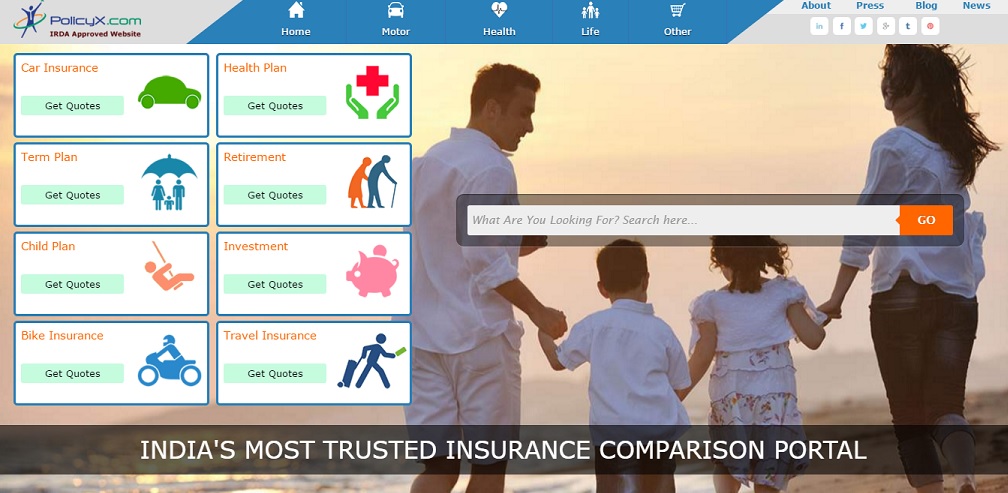 PolicyX.com provides live quotes and other comparison tools in the form of intuitive and easy to understand investment cash flow charts and info graphics, videos of the various products on offer that assists the customer in choosing a desired insurance plan with ease. The company has a strong team of young professional that help customers in every possible manner. It was also nominated for the best website of the year 2014 and 2015.
Product Differentiation and Competitive Advantage
To stand out, PolicyX.com offers an already existing product to its customers in a different manner by involving them in the entire process. A customer can go through innovative cash flow charts, videos and graphics apart from articles that are available on various topics to make them understand the plans better and make an informed choice. The website UI is customer friendly and provides all the relevant information in a fluidic manner.
Still, if the customer has any further query, he/she can call customer care number and support executives will take care of any such query.
As far as competition is concerned, PolicyX.com primarily has competitors including Policybazaar.com and Coverfox.
The Founding Father
"During one of my consulting assignments in US, I had a stint with AIG. That is where I started comparing the Indian market with developed markets and decided to come back and start PolicyX.com to enable digitization of the insurance industry" Naval Goel, Founder & CEO, PolicyX.com. Back then, India had just started embracing the digital revolution and PolicyX.com was one of the latest entrants in the market.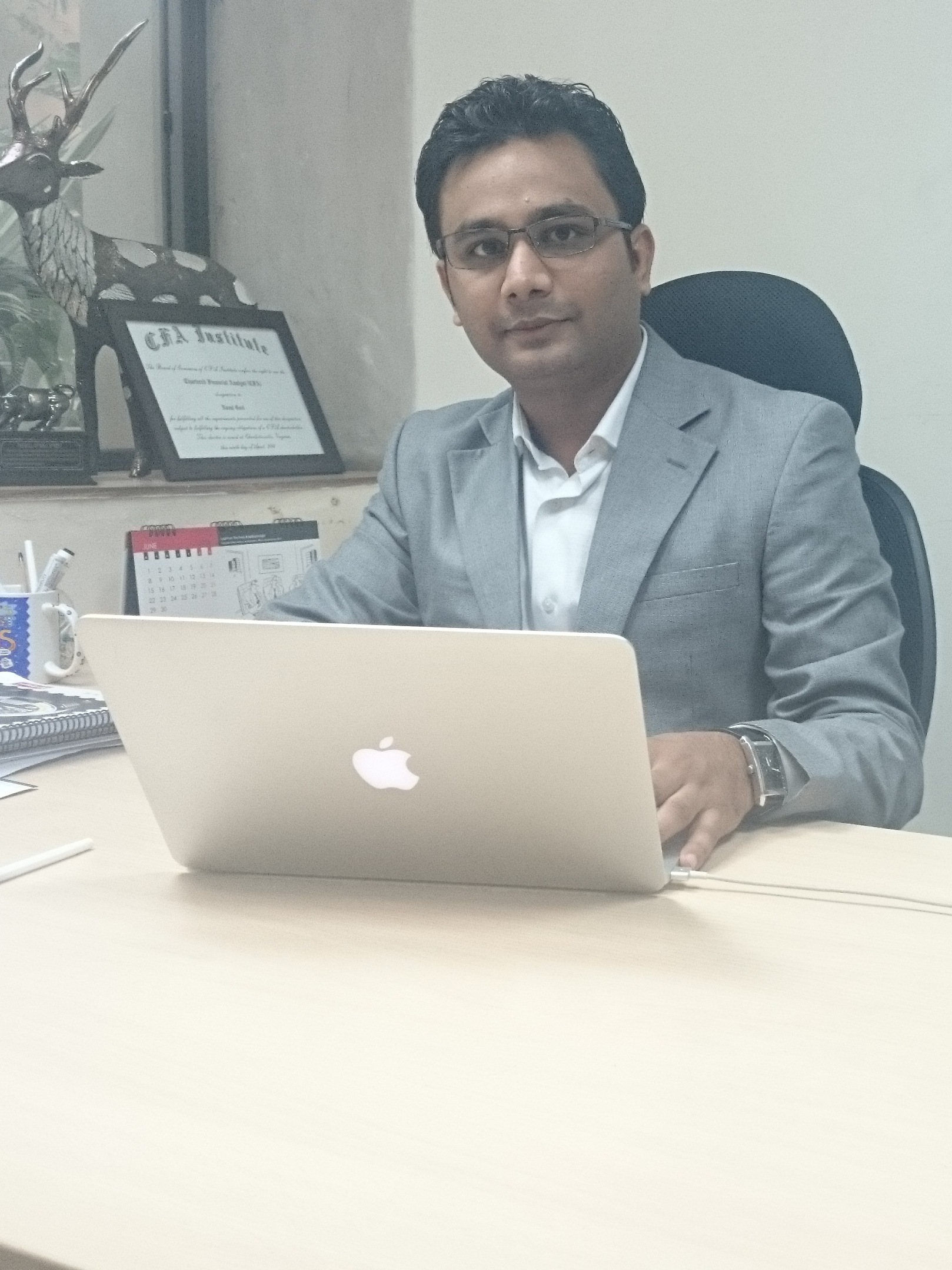 Naval Goel is the sole founder of the company. He has an expertise in the insurance sector with a professional experience of more than 5 years in the industry. Before venturing into the field of entrepreneurship, he had worked with top companies like AIG in New York as a part of their corporate team.
Naval is a MBA from IIFT, Delhi, a Chartered Financial Analyst from CFAI, US and a FRM Certified professional from Global Association of Risk Professionals, US. Prior to this, he completed BE from VTU, Bangalore.
The Journey
In a short span of little over 2 years, PolicyX.com has managed to achieve more than 0.5 million page views per month with an aim of reaching a target of 1 million by mid 2016 end. PolicyX.com is among the first two companies to get approved by IRDA under its new guidelines. PolicyX.com gets more than 50,000 monthly queries on its portal for various products including child plans, pension plans, health insurance, motor insurance, term plans, travel plans, etc.
From a team of 3 individuals in 2013, PolicyX.com has scaled up to around 100 employees with a major share of them based out of Kirti Nagar office. Gurgaon is corporate headquarter and takes care of aspects like marketing, SEO, backend and communications. PolicyX.com along with its insurance partners does a business of about 3000-4000 policies per month from visitors to portal- PolicyX.com.
The revenue model is commission based. If you assume a ticket size of 10k, the total premium would approximately be 3 crore per month. The company gets paid by the insurance companies when customers purchase policies after comparing from its portal.
Talking about challenges, Naval says that "Challenges will always be there in any business environment that you operate in. They only tend to make you stronger and try out new options. Getting the right people on-board, regulatory challenges, which included getting requisite IRDA approvals and getting partners to associate with us, were some of the initial challenges that we faced and successfully overcame".
He further adds that on a day-to-day basis, there are usual challenges related with competition, business growth which involves exploring new avenues for growth in the already hyper-competitive online insurance market and dealing with multiple insurance companies and integrating different systems with your own system.
A company is essentially a set of processes and if we start cutting corners, it gets built into the culture. To succeed and make a living in this competitive market, you have to be the best at every little thing you do. "From my entrepreneurial journey, I have learned that success comes from thinking from a very long-term perspective and building best practices from the very beginning" Naval comments.
Expectations in the Coming Months
"We plan to increase our branding and IT infrastructure. We also plan to go in-depth into certain business segments within the insurance industry and focus on providing best in class products and services" says Naval Goel, Founder & CEO, PolicyX.com.
Given the pace at which company has been growing over the past couple of years, VCs and angel investors have expressed their interest to invest. However, for the time being, the company has decided to remain bootstrapped. Although, it does not rule out the possibility of funding round in the near future if it gets the right set of investors who can back up from a very long term perspective.