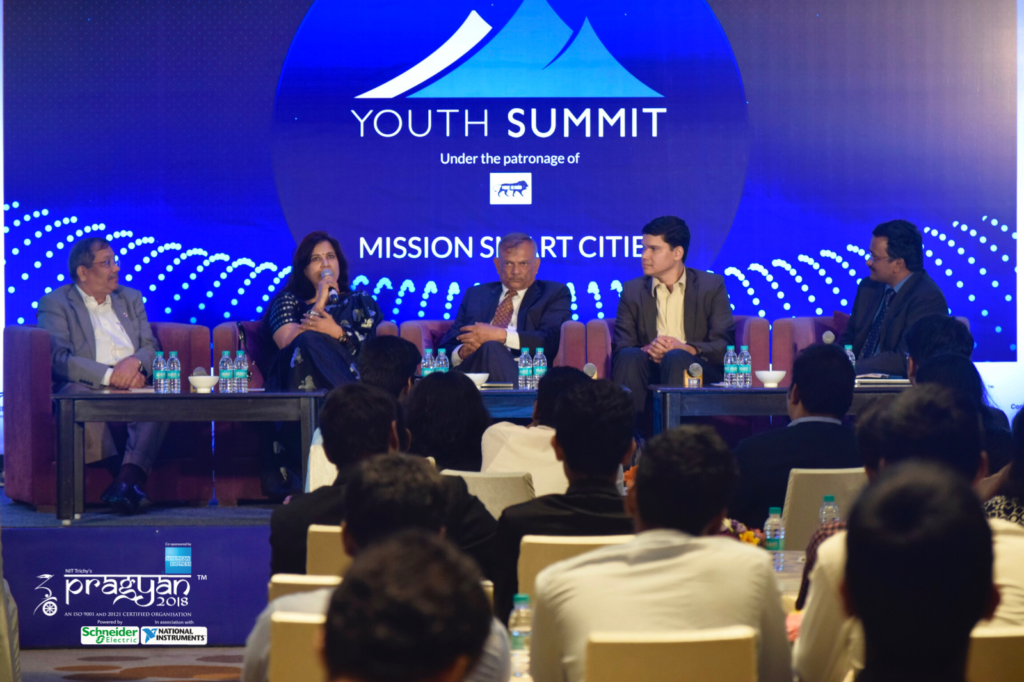 Pragyan Youth Summit, an initiative of Pragyan, the techno-managerial fest of NIT Trichy, is an annual event that provides a platform for active discussion and debate among the youth. Started in the year 2016 as the Youth Business Summit, PYS draws active participation from technocrats and the student community in ideating solutions to issues.
The 2nd edition of Pragyan Youth Summit (PYS), presented by the Confederation of Indian Industry, was conducted on 20th January 2018 at The Westin, Chennai with participation from many students and corporate professionals.
PYS 2018 explored the possibility of a better world facilitated by technological advancements in the spheres of Artificial intelligence (AI) and the Internet of Things (IoT), through its theme "Mission Smart Cities". Comprising of a Pitchfest for students, Panel discussion by eminent entrepreneurs and visionaries, a Youth Talk about waste management, a Keynote speech highlighting the methods of ideating a Smart City and an informative workshop about smart city development, the Summit enlightened the youth on Mission Smart Cities.
The Summit began with the keynote address by Mr Bipin Pradeep Kumar, co-founder and Director of Gaia Smart Cities, in which he threw light upon a systematic model of developing a smart city.
The keynote speech was followed by the signature feature of PYS, named Pitchfest. The Summit witnessed a total of 8 participants pitching ideas related to Mission Smart Cities. These proposals were analysed by the judges Mr Vedang Sharma, Mr Swami Raghavan, and Ms Sakshi Ganeriwal from Paypal, as well as Ms Priya Mohan, Senior Incubation Associate & Communications Manager, Ms Jayalakshmi Umadikar, Senior Manager – Academic Liaison from the IITM Incubation Cell.
The winning idea of Methartis belonged to Jayvardhan Rathi from NIT Trichy. The second and the third places went to Swati Dhamodaran from NIT Trichy and Vanthian Balasubramanian from SRM Institute of Science & Technology, respectively.
The panel discussion following the Pitchfest was held on the topic 'Changing Technology for Future Cities'. Panelists included Dr Amiya Kumar Sahu (President, National Solid Waste Association of India), Ms Karuna Gopal (Founder, Foundation for Futuristic Cities), Mr Amitabh Satyam (Chief Mentor, Smart City Transformations) and Mr Srinivasa Raghavan Venkatachari (Principal Consultant, Tata Consultancy Services). Mr John Samuel Raja D (Founder, How India Lives) moderated the panel discussion effectively. Following the panel discussion was a thought-provoking 20-minute 'Youth Talk' by Chennai based entrepreneur, Mr Siddharth Hande, founder and CEO of Kabadiwalla Connect.
A one-of-a-kind workshop organised by CISCO Systems Inc. was conducted, involving Connected Digital Platform and Internet of Things. The workshop demonstrated strategies for providing a secure interconnection of people and data. The attendees found the workshop to be informative.
Pragyan Youth Summit concluded with the Valediction Ceremony, and the goals of empowering the youth in developing Smart Cities were met.